Saturday Morning Stretch Online Yoga Class/w @thewildflowerpaiges
A stretch class and suitable for all levels from beginners to experienced yogis! This class will leave you feeling ready for the weekend!
About this event
Hello lovely and thank you for viewing my event!
This is a one-hour online yoga class, designed for you to connect with your body, breath and movement and leave you feeling balanced overall. Being a stretch and restore class, this is suitable for all levels from beginners to experienced yogis! If you've never done yoga before, don't worry - we all have to start somewhere, and I'll guide you through the movements so that you feel safe and confident in the postures.
Join me on the mat for some stretching, balance and strength postures (only a few I promise!) which will leave you feeling relaxed, balanced and at the same time energised and ready to enjoy the rest of your day.
Kindness and love,
Paige
Follow me for more yoga updates and all things creative @thewildflowerpaiges.
Please note, that by signing up for this event you acknowledge that you have read and agree to the terms outlined in the Waiver Release.
Waiver Release
Welcome to your yoga class with @thewildflowerpaiges, we are excited to have you join us! Before participating in your first class, we ask that you read the waiver below. By participating in the class and any further activities offered by @thewildflowerpaiges, you consent that you have read and agree to the terms of this waiver.
….
Classes offered by @thewildflowerpaiges may range from gentle yin and stretch style yoga to more intense and active vinyasa styles, which may include a variety of techniques such as breathing, meditation and physical posture practices. Our bodies, minds and emotional states of wellbeing may change from day to day, therefore, before joining the class It is important that you acknowledge any physical and/or emotional limitations that you may have and ensure that you respect your body and your limits during the class. Where you have any pre-existing limitations, it is your responsibility to inform the instructor before class begins.
By signing this waiver, I represent and warrant that I am in good physical health and do not suffer from any medical condition which would limit my full participation in the classes, or other activities, offered with @thewildflowerpaiges. I understand that yoga is an integrated practice of various techniques such as meditation, physical postures and breathing practices. I understand that it is my responsibility to consult with a physician prior to and regarding my participation in any of the yoga classes or activities offered. I understand the risks associated with the activities offered by @thewildflowerpaiges and I agree to acknowledge and respect my limits when participating in such events.
I hereby WAIVE AND RELEASE @thewildflowerpaiges (Paige Mazoudier) from any claim, demand, cause of action of any kind resulting from or related to my participation in the programs offered. In taking part in the yoga classes, or other activities, I understand and acknowledge that I am fully responsible for any and all risks, injuries, or damages, known or unknown, which might occur as a result of my participation in the classes, or other activities.
I have read the above release and waiver of liability and fully understand its content. I am legally competent to, and voluntarily agree to the terms and conditions stated above.
….
Please practice mindfully and enjoy the wonderful journey of yoga.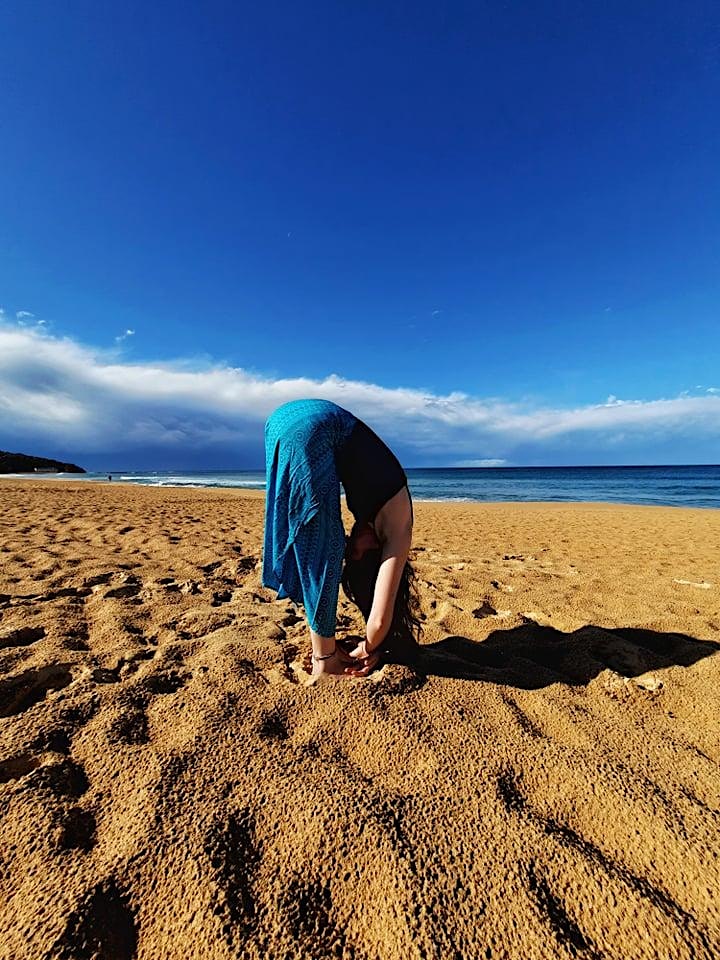 Organiser of Saturday Morning Stretch Online Yoga Class/w @thewildflowerpaiges
Hi there!
My name is Paige and I am a lover of life, a creative with a passion for yoga and sharing love with everyone that I meet. I'm on this amazing journey called life and have found my path in yoga, a way of life that has changed my way of being. My friends would describe me as "joy stuffed into a human" with a love for life and a deep passion for following the heart. I love to talk about all things wellness, wonder at the beauty and miracle of life and breathe love and life into everything that I do. One of my greatest challenges is doing the thing that makes me scared and following my dream of teaching yoga, sharing love with others and helping those who are on the path to remember who they truly are is something that I've been putting off for some time. Fear of failure? Ah yes, but failure is a learning curve and thus there is no such thing as failure. There is only a lesson that lies within each and every experience that we have, regardless of whether it went to plan or not! So, in summary - I'm facing my fears, following my heart and sharing my love. I hope to have you join me on the mat for an online yoga class either now or in the future! You can follow my Eventbrite account to receive new class releases straight to your e-mail inbox & follow @thewildflowerpaiges on Instagram or Facebook to stay up to date with more yoga & wellness offerings. Practice any time & anywhere by subscribing to @thewildflowerpaiges YouTube channel.
All online class offerings are in Sydney, Australia time. Really want to practice but can't find the class times or days that suit you? Then, please fill out this short form https://tinyurl.com/24euvh6z so that I can prepare classes that are most likely to suit your needs. If you have any questions don't be shy, I would love to hear from you!
Kindness and love,
Paige xx