Sanctuary of Sound is a carefully, cultivated sound journey experience that combines gentle yoga poses, breath-work, meditation & live music
About this Event
You will be guided through the flow of your breath to a deep state of peace and relaxation as your are immersed in the harmonising sounds of Eayana.
This is an opportunity to reconnect with your wholeness and find a sense of equilibrium during uncertain and transformational times.
A collaboration between Aimee da Roza and Zane Thompson who are both multi-instrumentalists, with a talent for creating ambient soundscapes that lull their listeners to a deep state of peace and relaxation.
Eayana's music nourishes the soul with an array of instruments, creating a sonic journey that ebbs and flows like the breath.The body vibrates in unison to the sounds of the Didgeridoo, Navajo Flutes, Crystal Singing Bowl, Medicine Drum, Harmonium and Reverie Harp. (Just to name a few).
Along with heartfelt harmonies and uplifting lyrics that invite their listeners to explore a deep inner journey and other-worldy space.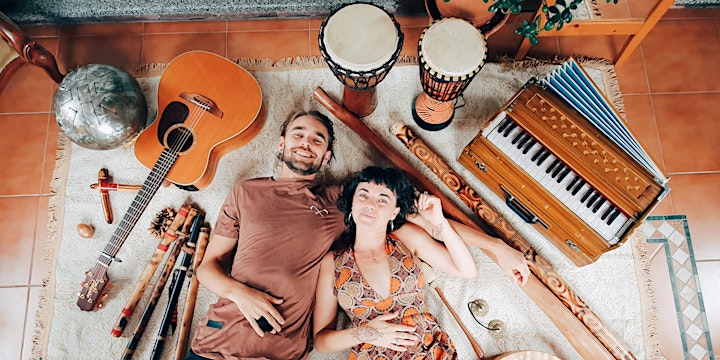 Cancellation Policy
In the event that you are unable to attend the event, we require a minimum of 24 hours notice for cancellations. In such case, a credit note will be held on your account. We do not offer refunds. Late cancellations and no-shows incur full fee. Fully booked/sold out events will only be credited if the place can be transferred to another student.