Description
SAM Spirituality and Men
Peace, Non-Violence and Social Ecology
The talk will focus on the need for peace in the world today. Part of the challenge of peace is to find non-violent ways of resolving conflicts. My work with the Alternatives to Violence Projects (AVP), a Quaker non-violent prison project highlighted the need for men to discover other ways of dealing with conflicts, This led to my developing programs for youth workers and teachers using drama education and also involving cross cultural conflict. Drama education for anti-racism became the research area of my doctorate in social ecology. This led to a my being a trainer for a program called Cooling Conflicts, that was implemented in over 100 schools in NSW alone.
Guest speaker: Dr Ben-Zion Weiss is an experienced teacher and community educator in drama, ESOL, yoga, cross-cultural conflict, anti-racism, non-violence training, cultural ecology and meditation. He lectures and tutors at University of Western Sydney and consulted for Multicultural Programs in Cooling Conflicts. He presents at conferences, facilitates workshops for youth workers, teachers and community workers; leads Dances of Universal Peace and facilitates dialogues in spiritual ecology. His spiritual practices are drawn from Integral Yoga, Zen Buddhism, Jewish Renewal, Universal Sufism and Dances of Universal Peace. His current book is " he Creativity Revolution, Steps to and Ecology of Culture" and he has written chapters, poems and papers for other publications. (B.E., M.A., Dip Ed, Grad Cert TESOL, Cert IV Kinesiology, Mentor of Dances of Universal Peace, PhD)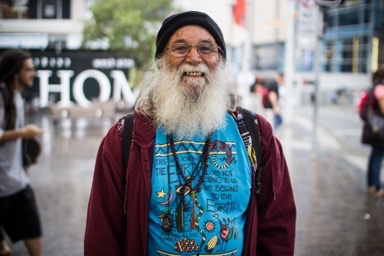 SAM - Spirituality and Men is a self-development group run by men for men, aiming to explore the spirit of man through informative dialogue, honest interaction and the silence of meditation.
This group meets on the first Wednesday of every month at the Meditation Space in East Sydney, 99 Crown Street.