About this Event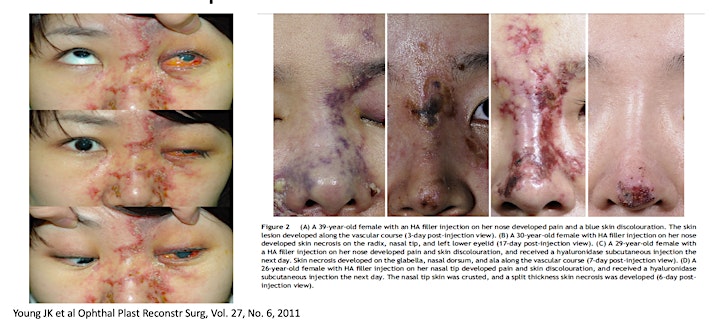 THIS EVENT IS FOR DOCTORS AND NURSES ONLY - We will need your NPI Licence Number on the night.
Do you know how many cases of blindness after dermal fillers have been reversed? There are 5 - we will discuss all 5
Could you use a refresher course on important facial anatomy and vasculature?
When did you last review the current literature on handling an ischemic event?
Do you know the current protocols for the use of Hyaluronidase in an ischemic event?
Do you know how to dilute Hyaluronidase (for emergencies or for cosmetic corrections)?
What clinic protocols do you have in place for an ischemic event resulting in blindness?
Is there a safe way to inject a nose with filler?
Should you use semi-permanent dermal fillers?
If any of these questions pique your interest then we welcome you to attend our workshop – A workshop on safety with dermal fillers and preventing ischemic events.
Time - 1.00pm to 5pm
Food - Some light food and beverages supplied
Location - JW Marriott parq
39 Smithe St, Vancouver
Hotel Phone +1 604 676 0888
Questions - email conor@facecoach.com
Learning outcomes-
1. Revise important anatomy related to ischemic events with dermal fillers
2. Revise the latest published data on ischemic events including blindness
3. Revise the published cases of blindness reversal (dissolving HA fillers after blindness has been reported)
3. Revise the latest published data on the use of hyaluronidase in an emergency
4. Discuss important injection sites for hyaluronidase along the pathway of the facial artery
5. Give you a protocol for dissolving HA fillers for emergencies and for cosmetic correction
6. We will NOW ALSO cover late onset nodules with HA fillers....
TESTIMONIALS FROM PREVIOUS SAFETY COURSES ON DERMAL FILLERS
5 Star Reviews - from all previous attendees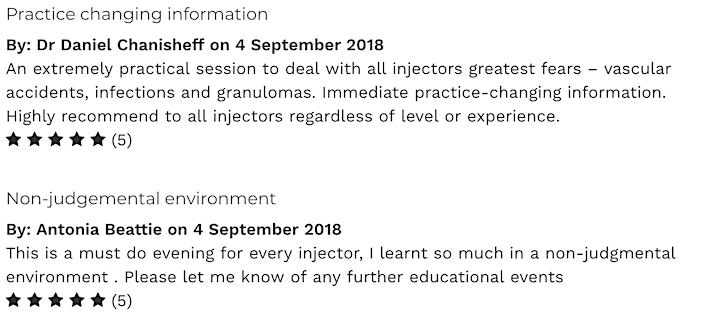 Host - Tracey Hotta RN and
- Guest Speaker Mike Clague Aesthetic Nurse BSC (Australia).
About our speakers
Mike Clague BSC Aesthetic Nurse - Published in Derm Surg - on blindness and HA fillers
Mike and Assoc Prof Greg Goodman (Derm, Australia) published 'A Rethink on Hyaluronidase Injection, Intraarterial Injection, and Blindness: Is There Another Option for Treatment of Retinal Artery Embolism Caused by Intraarterial Injection of Hyaluronic Acid? (in Derm Surg 2016 Apr;42(4):547-9).
A discussion of injection of hyaluronidase into the supra-orbital notch as an option to reverse blindness from HA filler instead of the retrobulbar injection. There has now also been a reversal of blindness in Thailand using this technique of hyaluronidase injection into the supra-orbital notch vs the retrobulbar technique.
Australia-based Mike Clague, has over 15 years experience in the medical aesthetic market. He has helped hundreds of cosmetic clinics across Australia, New Zealand and Asia to enhance their injecting skills and grow their businesses.
With international experience Mike has trained over 1000 doctors and nurses in the art of cosmetic injecting. Mike was in the launch team for Botox and Juvederm for Allergan in Australia. Mike has held 3 different roles at Allergan across Business Development and Clinical Coaching. Mike is currently a paid consultant and trainer for Galderma Pharmaceuticals.
Mike has been published alongside Dr Ava Shamban (L.A) and Assoc Prof Greg Goodman (Melbourne) in Derm Surg and Aesthetic Plastic Surgery Journal.
Mike is the Director and owner of Regenerate Skin Care and Facecoach Online Learning with Assoc Professor Greg Goodman.
Facecoach.com specializes in high level education for doctors and nurses in medical aesthetics. Facecoach LIVE has provided workshops throughout Australia on safety with hyaluronidase and ischemic events.
Mike is the Director and Owner of Facelove Medispa also provides treatments with Assoc Professor Greg Goodman at the Dermatology Institute of Victoria.