Description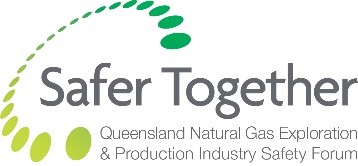 The Land Transport Review Panel (LTRP) is organised by Safer Together's Land Transport Working Group (LTWG). The objective of the LTRP event is to bring organisations represented in the Natural Gas Exploration & Production Industry in Queensland together to share and learn about Safety Innovations and Incidents across the Industry.
The theme of the LTRP #2 will be: Driving the risks down today and in the future.
Ideally, your organisation will be represented by:

• Senior Operational Leaders
• Driver Supervisors and Transport/Logistics Co-ordinators
• HSE Professionals
Don't miss your chance to attend the event - register and save the date in your calendar. Please inform us of your attendance no later than 06 March 2018 (Tuesday) for catering and registration purposes.
Click here for information about the LTRP.
For further enquiries please contact land.transport@safertogether.com.au.

We are looking forward to seeing you at the event!
Lorena Bueno, HSE Manager for Land Operations, Australia, Schlumberger
Travis Kearsley, Logistics and Transportation Assurance Adviser, Arrow Energy