Komm vorbei und lerne unseren Campus vor Ort kennen! / Come by and get to know our campus in person!
About this event
Ob Audio, Film, Web, Games, Animation, Music Business oder Content Creation & Online Marketing: Das SAE Institute Wien zählt seit 1987 zu Österreichs führenden Adressen für Aus- und Weiterbildung im Medienbereich und bereitet den kreativen Nachwuchs erfolgreich auf seinen Berufseinstieg vor. Neben der praxisorientierten Ausbildung mit modernster Technik liegt der Fokus auf einer intensiven Vernetzung mit der Wiener Musik-, Kultur-, Kunst- und Start-up-Szene.
Samstag, den 27. November 2021 habt ihr von 10.00 bis 15.00 Uhr die Möglichkeit unseren SAE Mediencampus zu besuchen. Lernt in gemütlicher und lockerer Atmosphäre die FachbereichsleiterInnen kennen und holt euch alle ausbildungsrelevanten Infos zu eurem zukünftigen Studium. Entdeckt unseren Campus im Herzen des Wiener Universitätsviertels bei einer Schultour und erlebt aktuelle Projekte unserer Studierenden.
Achtung: Aufgrund der derzeitigen Corona-Verordnung ist die Teilnahme an diesem Event auf maximal 100 Teilnehmer beschränkt! Eintritt nur mit gültigem Ticket & 2G Plus - Nachweis. (genesen + PCR-Test oder geimpft + PCR-Test)
Also meldet euch an, wir freuen uns euch kennenzulernen!
-----------------------------------------------------------------------------------------------------
Whether audio, film, web, games, animation, music business or content creation & online marketing: Since 1987, the SAE Institute Vienna has been one of Austria's leading addresses for education and training in the media sector and successfully prepares the next generation of creative professionals for their career entry. In addition to practice-oriented training with state-of-the-art technology, the focus is on intensive networking with Vienna's music, culture, art and start-up scene.
Saturday, November 27, 2021 you have the opportunity to visit our SAE Media Campus from 10:00 to 15:00. In a cozy and casual atmosphere, meet the department heads and get all education-related info about your upcoming studies. Discover our campus in the heart of Vienna's university district during a school tour and experience current projects of our students.
Attention: Due to the current Corona regulations, participation in this event is limited to a maximum of 100 participants! Admission only with valid ticket & 2G - Plus proof. (recovered + PCR tested or vaccinated + PCR tested).
So sign up, we are looking forward to getting to know you!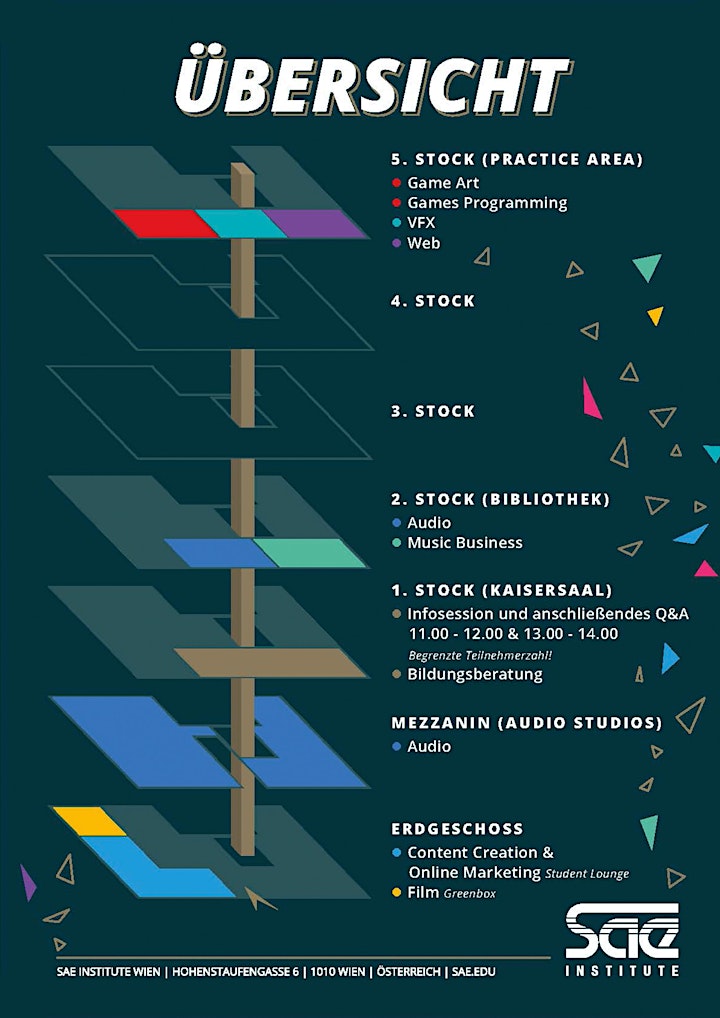 Organiser of SAE Institute Wien - "OPEN CAMPUS DAY" - vor Ort