A special edition circle, dedicated to Pachamama, Gaia, Mother Earth. We will connect in with her nourishment via Sacred Cacao Ceremony.
About this event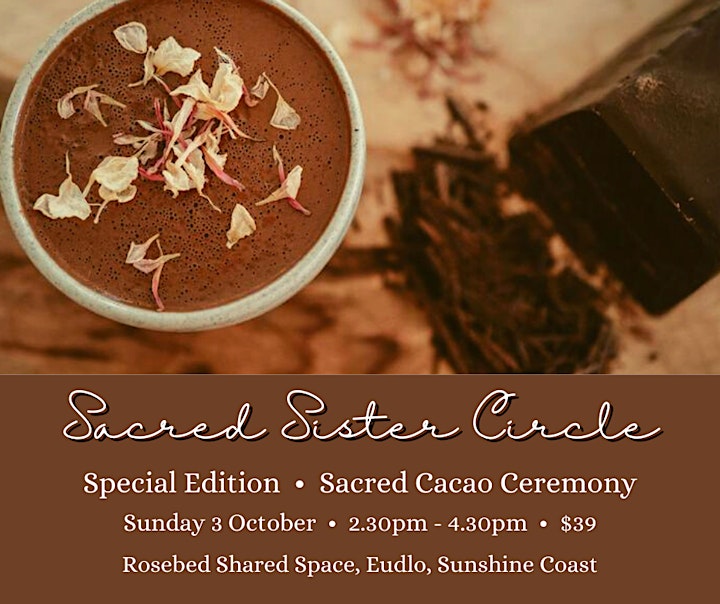 Moon & Tide Gatherings - Sacred Sister Circle - Special Edition!
♥️ An afternoon of connection, community and celebration of women. This women's circle is designed for ALL women from all walks of life! ♥️
Theme: The Healing Power of Sacred Cacao
We'll be coming together to connect with Pachamama, Gaia, Mother Earth - however she is known to you. We will be receiving her goodness and nourishment via a Sacred Cacao Ceremony.
Rosebed Shared Space – 13 Rosebed Street, Eudlo
Sunday 3rd October 2.30 pm – 4.30 pm
Please arrive by 2.25 pm for a 2.30 pm start.
What you'll experience:
🌿 Sharing circle for cultivating sisterhood
🌿 Opening Ritual with Ceremonial Cacao
🌿 Breathwork journey
🌿 Sound healing meditation
🌿 Guided, but very gentle, movement practice (suitable for any fitness level)
🌿 We finish with connection time, as we delight in organic herbal teas, and gluten-free, refined sugar-free, vegan treats from Rosebed & Finch
🌿 Very special price on Morning Ritual 600g block of ceremonial grade cacao (available only on the day)
Women's Circle held at:
A private and intimate setting, providing a safe container for our journey together. This sacred space is energetically cleared and protected using Reiki techniques prior to the gathering commencing.
Rosebed Shared Space – Shop 2, 13 Rosebed Street, Eudlo, Sunshine Coast
Eudlo is a beautiful leafy town, located just 15 minutes west of Buderim.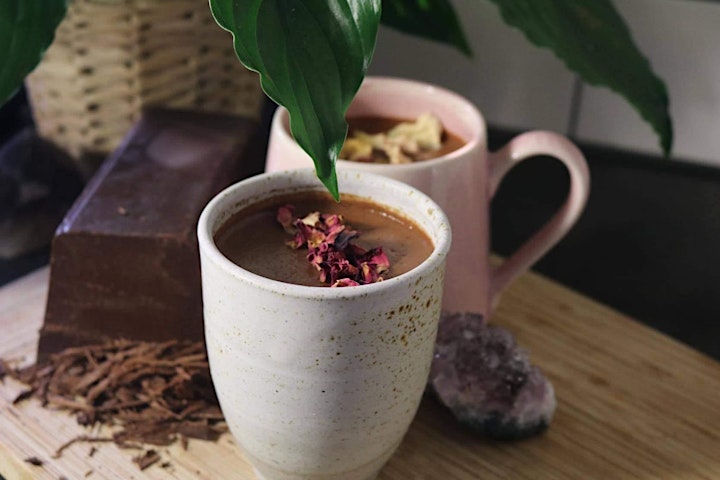 Opening Ritual - A Cup of Ceremonial Cacao
We will open our Sacred Sister Circle by savouring a cup of Ceremonial Cacao. This high vibrational, yet gentle, plant medicine allows us to connect with Mother Earth and aligns us with our own sacred nature. It's the perfect way to drop into our heart-space as we embark on sacred journey together.
Our ceremonial grade cacao (chocolate in it's most natural form) is in the form of a solid block, shaved, melted and blended with 100% coconut milk, and organic spices. We source our ceremonial grade cacao from Morning Ritual - certified organic ceremonial cacao (made of 100% Criollo bean), grown in untainted soil in Peru, using sustainable biodynamic farming. Blocks will be available for purchase at a special price on the day!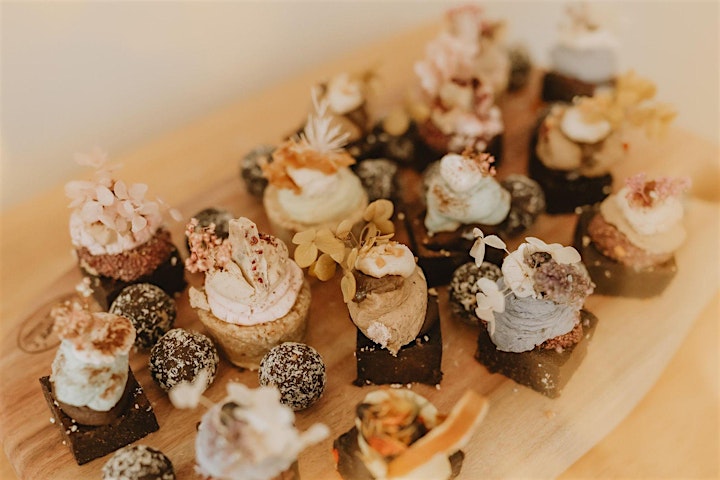 Investment in Yourself:
Your investment is $39 (plus booking fee, otherwise contact me to pay via bank transfer)
First Nations Women, Indigenous Women and Women of Colour, LGBTQ women, women with a disability, and women under significant financial pressure are warmly welcome to attend at a discounted rate. When booking, use the coupon code "sisterhood" for 20% off.
I do not wish to have any barriers for a woman-in-need to access this opportunity. If you are under severe physical/emotional stress or struggling financially and this gathering resonates with you, please reach out to me to discuss an opportunity for you to join.
What to bring:
🌟 Pillow/cushion for comfortable sitting on the floor*
🌟 Blanket or shawl (optional but you may like it if you get cool during breathwork)
🌟 Water bottle
🌟 Journal & pen (optional)
🌟 A special personal item for you to add to the circle to symbolise your sacred self being present
🌟 Wear any clothes that make you feel comfortable, as we'll be engaging in some light movement
🌟 Please note that you will be required to take your shoes off as you enter the space
*A limited number of chairs are available for women who require back support during circle
Please note: You'll receive an email the day before the event with detailed directions and a reminder of what to bring along.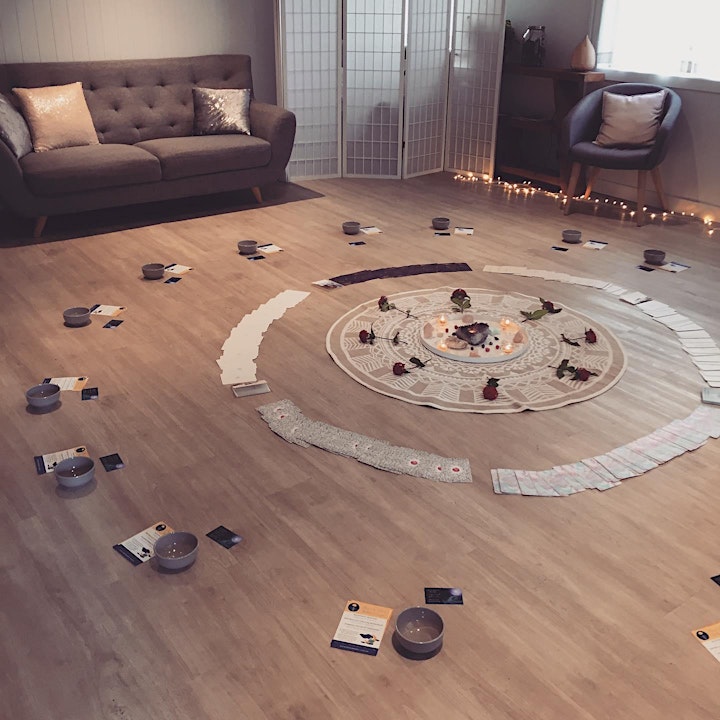 About Moon & Tide Gatherings:
We hold our Sacred Sister Circle every month in beautiful Eudlo. And we hold a mini-retreat, Sacred Sister Sanctuary, every month too. For future dates, check out:
https://www.facebook.com/moon.and.tide.gatherings/events
or
https://moonandtide.eventbrite.com.au/
About your Facilitator:
Kate Manley is a Reiki Master, Sacred Cacao Facilitator, Intuitive Guide and Women's Empowerment Coach. In addition, Kate has a psychology degree and post grad qualifications in business. She is also a Honouring Heart Circle Facilitator and is currently embarking on a 2021 Feminine Embodiment Training Course.
She has a passion for empowering women with the tools and strategies needed to live a full of love, connection and courage, and through strengthening their relationship with their own inner voice and wisdom. She believes in the powerful healing properties of the sun, the moon and our natural surrounds.
She is the visionary and creator behind Moon & Tide Gatherings on the Sunshine Coast.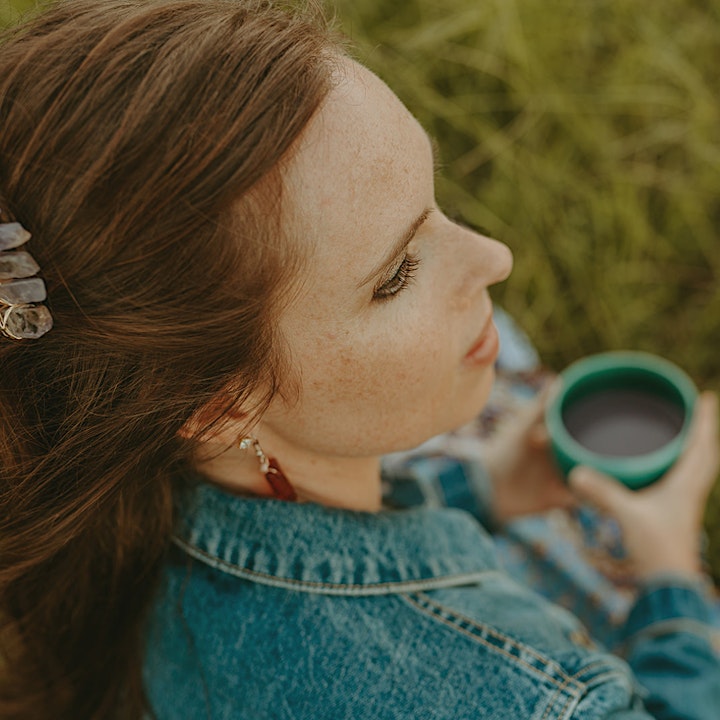 Refund & Cancellation Policy:
Please note that no refunds are available. I value my commitment to you, and request that you value your commitment to yourself also. If, in the event, you are no longer able to join, you may transfer your ticket to a friend.
Should a Moon & Tide Gathering be cancelled due to a Covid-related situation, attendees will receive a full refund.
Please do not attend a Moon & Tide Gathering if you feel unwell or have any fever, cold or flu symptoms. The option to transfer to a future event, or a full refund will be provided if you are experiencing these symptoms prior to the event.
By purchasing an event ticket, you agree that you are not currently experiencing any fever, cold, flu or virus symptoms, and feel that you are in good immune health.
Disclaimer, Terms & Conditions:
By purchasing this ticket, I acknowledge that I alone am responsible for my well-being. I take full responsibility for my individual experience and outcome associated with my involvement in this sacred gathering, and beyond. Under no circumstances will Kate Manley or any of her supporting team will be held responsible for my actions or circumstances.
I acknowledge that I will enter into an agreement of confidentiality and respect for other participants at this gathering. I ensure that I am fit, well and able to participate in the gathering.
I agree to photos taken during the gathering being used for marketing purposes. If I do not want to be included in any of the photos, I will notify Kate upon arrival at the venue.
I am attending this gathering of my own free will, taking full responsibility for any and all outcomes of my experience.
I have carefully and thoroughly read and understand this agreement. I am aware that with my financial investment, I am agreeing to and I am legally bound to the aforementioned statements.
I accept these terms with gratitude for my individual free will choice.
Organiser of Sacred Sister Circle - Sacred Cacao Ceremony
Moon & Tide Gatherings are gatherings for all women who are craving connection, community and support. They are designed to bring women together, to celebrate the magic all around us and within us, to bring us back into harmony with the natural world, and to find sanctuary from the busyness of our modern lifestyle.
Moon & Tide is a reminder that the magical force that governs the moon cycles and the tides also resides within you. These gatherings will reconnect you with the seasons, cycles, phases and rhythms of nature and in turn reconnect you with your sacred self.
Sharing stories, holding space, and a passing down of wisdom, there is nothing more healing than being in a group of honest sisters that truly see and accept you. In a period of history where we live more separately than ever, the ritual of coming together is one that we must not underestimate. In my experience, it is something that all women crave, but most aren't aware of. And when we get a taste of it, we wonder how we ever survived without it.
– Rebecca Campbell, author of Rise Sister Rise
https://www.katemanley.com.au/