Event Information
Refund Policy
Contact the organiser to request a refund.
Eventbrite's fee is nonrefundable.
About this Event
"We come together as strangers and leave as sisters".
Quite often we are unable to express what is truly going on for us in our lives or we feel like no one understands what we are experiencing. A Sacred Women's Healing Circle is a beautiful space to surround yourself with like-minded women who can support and guide you if you wish.
In the circle each woman has a time to express herself and get what she needs most at the moment. It is also a reminder that you are not alone on your journey. Our sacred circle is a community of loving and conscious women.
During the event there will be a chance to awaken your feminine power and reconnect with your guardian for health and abundance in life.
Sacred Women's Healing Circle includes:
• Gathering Opening Ceremony
• Heartfelt conversations about wellbeing and the power of the Feminine
• A guided meditation to relax your mind, body & spirit
• Identifying and clarifying your highest intention or asking a burning question
• A beautiful healing ceremony - a journey into your heart and soul
• Sharing experiences about the inner discoveries, gaining insight and guidance for the future
• Closing circle
You will experience not only being in a circle, but also numerous ceremonies and rituals of passage. You will be able to see and feel your own power, touch the centre of yourself.
By loving and healing yourself, you support other sisters to their own process, and we all add a healing drop to the web of life. The energy of healing spreads through our circle and expand the whole of existence. And so, drop by drop, the New World is born.
As an extra gift from our special guest, you will also learn about essential oils of your choice that resonates for you. This will assist you to dive deep into your mediation and healing journey.
I invite you to join us, discover your authentic voice hidden inside your Womb, connect with it and experience what pure love means. Let yourself be carried away by the healing feminine power and discover what will happen when you reach out to heaven.
See what other women experienced at our Sacred Women's Healing circle:
"I'm a self-development junkie but this was a first for me to have experienced the women's sacred healing ceremony. I was on a magical journey to meeting my spiritual animals in my kingdom of creation. This powerful experience showed me that who I am is enough, what I do is authentic and where I need to go to share my message with the world of my gifts is what true abundance and impact means. That I'm always supported by my guides. Thank you Kinga Elizabeth Staszalek for your guidance to clarity, connection and creation. You're truly a highly intelligent and intuitive coach who is highly capable of understanding the needs of humanity and to point them into the right direction when they struggle to see it for themselves" - Jessica Goh
" Kinga creates a loving and safe space to learn and let go. I felt seen, heard and held. Her knowledge and wisdom working with myself and other women from all walks of life, leaves a memorable and transformative experience. She asks great questions and gets to the root of any issues. I would recommend Kinga for all things regarding ones relationship(s). " - Nina de Alma (Therapist & Artist)
"The Sacred Women's Healing Circle was a beautiful, emotional and very powerful healing experience. It gave me insights into my life's journey and revealed to me things about myself I wasn't really aware of and Kinga's gentle & supportive guidance and amazing intuitive ability helped me realise a key element that I most need in my life right now." - Heidi Bischof
With my love to you,
Kinga Elizabeth Staszalek
Women's Circle Facilitator, Mind-Body-Spirit Healer, Love & Relationships Coach, Heart Activator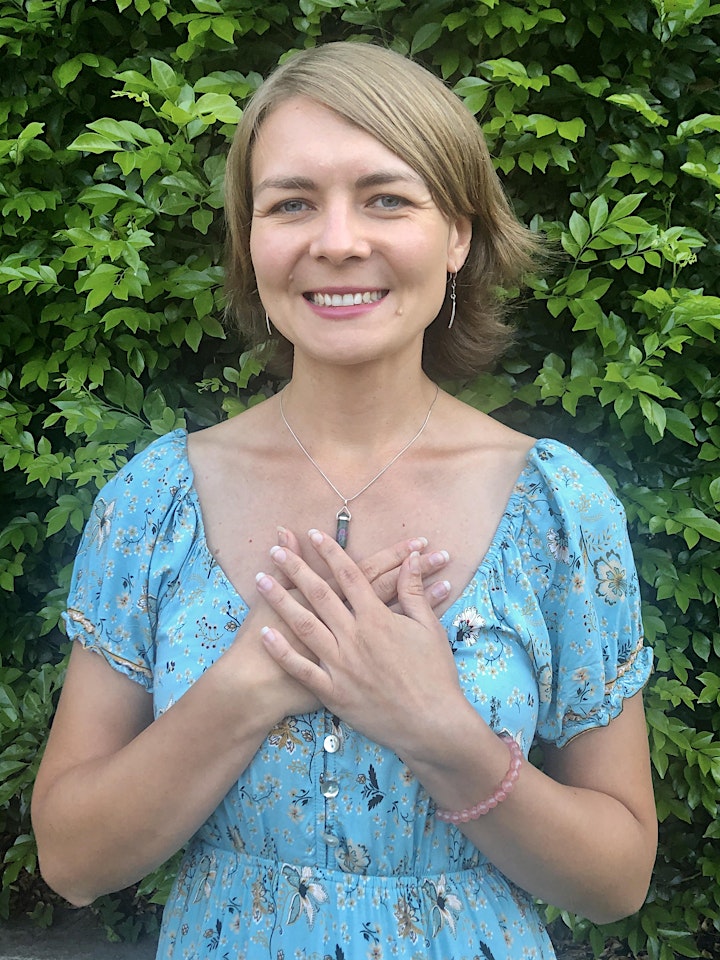 Date and Time
Location
Refund Policy
Contact the organiser to request a refund.
Eventbrite's fee is nonrefundable.