Sales Have Ended
Ticket sales have ended
Please read the Terms & Conditions outlined below Thanks for purchasing your tickets to Kings of Comedy PLEASE NOTE DINNER SESSION TIMES 6:15pm (before the show) No need to print your tickets out, just bring your phon or ID and we're good to go! Conditions of Entry * Adults only, 18+ years old. Photo ID may be requested. (16+ with Parent or Guardian) * Please set your phone to silent or switched off during performances. * By nature of the event as a live stand-up comedy show, please be respectful to the comedians and other guests by minimising unrelated noise during performances. We like hearing you laugh, but please refrain from stage-time conversations. Use the time before the show, during the intermission, or afterwards instead. We want to make it the best show for you and the other people in the room. * You may be photographed while at the venue. Some of these photos are used for marketing purposes. If you would not like your photo taken, please inform staff. * Recording of performances is prohibited without prior consent of Kings of Comedy management. * Individuals or groups may be removed or refused entry if inappropriately behaved, at the discretion of Kings of Comedy management. * Tickets are non-refundable, except where an event is cancelled by management. Now that that's out of the way..... Don't forget your sense of humour! If you didn't already see it: PLEASE NOTE DINNER SESSION TIMES 6:15pm (before the show)
Sales Have Ended
Ticket sales have ended
Please read the Terms & Conditions outlined below Thanks for purchasing your tickets to Kings of Comedy PLEASE NOTE DINNER SESSION TIMES 6:15pm (before the show) No need to print your tickets out, just bring your phon or ID and we're good to go! Conditions of Entry * Adults only, 18+ years old. Photo ID may be requested. (16+ with Parent or Guardian) * Please set your phone to silent or switched off during performances. * By nature of the event as a live stand-up comedy show, please be respectful to the comedians and other guests by minimising unrelated noise during performances. We like hearing you laugh, but please refrain from stage-time conversations. Use the time before the show, during the intermission, or afterwards instead. We want to make it the best show for you and the other people in the room. * You may be photographed while at the venue. Some of these photos are used for marketing purposes. If you would not like your photo taken, please inform staff. * Recording of performances is prohibited without prior consent of Kings of Comedy management. * Individuals or groups may be removed or refused entry if inappropriately behaved, at the discretion of Kings of Comedy management. * Tickets are non-refundable, except where an event is cancelled by management. Now that that's out of the way..... Don't forget your sense of humour! If you didn't already see it: PLEASE NOTE DINNER SESSION TIMES 6:15pm (before the show)
Ryan is best known for being a fan favourite on Married At First Sight and I'm A Celebrity, Get Me Out Of Here! You can't miss this roast!
About this event
If there's one thing Ryan bloody hates, it's reality TV stars! They're vapid, self-centred flogs who are completely obsessed with themselves … worst thing is, he happens to be one!
You know the ones we're talking about … they'd give their last dollar for a Daily Mail article and would ush their grandma over to get to a photo wall. Ryan is done with em and is ready to roast their 'careers', take the piss and have a bloody good laugh at their expense.
We're talking ridiculously edited Instagram photos, set-up paparazzi shots, their fake storylines and the TV moments everyone remembers. Hook-ups, lies, influencing, fueds, double crossers and the reality behind reality TV … they're a messy bunch and they'll never trust Ryan again!!
From the stars of his show Married At First Sight to The Bachelor, Love Island, Real Housewives, The Voice, Big Brother, Australian Idol and his latest show I'm A Celebrity, Get Me Out Of Here! Ryan well and truly roasts the best and worst of Aussie TV starting with himself. Relive those crazy moments, get the behind the scenes drama, laugh at the idiots who put themselves on TV for our viewing pleasure. It's only fair … they got a teeth whitening deal out of it!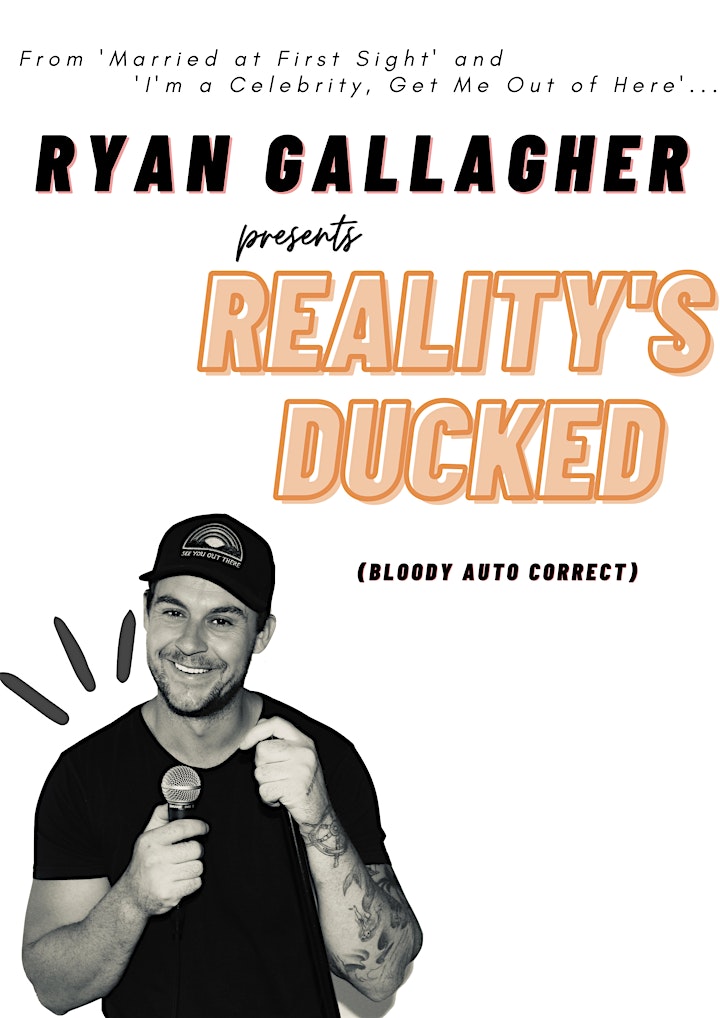 Organiser of Ryan Gallagher's Reality is Ducked
Kings of comedy aim to showcase rising stars of comedy with support from professional comedians. Presented each week by Simon Hughes (the man behind KOC) 
Kings has now completed 3 Melbourne International Comedy Festival seasons and Simon has completed 2 solo shows 'Man vs Meth' highlighting his recovery from Methamphetamine addiction (See reviews below) 

What people are saying about us:
'A great event if you're unfamiliar with the comedy world. ★★★★'  Mojo News
'Stop bugging me for a review.'  Dave O'Neil 

'Welcoming staff and always a great line up. We go here often and haven't been disappointed yet.  ★★★★★' Joanne M

'Amazing atmosphere, amazing food and drink, amazing service and topped off by an amazing Comedy Show. I have recommended this place to all my family and friends. ★★★★★' Hemaima R
'Delete my number.'  Fiona O'Loughlin 

'Great night at Kings of Comedy! Highly recommend! ★★★★★' Tayla D
'This is a matter for the courts now.'  Bob Franklin
'The Kings of comedy show was excellent. Service was great. ★★★★★' Skye H
"Have been a massive fan of stand up comedy for my whole life but had never checked out local comedy because I assumed it'd be pretty sh#t. I am so glad I came out tonight. The whole line up was outstanding and I didn't stop laughing. I will 100% be checking it out again" ★★★★★ Melissa V
'Was a great night out! Had a lot of laughs with Kings of Comedy, the MC was amazing! Will be back for sure!'  ★★★★★ Brittney A

'Hilarious night, cheeks and belly sore from laughing'★★★★★ Simon O
'I haven't laughed so hard for a long time. Awesome night and very awesome comedians. Highly recommended' ★★★★★ Lynette G
A little more about Simon from the media: 
The Conversation Hour (ABC Radio)
http://www.abc.net.au/local/audio/2015/06/17/4256999.htm
The Two of Us (Sydney Morning Herald)
http://www.smh.com.au/good-weekend/two-of-us/two-of-us-simon-and-david-hughes-20160223-gn1hxb.html
Man vs Meth (MICF 2017)
http://www.australianstage.com.au/201704168261/reviews/melbourne/man-vs-meth-%7C-simon-hughes.html
http://artsreview.com.au/micf-simon-hughes-man-vs-meth/