Description
Igor Stravinsky (1882-1971): L'histoire du soldat (Soldier's Tale Suite)(1918)
Sofia Gubaidulina (b 1931): Allegro Rustico (1963) andSounds of the Forest (1978)
Anton Arensky (1861-1906): Piano Trio no.1 Op.32 (1894)
Elena Kats-Chernin (b 1957): Three Rags (1996)
Alexander Borodin (1833-1887): String Quartet no. 2(1881)
From Stravinsky's charmingly folkloric Soldier's Tale Suite through to the depths of Borodin's profound Second String Quartet, this program explores the richness and diversity of the Russian school of composition while proffering some of its lesser-known voices – Arensky's Piano Trio is one of the masterworks of the repertoire. Meanwhile contemporary practitioners Sofia Gubaidulina and Elena Kats-Chernin give us new insights into 'Russian-ness'. Although born in Uzbekistan (in the old Soviet Union) and now a Sydney resident, Elena studied in Moscow. Her Russian Rag is, ironically, one of the most recognisable and famous of Australian compositions!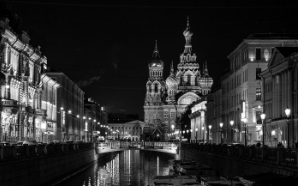 ---

Music has the power to propel us to unimagined places and transport us to many states through myriad emotions. To this end our 2017 season, Voyages, ventures through a diverse array of such musical excursions, establishing a strong sense of place while enjoying the local colours and flavours of music from particular national schools. Our season of voyages moves through Russian folklore,sweeping us on to the New World and delights of America, and delving into the sounds of the cinema screen. We are immersed in Fantasy and Variation with quintets of Vine, Nielsen and Mozart, and the titanic Schubert Octet, concluding our year's travels with a sequence of postcards from exotic destinations, ending back in Europe with Tchaikovsky's Souvenir de Florence.
Join us in setting sail on our exciting musical Voyages in 2017.
---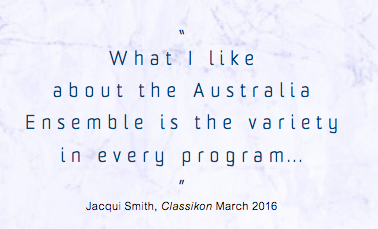 ---




---