Description
Aims of the Hack
Our goal is to make our cities more run-friendly, and with RunHack London to make London the most run-friendly city in the world. We want to do this by inspiring, prototyping and developing new ideas, services, products and policies. With RunHack London we'll tackle the barriers, real and perceived, to running happily, safely and with ease in cities, and in London in particular.
Why it matters
We believe that enabling more people to run in cities could be part of the answer to some of our big global and local challenges - from tackling congestion and air quality; obesity, diabetes and mental health issues; through to the rising cost of adult social care. Running is a sustainable, healthy, time and money saving option for many more people than those who currently do it, so we think getting more of us to run in cities has a lot going for it. On a human and personal level, it's also a brilliant way to get around and experience a city - whether as a resident, commuter or visitor - and whether alone or with others.
Most of us move around cities in various ways - by walking, cycling, driving, by bus or train etc. With RunHack we're looking to find ways that can help us all co-exist happily and healthily as our cities grow. In innovation and public policy terms, we think running as an option is currently much neglected - so with RunHack we're going to give it some focus and attention within the context of cities.
Who should come along
Running enthusiasts, particularly those in cities.

Those interested in all forms of active travel and vibrant and liveable cities, urbanists, public policy makers, city officials and academics.

Designers, data scientists, developers, investors and VCs, and those in real estate.
Structure of the event
Friday, 2 June, 1pm - 6pm:

Starting with a light lunch and provocations from speakers

We will gather rich insights about running in cities. And we'll provide access to variety of data sets that we will have agreed access to. We'll look at the barriers to running happily, safely and with ease in cities; and we'll form into small teams to develop ideas that tackle those barriers, innovatively. We'll aim to finish around 6pm.

Saturday, 3 June, 9am - 6pm:

We will meet and those that are keen to do so will run a route that, via GPS, produces some 'run-art'. We'll then further develop, test and prototype ideas that help more people to run, culminating in pitching these concepts and actionable ideas to each other and to a panel of judges. There will also be some small prizes too, but that is unlikely to be the main reason to take part.
What's provided
Data

Open and premium data from Ordnance Survey (under a data exploration license): Use the rich and accurate geospatial data to gain insights

Air quality data, static and through APIs

Variety of commuter, sports, London, transport.... and the list is growing
Physical modelling

MakerSpace hosting a 3D printing and a variety of modelling tools and sensors


Food, drink, even some beer


Inaugral RunHack technical running T Shirt


Contributors confirmed so far include
The amazing Ivo Gormley of GoodGym, who is building a community of runners doing good, (http://www.goodgym.org)
Running inspiration, blogger and coach Julie Creffield (http://toofattorun.co.uk)
Running data based spatial design specialist Mart Reiling from Track Landscapes (http://www.track-landscapes.com/track)
Entrepreneurs like Ben Barker from RunAnEmpire (www.runanempire.com)
Designers like Sarah Drummond from Snook / cyclehack (www.cyclehack.com)
Innovative property developers like Chris Brown of Igloo (www.iglooregeneration.co.uk) who will explore continuous pavements and fast running lanes
Run commuting observations from IAmRunBox founder Kirill Noskov and his ambassadors (https://iamrunbox.com)
Air quality, innovation and design insights from Gyorgi Galik and her collaborative partners
Geospatial experts from Accelerators like Alex Wrottesley and Max Stephan from Ordnance Survey / Geovation (https://geovation.uk)
Running, and run-commuting, academic Simon Cook (https://jographies.wordpress.com)
UCL Professor Nick Tyler who will explore making running more comfortable with surface and rhythmic design
Neuroscientist and runner Araceli Camargo of The Centric Lab and Conscious Cities (https://www.thecentriclab.com) talking about exercise and its benefits to mind and body
Musings from the property world from PWC Director and leader in real estate innovation, Gareth Lewis
Chair of London Living Streets, Jeremy Leach
Head of Policy and Communications at Living Streets Tom Platt
At-a-distance, and with a special mission, Tokyo-based run art originator Joseph Tame (https://josephta.me.en/)
Alongside fellow running enthusiasts, designers, neuroscientists, data scientists, air quality experts and many more
Partners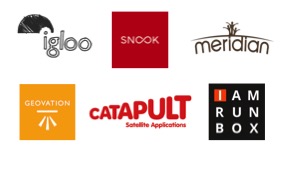 If you have any queries, please email RunHackLondon@gmail.com
Twitter: @RunningHack