RUN THE WORLD TECHFORMATION | Female Entrepreneurs & Women in Tech Conferen...
Actions and Detail Panel
RUN THE WORLD TECHFORMATION | Female Entrepreneurs & Women in Tech Conferen...
Sat. 11 March 2017, 9:00 am – 5:00 pm AEDT
Description
LADIES, IT'S TIME TO GET IN TECH-FORMATION.
ON SATURDAY, MARCH 11TH, WE'RE HOSTING AUSTRALIA'S FIRST EVER ALL DAY FEMALE ENTREPRENEURS IN TECH CONFERENCE_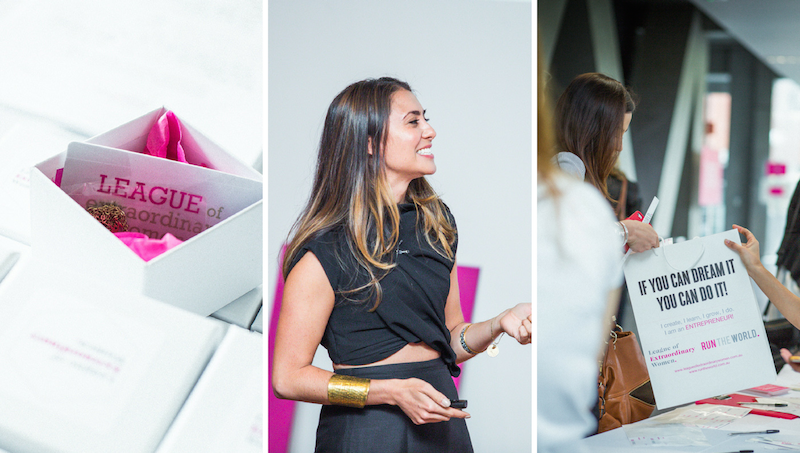 We first created the Run The World conference as we were sick of the business card swapping, sales pitchy 'grow your business, make money' schemey bullsh*t that came along with inspirational speakers and conferences. We just wanted to create a conference that focused on a simple concept - inspiring other women. So we did just that, and Run The World was born. Five years, and five conferences later, we've invited countless extraordinary women to our stage to share their amazing stories and inspired thousands upon thousands of women (and men) who have attended.
In 2017, we're back with our much loved all day conference, but not as you know it. We're hosting Australia's first ever all day women in tech conference! We'll be exclusively showcasing women who are leading the way in the tech industry.
We have a speaker lineup of extraordinary women who are either building the tech products of the future or leveraging technology to build global brands and businesses. Prepare to be inspired, learn, and grow as you spend an entire day connecting with extraordinary females, and hearing the stories of women who are at the forefront of the digital revolution.
WHY YOU NEED TO BE THERE_
POSSIBILITIES & OPPORTUNITIES. When we focus on problems, we get more problems but when we focus on possibilities we get more opportunities. These female entrepreneurs are here to show you what is possible. With that energy comes endless opportunities. Our RTW conferences have been able to create synergies, collaborations, and real friendships.
BE INSPIRED by 8 brilliant and awe-inspiring female entrepreneurs. We've uncovered legends that will share experiences with us to inspire us to take it to the next level, and how we can use technology to do just that.
BRILLIANCE ATTRACTS BRILLIANCE. Ever heard the quote "you are the average of your 5 closest friends"? Sometimes the closest people around us won't always understand us. This is why The League exists. Connect with other women that get you, that will inspire you to keep going and be courageous.
WHO SHOULD ATTEND_
Tech professionals, intrapreneurs, entrepreneurs, and anyone who deals with or wants to learn about the future of tech - from e-commerce, apps, and software, to virtual reality, digital publishing and everything in between. If you're an ambitious person who wants to connect and be inspired by extraordinary women doing amazing things, this day is for you.
Men are definitely welcome. Support your partner, sister, or friends. Pay it forward and get a ticket for someone you think needs a hit of inspiration to give them the courage to turn their dreams into reality.
WHAT'S INCLUDED_
8 presentations from incredibly inspiring, successful, female tech entrepreneurs and women in tech

Panel discussions, interactive VR experiences, and access to the XERO lounge during breaks

The ever awesome Run the World goodie bag

Meet and connect with like-minded female entrepreneurs who could become your new besties
SPEAKER LINEUP_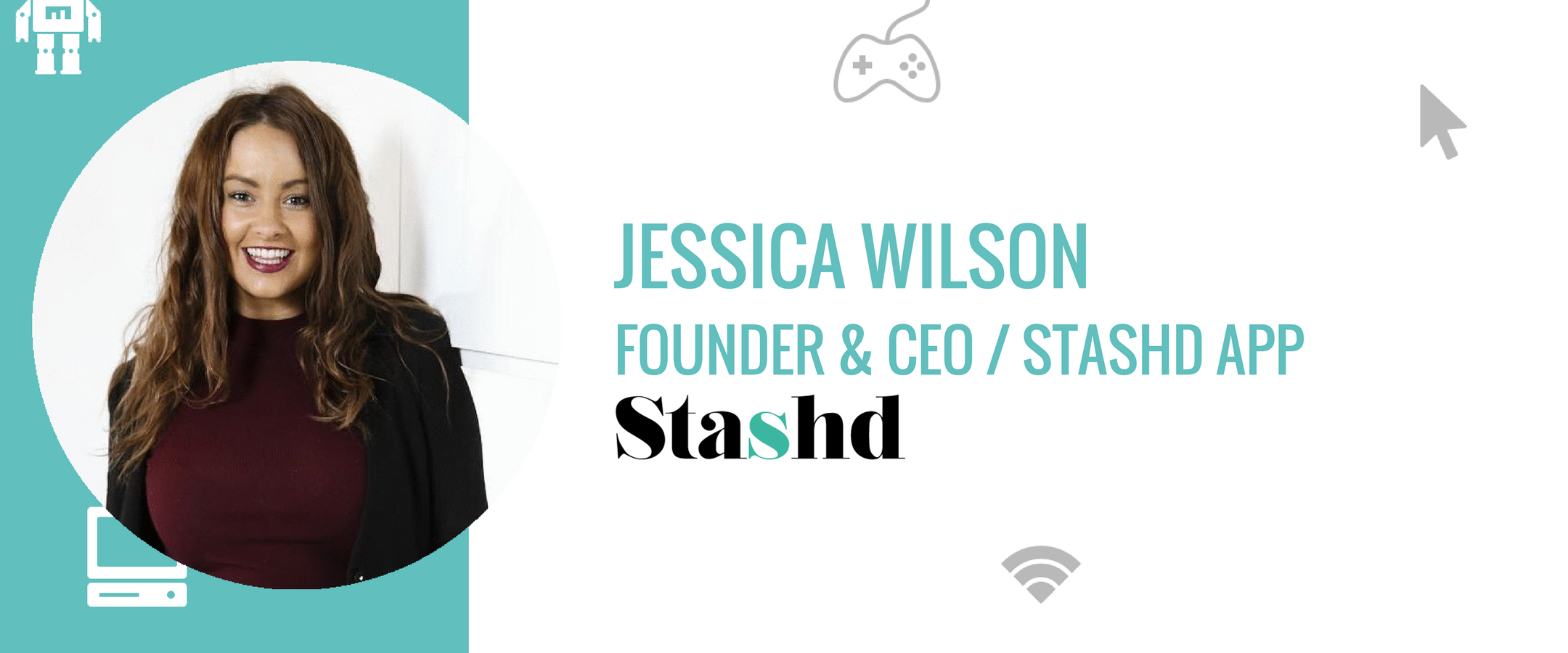 Jess Wilson is the founder and CEO of online shopping app Stashd. Stashd aims to make western fashion accessible to the Chinese millennial market. Launched in 2014, the app now has users in 136 countries, has featured as a 'Best New App' in 11 countries and has 4,200 brands available to shop. In 2016 Stashd secured a Chinese HQ for Stashd and gained strategic investment from China's largest social media network, WeChat.
Jess is a repeat entrepreneur, having started her first business at 16. She later dropped out of university after a careers advisor told her she 'didn't have it in her' to have a career in the fashion industry. Jess then went on to work throughout Australia, New York, and Paris at fashion week which provided the insight for to be able to start Stashd. Jess has appeared in numerous 30 Under 30 awards such as Smart Company, Anthill 30 Under 30 and was pinned by Forbes as one of 1,000 entrepreneurs under 30 to change the world in the next 50 years.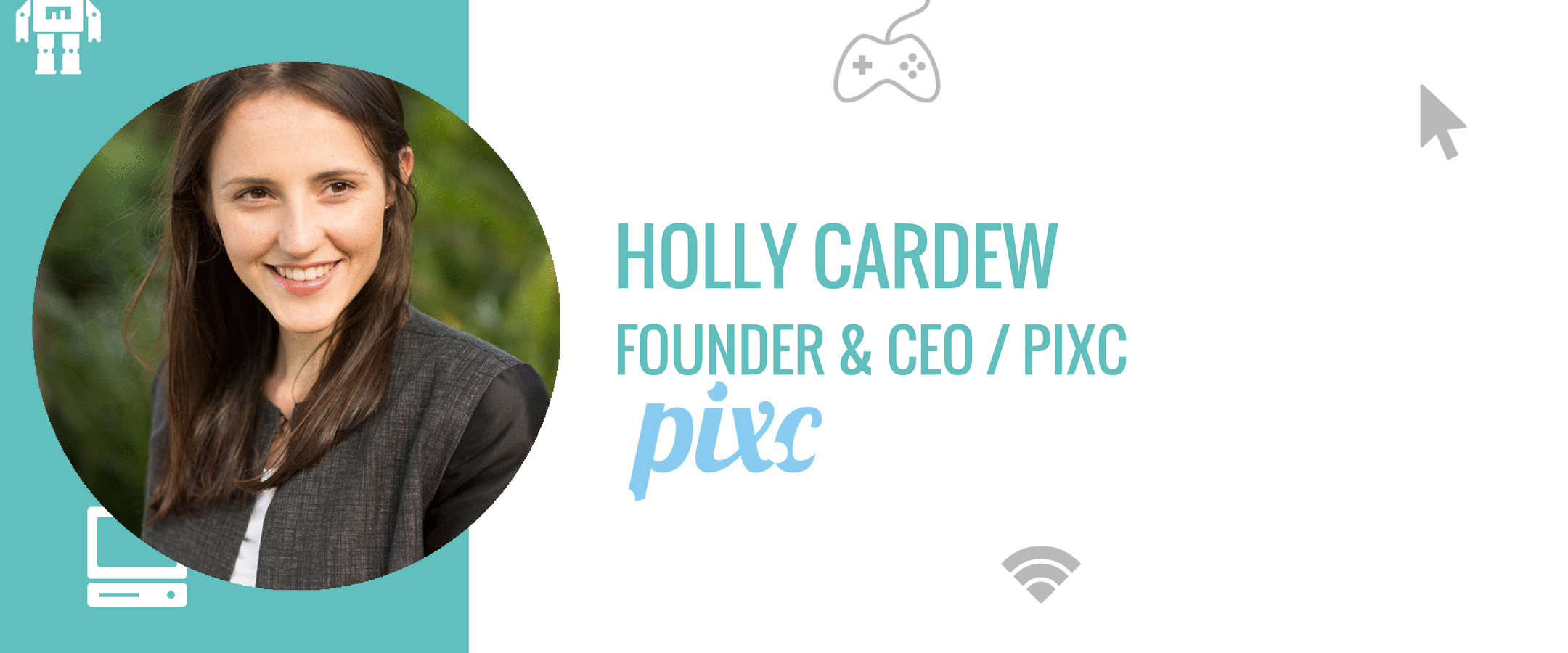 Holly Cardew is a tech entrepreneur, who founded Pixc to help eCommerce stores optimise their product images to ultimately increase their online sales and allow the store owners to focus on running their business. Holly splits her time between Sydney and San Francisco, and has previously taken part in the Telstra muru-D Accelerator as well as and world-renowned startup incubator, 500Startups, in Silicon Valley.
In 2014 and 2015, she was named one of Australia's top 50 entrepreneurs under 40, and In 2016, Holly was listed as a Forbes 30 Under 30 Asia emerging entrepreneur to watch in the eCommerce and retail space.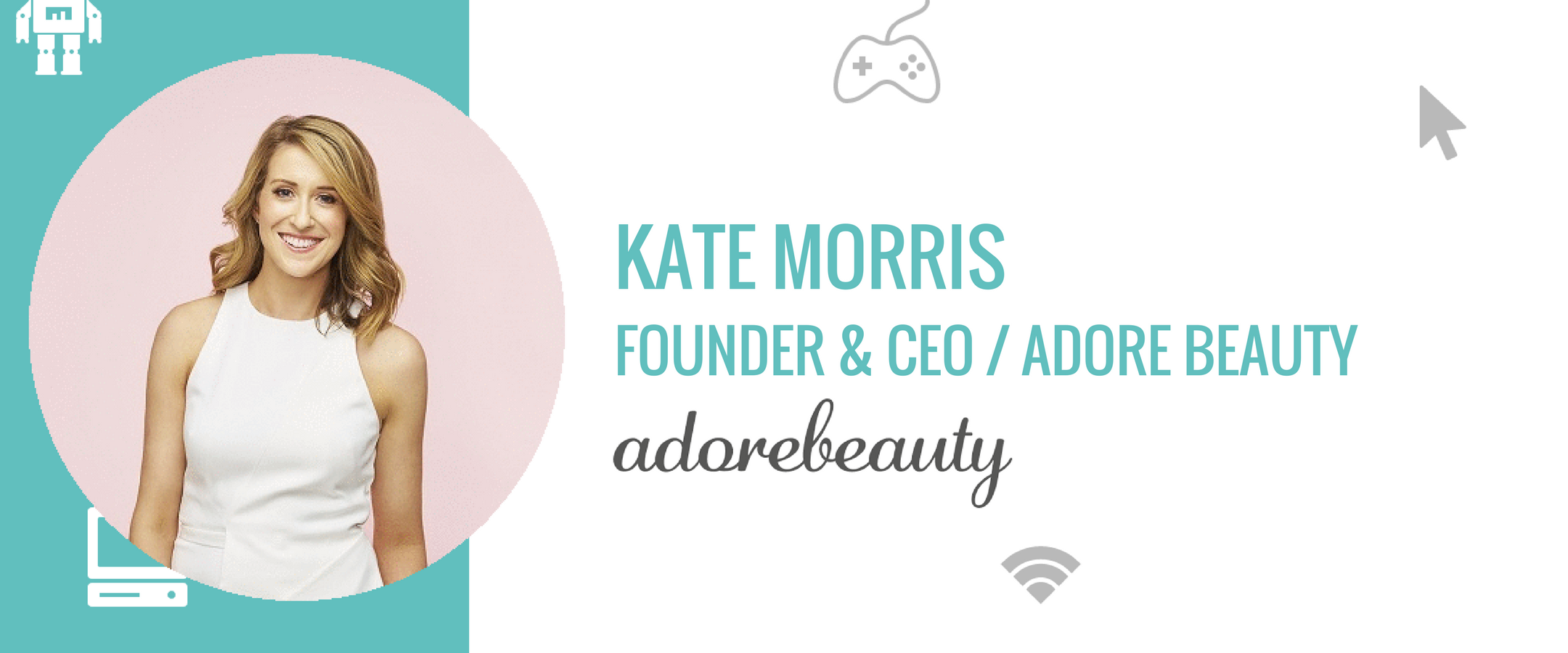 Beauty advocate Kate Morris, CEO and founder of Adorebeauty.com.au, started Australia's first beauty e-commerce site in 1999 from a garage in Melbourne at the age of 21. Starting with just $12,000 and two little known cosmetic companies on board, Adore Beauty has grown to more than 160 brands, 12,000 products, and annual turnover of $24m. A university job on the cosmetic counters led Kate to realise that most women found department stores intimidating and unpleasant. Kate was inspired to create a disruptive beauty shopping experience that empowered consumers.

In May 2015, Adore Beauty announced an investment from retail giant Woolworths Limited. Kate was awarded the Business Innovation Award for Victoria at the Telstra Business Women's Awards in 2014, and was inducted into the Australian Businesswomen's Network Hall of Fame in 2015. Adore Beauty has also been scooping up accolades, making the lists for Deloitte's Tech Fast 50 Australia and Tech Fast 500 Asia-Pacific for the last three years in a row, as well as the SmartCompany Smart50 in 2016.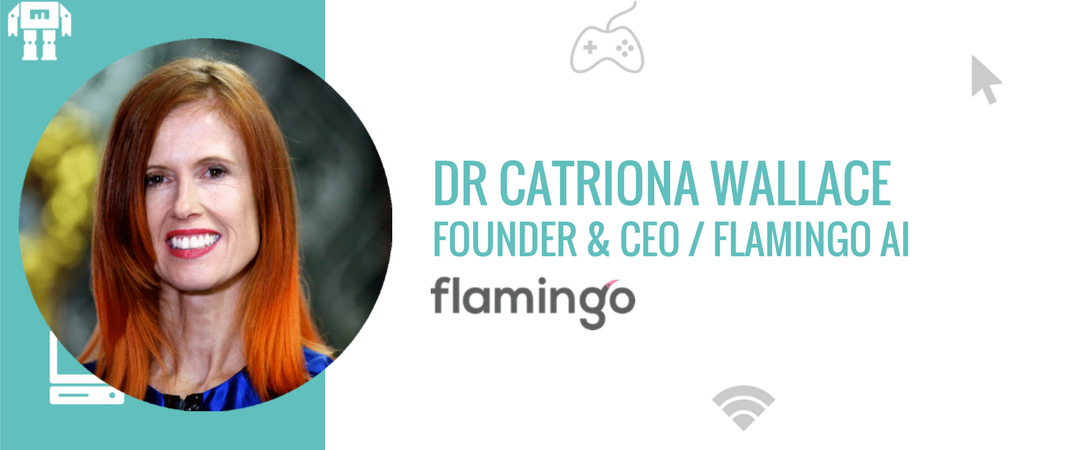 Based in NYC and Sydney, Dr Catriona Wallace is one of the world's most cited experts on the Future of Customer Experience, Artificial Intelligence and Bot Strategy. Catriona is the Founder and CEO of high profile FinTech company, Flamingo, which provides an Intelligent Guided Selling platform (AI) and Cognitive Virtual Assistant called 'Rosie' for Financial Services companies.
She is also the Founder of three other businesses - customer experience design firm, Fifth Quadrant, market research firm, ACA Research and women's co-working space, The Ventura. With a PhD in Organizational Behavior: Human Technology Interaction, Catriona is also a well published author and Analyst. A highly awarded business person, Catriona has been inducted into the Australian Business Woman's Hall of Fame, is the winner of a Telstra Business Award, Alumni of the Springboard Enterprises Women Entrepreneur's and EY Entrepreneur of the Year programs. Recently Catriona was awarded a Pearcey Foundation award for tech entrepreneurs and was recognised as Top 4 Most Respected People globally in the Customer Experience sector. Catriona is also a high profile philanthropist, human rights activist and mother of five.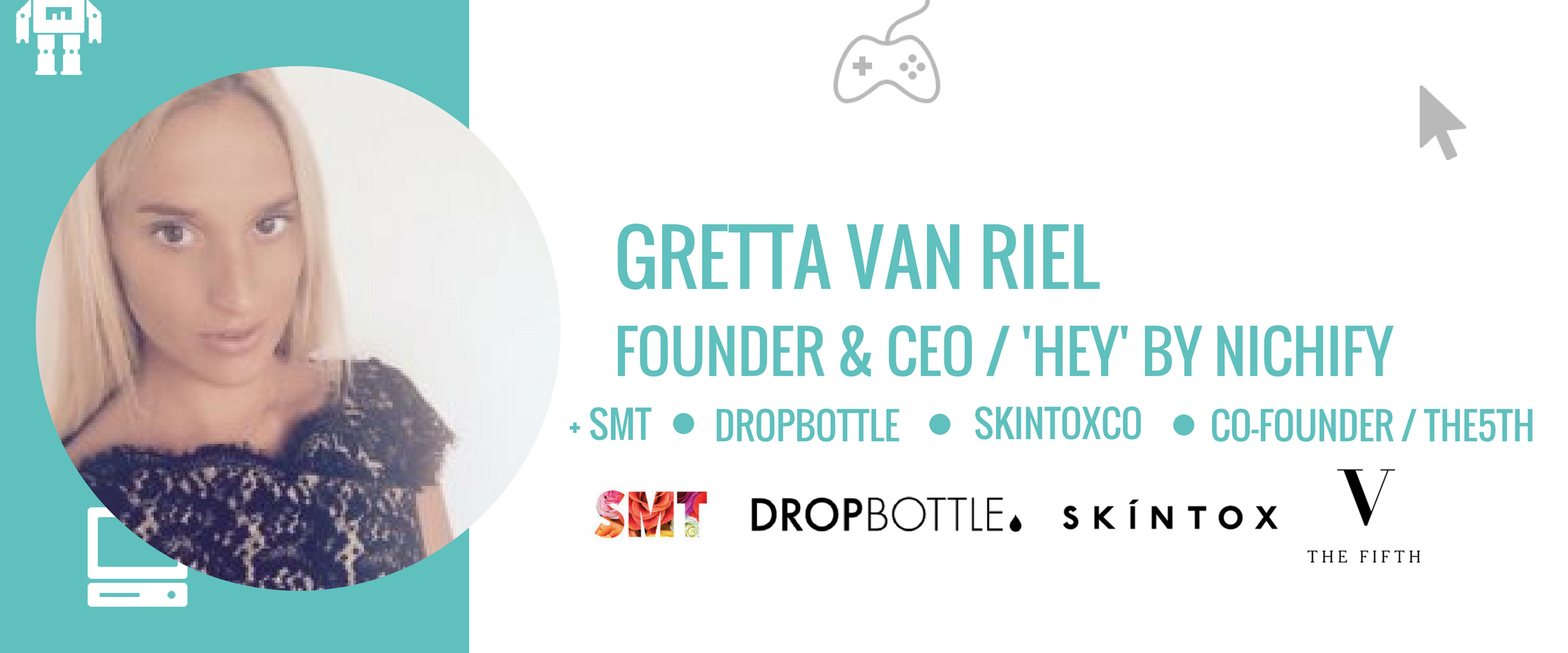 Gretta is a serial entrepreneur, and social media influencer who turns audiences into brands, and trending ideas into markets. In 2013 she won the Shopify Build A Business competition and has been featured on Mashable, Tim Ferris'​ 4 Hour Work Week Blog, Fast Company & more.
As a Social Media growth expert, she has previously grown an Instagram profile from 0 to 48,500 followers in 24 hours. Her businesses include The Fifth Watches, SMT, Dropbottle, and Skintox Co, and she has a combined social media following of over 17 million across accounts. Now, Gretta is taking her social media marketing expertise and building a technology platform that will allow other brands to build their business using the same influencer marketing tactics that she's implemented for years. It's pretty safe to say that Gretta is Australia's official #InstaQueen.
MORE SPEAKERS REVEALED SOON_
SUPER EARLY BIRD TICKETS NOW AVAILABLE, BUT NOT FOR LONG!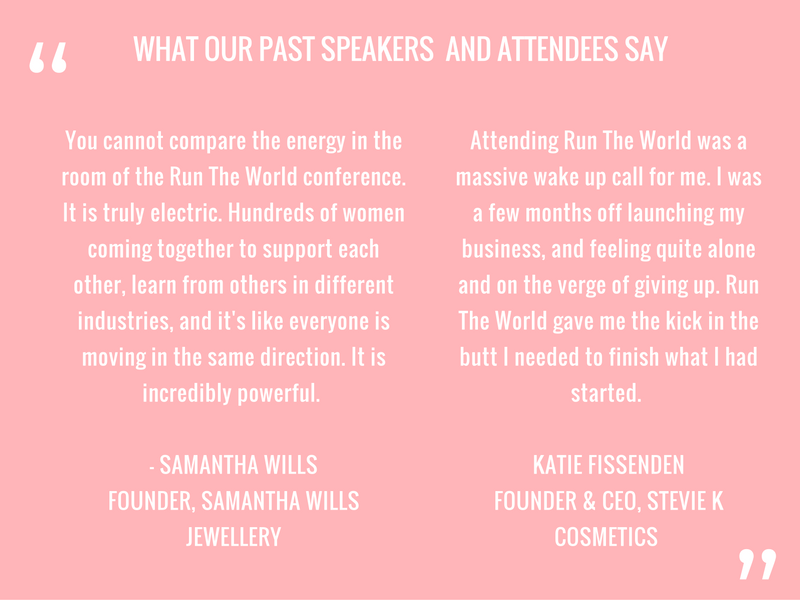 FAQs
What time is registration?
Registrations open at 9am.
Are men welcome to attend?
Of course! Whilst this conference will be showcasing Female Entrepreneurs and Women in Tech, just like other years, we will be welcoming everyone to attend. We encourage men to be part of the conference, and the conversation.
What ID requirements do I need to bring to enter the event?
League Members: If you are a League of Extraordinary Women member you will need to show any form of photo ID with your full name at the registration desk so that we can double-check that you're on our League member list.
Students: If you are a student please show your student ID at the registration.
Please ensure that you bring your ID on the day, failure to show either of the above may result in an additional charge for the difference to a general admission ticket or refusal of entry to the conference.
What should I bring to the event?
The most important thing...yourself! But also don't forget to bring your business cards, your smartphone, a jacket (because you know..Melbourne) and last but not least, an open mind and positive attitude.
Is there a cloakroom?
More information to be released shortly.
Where can I contact the organiser with any questions?
Please email us at hello@leagueofextraordinarywomen.com.au
Can I sponsor the event with my product?
If you're interested in sponsoring our goodie bags this year, please contact hello@leagueofextraordinarywomen.com.au
Do I have to bring my printed ticket to the event?
In the interest of helping to save the trees, there's no need to print your ticket and bring to the event. Simply have your ticket ready to be scanned on your smartphone, or some form of photo ID so we can look you up by name.
What is the refund/cancellation policy?
Tickets are non-refundable.