Run The World - One Day Female Entrepreneur Conference | Melbourne 2016
Description

ONE DAY, 8 INSPIRING SPEAKERS. ONE LIFE CHANGING EXPERIENCE
We are back with another thought-provoking and inspiring female entrepreneur conference. This year we will only be holding one major conference in Melbourne. We are teaming up with Wade Institute to bring you a unique experience at the neo-gothic Ormond College Hall - with only 350 seats available this year, we expect to sell out faster than 2013, 2014 and 2015. We have also uncovered some extremely special female entrepreneur speakers - some of which have never shared their stories on stage before, so prepare to be inspired, learn and grow.
WHY YOU NEED TO BE THERE
BE INSPIRED by 8 brilliant and awe-inspiring female entrepreneurs. We've uncovered legends that will share experiences with us to inspire us to take it to the next level. We're talking about companies that have changed the world, social media phenomenons and women that do what they love every single day.

BRILLIANCE ATTRACTS BRILLIANCE. Ever heard the quote "you are the average of your 5 friends"? Sometimes the closest people around us won't understand our entrepreneurial journey, this is why The League exists. Connect with other women that get you, that will inspire you to keep going and be courageous.

POSSIBILITIES & OPPORTUNITIES. When we focus on problems, we get more problems but when we focus on possibilities we get more opportunities. These female entrepreneurs are here to show you what is possible. With that energy comes endless opportunities. Our RTW conferences have been able to create synergies, collaborations, and real friendships.


WHAT'S INCLUDED //
8 presentations from incredibly inspiring, successful female entrepreneurs

Morning tea, lunch, afternoon tea, plus after event drinks thanks to the WADE Institute

The ever awesome Run the World goodie bag, full of new products for you to try

Meet and connect with like-minded female entrepreneurs who could become your new besties
SPEAKER LINE UP //
Melma Hamersfeld is the Founder of Metalicus, initially a fashion accessories brand that started in the early 70's. Her story is remarkable as she created belts and jewellery from scrap metal and sold it to the big department stores. In the 1990's, Melma created the iconic "body stocking" clothing line and business soared. The Metalicus brand and trademark body stocking garments are renowned worldwide with more than 350 stockists in Australia, New Zealand, South Africa and Canada. Melma sold her company in 2007 in excess of $45 million and now spends her time creating art with acrylics. http://melma.com.au/
Cyan Ta'eed is Co-Founder and Executive Director of Envato, a creative eco-system encompassing the largest digital marketplace in the world, that Cyan bootstrapped in her parent's garage. Today, Envato has over 6 million users and has delivered over US$400 million of earnings to their sellers to date. Cyan is also Mum to two little boys, Telstra Victorian Business Woman of the Year, and Founder of New Day Box, an initiative that mobilises women to make boxes of skincare and cosmetics for women in domestic violence crisis accommodation. So far, New Day box has delivered over 5000 boxes to women in Victoria.
Website - www.envato.com.au Twitter - @cyantaeed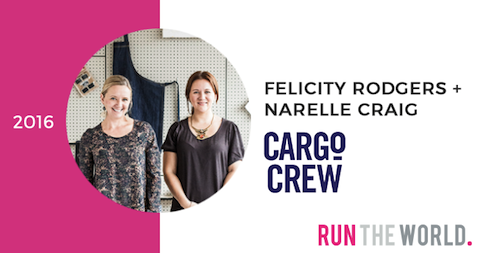 Sisters Narelle and Felicity are owners of Cargo Crew, the industry disrupting, cool and design-led workwear brand. Winners of the 2015 Telstra Australian Small Business of the Year Award, Felicity started Cargo Crew from a one bedroom flat, with a $2000 tax return. They now operate from their contemporary HQ in Melbourne, providing stylish uniforms to businesses across the globe including Hoyts, Dulux, Oscar Wylee, and Goop - with Gwyneth Paltrow as a massive fan of their signature aprons!
Website - cargocrew.com.au Twitter - @cargocrew Instagram - @cargocrew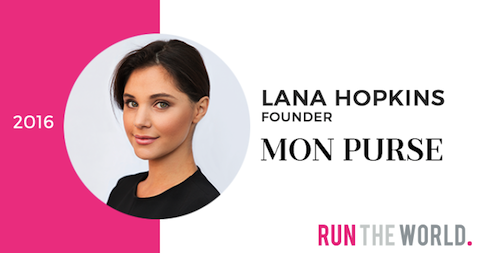 Lana is the CEO & Founder of Mon Purse, the multi-award winning personalized leather handbag and leather goods brand. After a session in a personalized teddy making workshop, Lana dreamt up the idea for Mon Purse, a business that would allow women to create high quality embossed, initialled, and bespoke European leather bags, with the ability to choose your own shape, leather texture, grain, colour, hardware, and size. The business kicked off in 2014, and today sells to 33 countries worldwide, boasts a 3D enabled online store, a stand-alone boutique in Sydney, as well as an exclusive contract with MYER, with concessions in Sydney and Melbourne, and expansion plans on the horizon in 2016.
Website - monpurse.com Twitter - @mon_purse Instagram - @mon_purse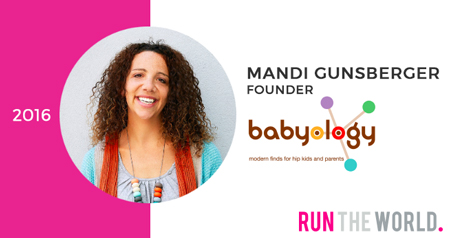 Mandi is the Founder and Managing Editor of Babyology, Australia's largest digital media company for parents. With a huge social media following including over one million Facebook fans, Babyology knows how to reach their audience of 20-45 year old women.
An entrepreneur who just happens to be a mum-of-three, Mandi launched the business alone in her living room nine years ago with $5,000 for the website design and now heads a team of almost 30, all of whom also happen to be mums working remotely from their own homes with Babyology HQ in Surry Hills, Sydney.
Babyology is now considered the online market leader in native editorial content for Australian parents and has many other areas of reach including events, subscription boxes, and video content and reaches more than 3.5 million women each month
Website - babyology.com.au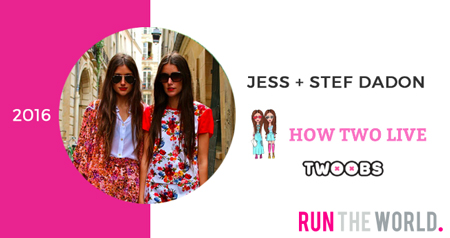 Australian sisters Jess and Stef Dadon are designers, creative directors, social media consultants and entrepreneurs. They first launched How Two Live as a daily diary in 2012, as a way to keep in touch when Stef moved to Paris for six months.
The girls are known for their bold personal styles and crazy colourful aesthetic and being mistaken for twins at least 5 times a day. They're massive animal lovers, masters of nail art, and in 2015 were converted to Belieberism.
They've worked with some of the biggest brands in fashion and beyond, including ASOS, Westfield, Maybelline, Nasty Gal and The Zoe Report. The girls also have a love-love relationship with emerging designers, making it a priority to wear and support up and coming talent.
The How Two Live brand inspires people, young and old, to be whoever they want to be.
Website - howtwolive.com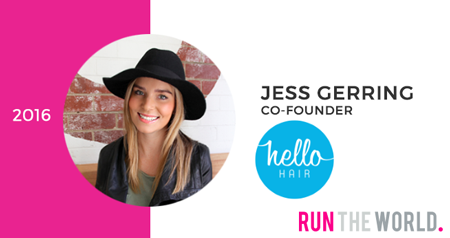 Jess, Sophie, and Jade launched Hello Hair in December 2013 with extremely little capital finances. Despite none of the women having any previous experience in the haircare or beauty industry, they saw a gap in the market for an all-natural product that could be marketed effectively through social media. So, they decided to take the leap, and after three months, and a lot of hard work, launched the Hello Hair vegan hair mask.
What started as a 'little side business' quickly turned into full-time jobs, and they have been able to successfully market their products predominantly through Instagram, with a combined social media following over 450k worldwide.
Website: www.hellohair.com.au Instagram: @ohellohair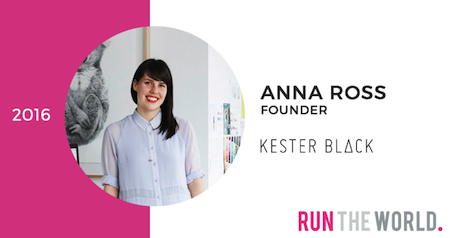 Anna Ross is the Founder and Director of Kester Black, one of Australia's leading manicure and skincare brands specialising in sustainably and ethically produced products. Founding the company in 2012, Anna set out on a mission to redefine the industry standard for consciously created cosmetics. She developed a range of manicure products that adhere to her ethical and environmental values without compromising on style. Utilising her background in design, her love for creative collaboration and her uncompromising social and environmental values, Anna's belief in ethical business practice has resulted in the fast-growing success of the Kester Black brand which remains at the forefront of the Australian beauty industry. as a 'little side business' quickly turned into full-time jobs, and they have been able to successfully market their products predominantly through Instagram, with a combined social media following over 450k worldwide.
Website: www.kesterblack.com.au Instagram: @kesterblack

SPECIAL FEATURE - FEMALE ENTREPRENEUR PANEL // Upcoming young female entrepreneurs taking on the world.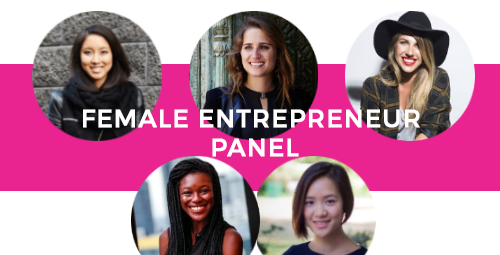 Sarah Holloway - Matcha Maiden
Sheree Rubenstein - One Roof Women
Katie Fissenden - Stevie K Cosmetics
Sarah Agboola & Ting Choong - m-Time
THE SCHEDULE //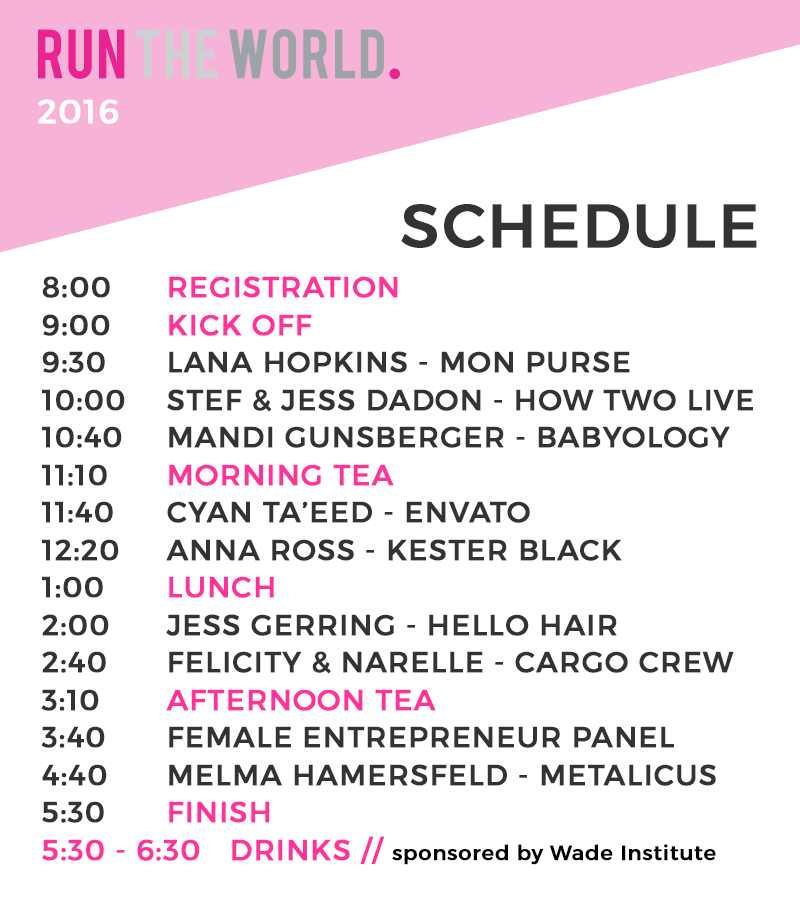 Hear what some of our amazing past our speakers have to say.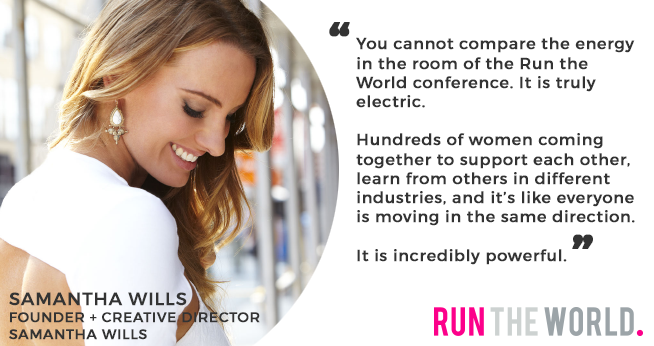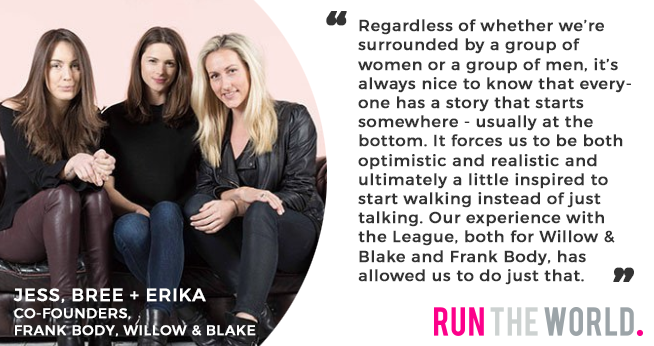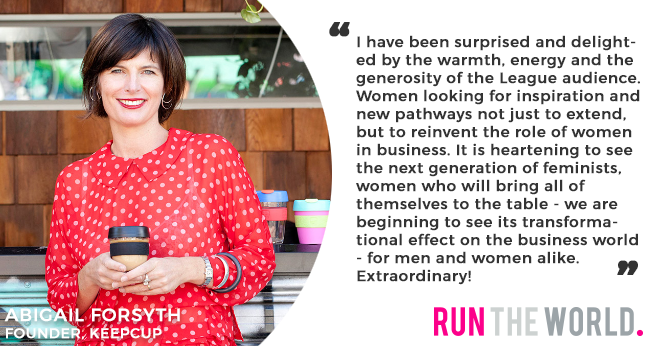 FAQs
What time is registration?
Registrations open at 8am. Be on time or be prepared to join a long queue!
Are men welcome to attend?
Of course, whilst this conference will be showcasing Female Entrepreneurs, just like other years we will be welcoming all genders to attend. We believe in diversity and encourage men to be part of the conference.
What ID requirements do I need to bring to enter the event?
League Members: If you are a League of Extraordinary Women member you will need to show any form of photo ID with your full name at the registration desk, so that we can double check that you're on our League member list.
Students: If you are a student please show your student ID at the registration.
Please ensure that you bring your ID on the day, failure to show either of the above may result in an additional charge for the difference to a general admission ticket or refusal of entry to the conference.
What should I bring to the event?
The most important thing...yourself! But also don't forget to bring your business cards, your smartphone (Run The World selfies anyone?), a jacket (because you know..Melbourne) and last but not least, an open mind and positive attitude.
Is there a cloak room?
More information to be released shortly.
Where can I contact the organiser with any questions?
Please email us at hello@leagueofextraordinarywomen.com.au
We would love to hear from you.
Can I sponsor the event with my product?
We are only selecting 8 products for our goodie bags this year, please visit our website to apply.
Do I have to bring my printed ticket to the event?
In the interest of helping to save the trees, there's no need to print your ticket and bring to the event. Simply have your ticket ready to be scanned on your smart phone, or some form of photo ID so we can look you up by name.
What is the refund/cancellation policy?
Any tickets purchased from the 26th July 2016 are non-refundable.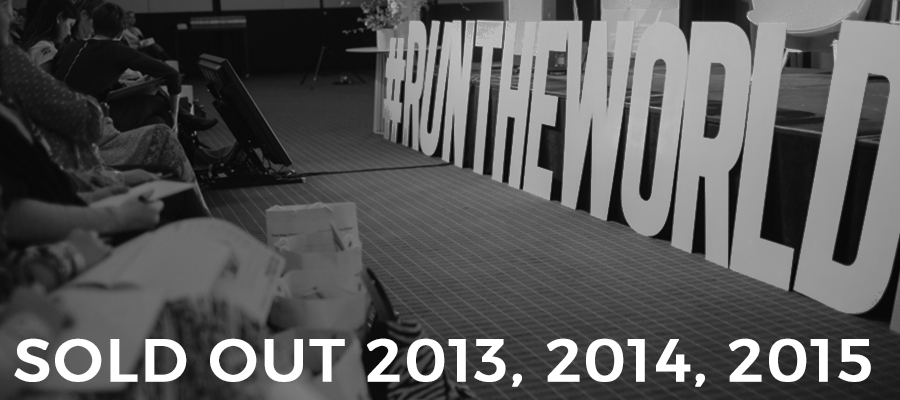 Hosted by Wade Institute and League of Extraordinary Women