Description
On Saturday, April 6th, League of Extraordinary Women will be bringing you it's eleventh annual conference, Run the World, to Brisbane! For Australia's leading and up and coming female entrepreneurs, makers, creators, and innovators.
Run the World is full day extravaganza of inspiration for entrepreneurs and women in business alike - whether you're thinking of launching a side hustle, are an established entrepreneur, or you simply want to be inspired and motivated by some of the brightest and most awe-inspiring women in business, creators, and makers, shaping a life they love.
We've uncovered some extremely special female entrepreneur speakers - some who have never shared their stories on stage before, so prepare to be inspired, learn, and grow.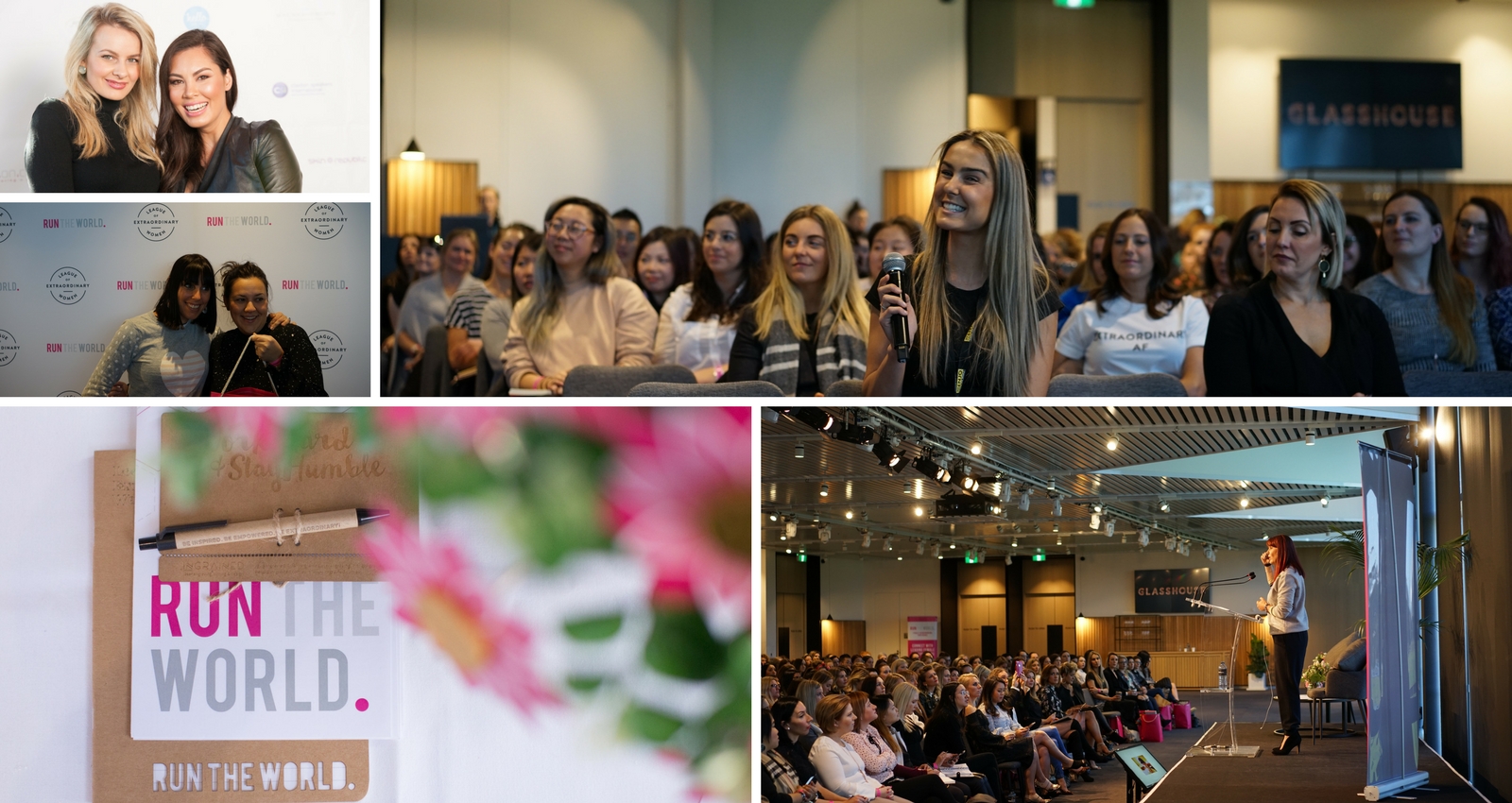 You'll leave Run the World 2019, fuelled with the confidence and courage needed to start visualising how to live your best life. Your inner Beyonce will be channelled, and you'll be ready to fiercely pursue what makes your heart sing.



WHAT'S INCLUDED //
A jam-packed day of keynote presentations and panels with extraordinary female entrepreneurs. We've uncovered legends that will share experiences with us to inspire us to take it to the next level. We're talking about companies that have changed the world, social media phenomenons, and women that do what they love every single day

A nourishing lunch

Run the World gift bag full of awesome treats from our partners


Meet and connect with like-minded female entrepreneurs, innovators, and makers to create synergies, collaborations, and real friendships - you might even meet your new bestie!


LEAGUE MEMBERS //
League members get a discount on all ticket types. Click tickets to see League member ticket pricing. *Cannot be applied retrospectively.



2019 BRISBANE SPEAKERS //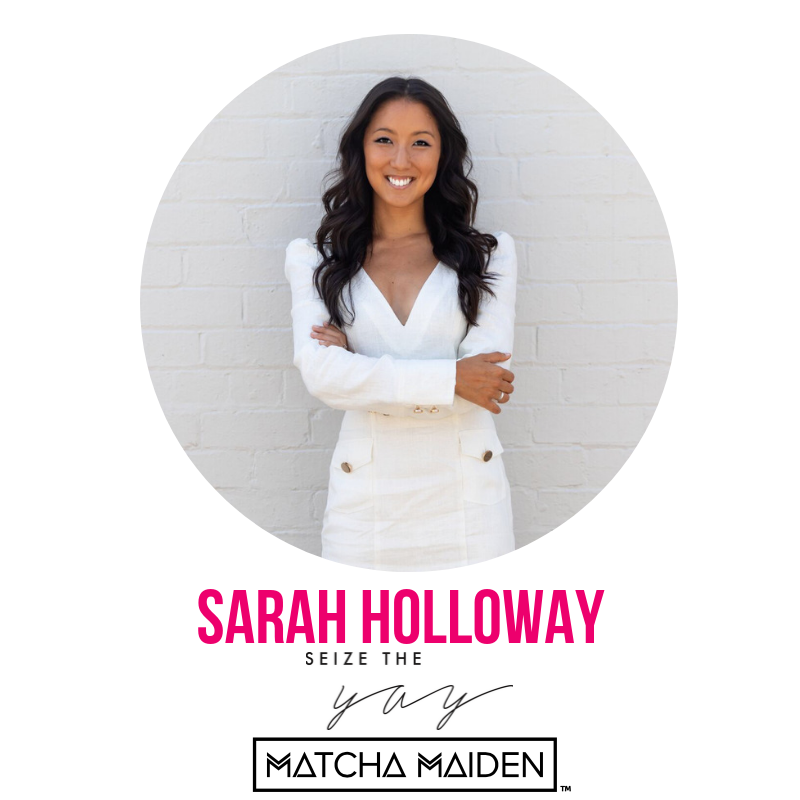 Sarah began her working life as a mergers and acquisitions lawyer at a leading international law firm. While she enjoyed several years building strong professional foundations, she found it increasingly challenging to reconcile the all-consuming corporate lifestyle with her personal passions for health, wellbeing, creativity and adventure. In pursuit of balance, Sarah and her partner started Matcha Maiden closing a gap they discovered in the health food market for matcha green tea powder. Matcha is now one of the world's premier health food trends and Matcha Maiden is leading the way with a growing community of over 1500 stockists including Anthropologie across the USA, Australian and US warehouses, and a very bright (green) future.
Sarah has now hung up the suits and heels to step into the business full time. In 2016, the matcha mission developed into a physical venue and cutting edge cafe, Matcha Mylkbar, which is taking the food world by storm. Sarah now splits her time between the two businesses and is thoroughly enjoying life as a full time funtrepreneur. She has also started a podcast, Seize the Yay, which investigates the difference between success and happiness, the importance of cultivating "joy" and showcases the down to earth, human side of her diverse and esteemed guests.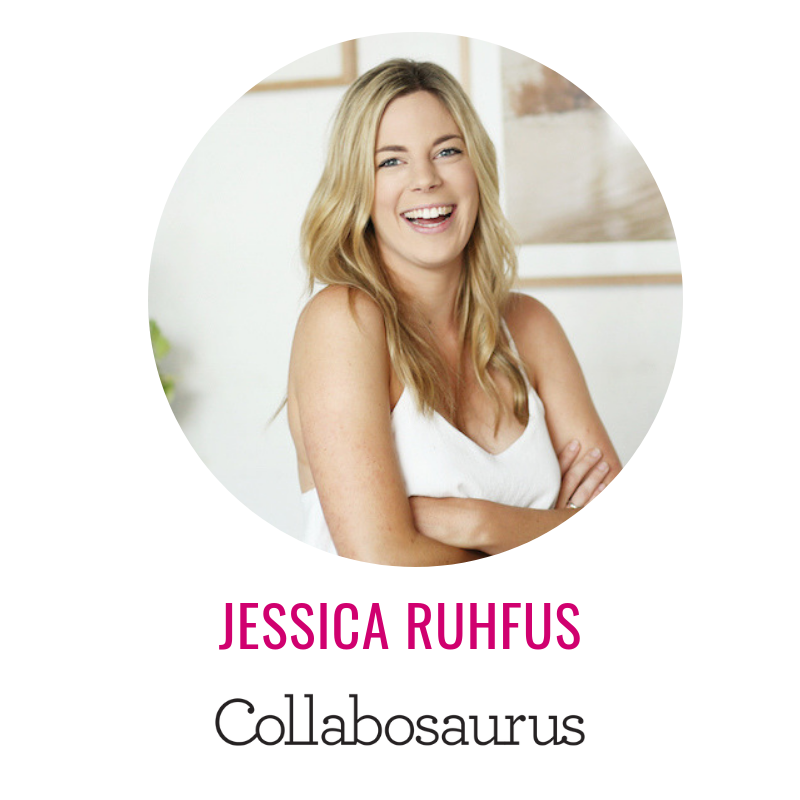 Jess is the Founder of Collabosaurus, a marketing platform that match-makes brands for promotional partnerships. With a background in fashion publicity and marketing education, Jess was frustrated sourcing cool brand partnerships in events, products & social media for clients and employers. So, she launched Collabosaurus as a new way to reach customers, creatively on a global scale. Bootstrapped, the platform has attracted over 5,000+ brands including Mirvac, Redbull, Koala, AMP and Topshop, and continues to grow by over 200 brands each month. Collabosaurus works through an algorithm that allows brands to source, secure & leverage strategic partnerships in a quarter of the time, making the platform up to 30 x less expensive than other digital advertising.
Jess has spoken for Apple, General Assembly, The Collective Hub, ADMA & The College of Event Management and is currently in San Francisco heading up the U.S expansion of Collabosaurus.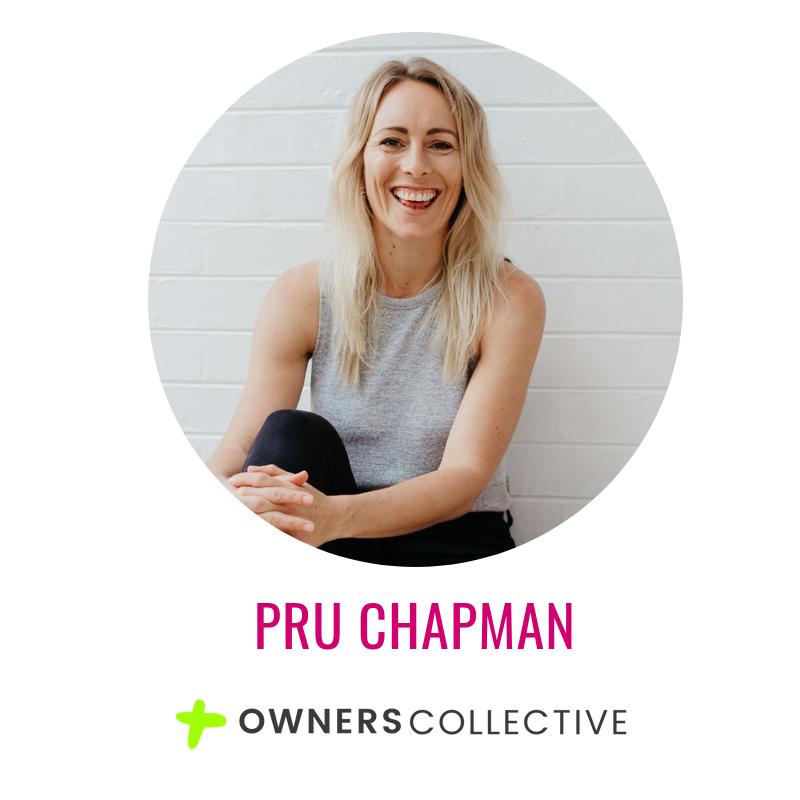 A client once told Pru that working with her is like hauling your business through an intense Crossfit session followed by a double espresso and a lazy triathlon after that. As an Entrepreneurial Thinker, Pru has trained over 13,000 Startups and Scaleups to get them on purpose and working disruptively both within and across their industries. She is the Founder + Head Hustler of Owners Collective, a global hub where creativity, lifestyle and practical business know-how collide. She has with a mad passion for all things creative, mindful and innovative, and gets giddy on climbing mountains, snowboarding around the globe, dancing samba in Brazil and meditating with monks in Asia.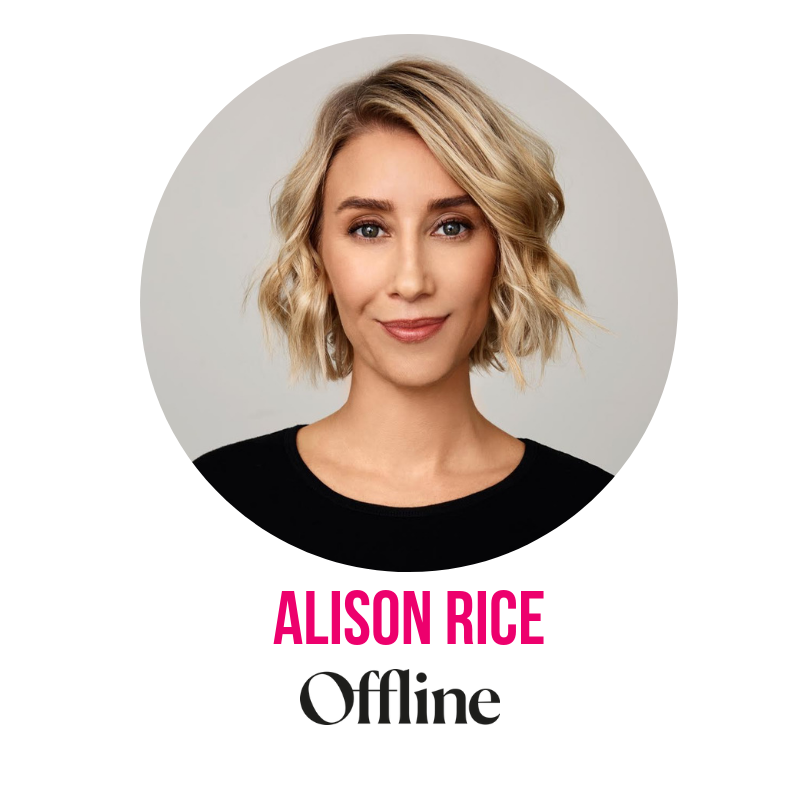 An award-winning digital publisher, journalist and leader, Alison started her career at The Walkley Foundation for Excellence in Journalism before going on to lead and launch U.S. media brands POPSUGAR, Who What Wear, Byrdie and MyDomaine in Australia. Alison is a known mentor in the media industry and beyond, and continues to pioneer brand, audience and editorial strategies that empower the country's next generation of female leaders and entrepreneurs. Alison lives by her "pull up" leadership philosophy — grab as many hands as you can, and take other women with you. In September 2018 Alison launched Offline, The Podcast. A series of honest conversations with the women behind popular fashion, beauty and lifestyle Instagram accounts. Offline exists as a resource for women who are ready to look past social media's highlight reel and develop their unique female codes.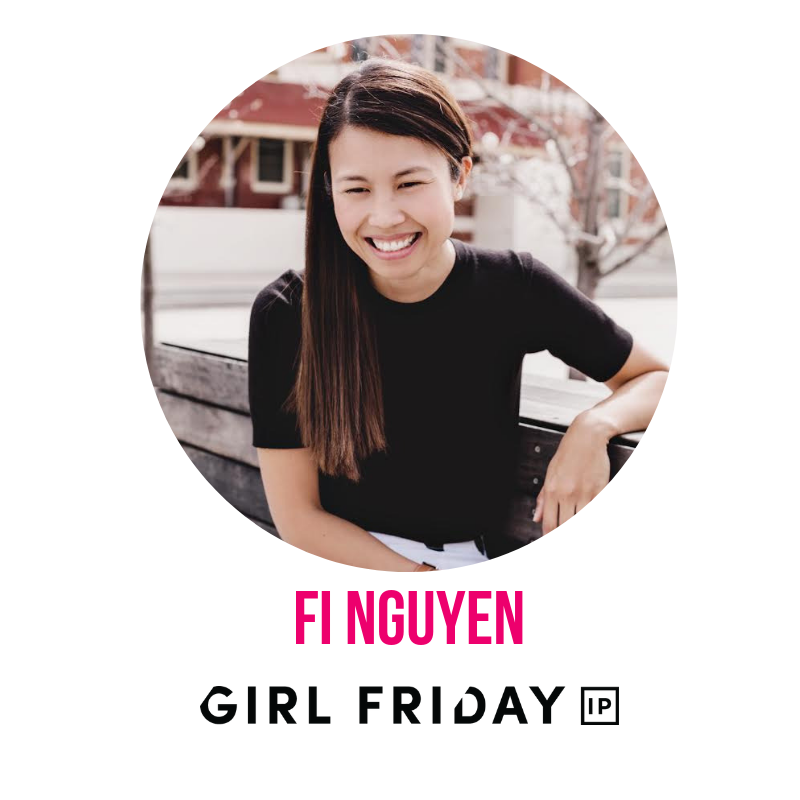 Intellectual property has an image problem. It's a confusing, intimidating and boring topic for most people. For others, it's not even a thought. Cue Girl Friday IP. We are not your typical patent and trade mark attorneys. We are creative thinkers and problem solvers. We're here to give IP a much needed makeover. To be the conversation starter. To be the 'go-to' source for IP service and advice.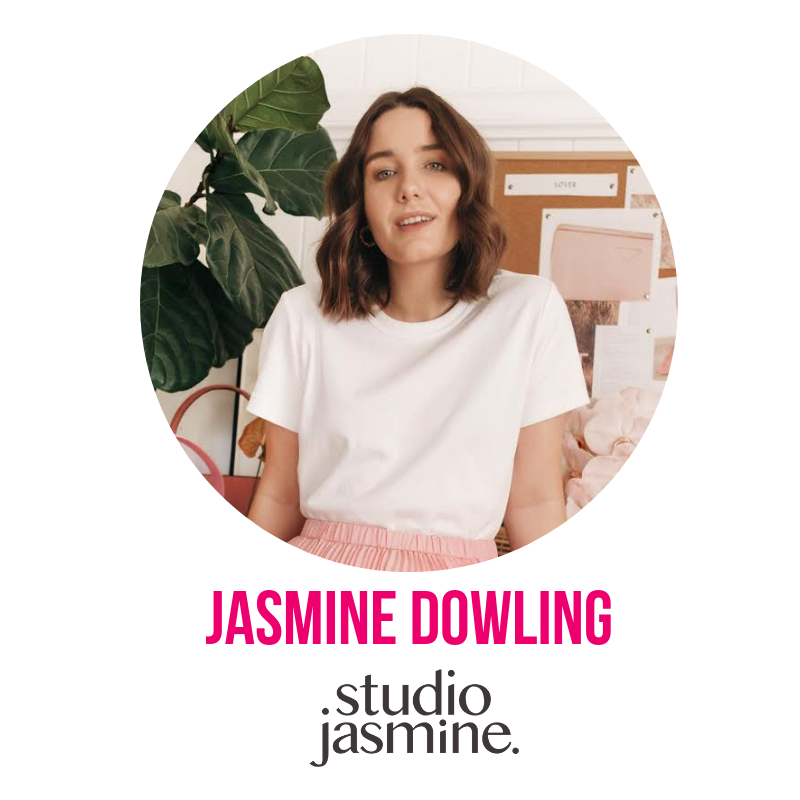 Jasmine Dowling is a letterer/graphic designer/blogger from Brisbane, Australia. In 2012 she began doing both personal design projects & commissioned work for clients. She has truly made her passion a full time gig by creating full time with clients that have included IMG Models, Nike Australia, David Jones, Max & Co & Hallmark.
Expressing her love for fashion & design through her self-titled blog & social media, Jasmine prioritises her personal taste & talent through her posts. Early 2014, her online store launched selling her art print collections. Now Jasmine's days consist of coffee, postal runs, ink covered hands, shooting, styling and editing away in her home studio.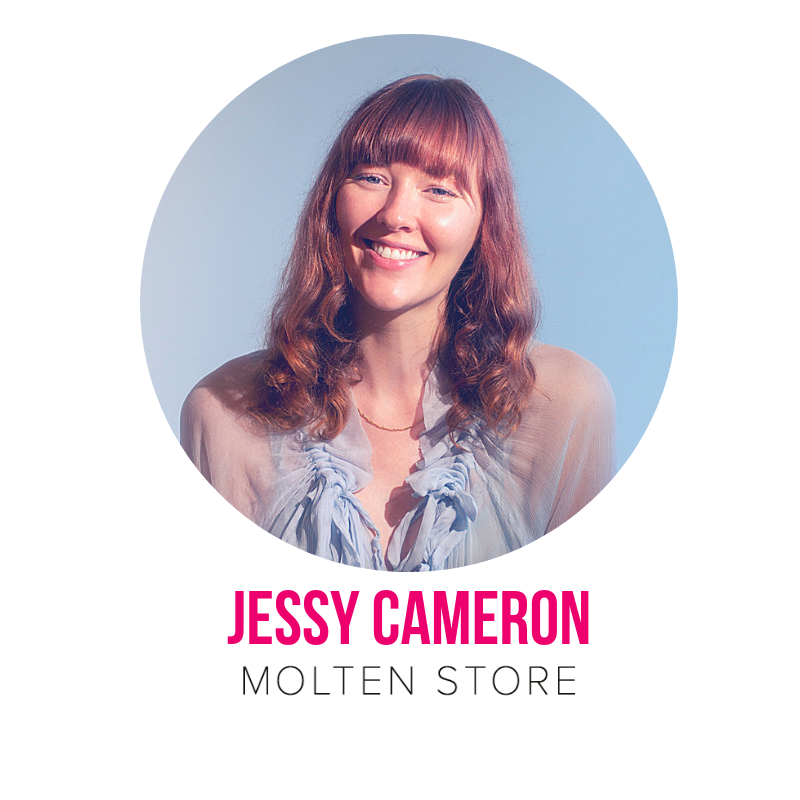 A finalist in the Telstra Young Business Women's Awards in 2016, Brisbane-based Jessy Cameron is the founder and Managing Director of Molten Store.
Jessy leads a team of eleven remarkable women, having grown the brand with her from a bedroom-based start up funded by her part time job in 2011 to a distinctive brand with a strong ecommerce presence in addition to a brick and mortar boutique amid Brisbane's luxury James Street precinct and a ceremonial Annex on Kingsford Smith Drive in Hamilton.
Over the past twelve months, Jessy has guided the Molten Store business from its former product focus of costume jewellery towards a renewed vision of circularity - manufacturing new pieces made with recycled and reclaimed metals and gemstones, while also sourcing, refurbishing and retailing vintage jewellery (with a strong emphasis on vintage engagement jewellery).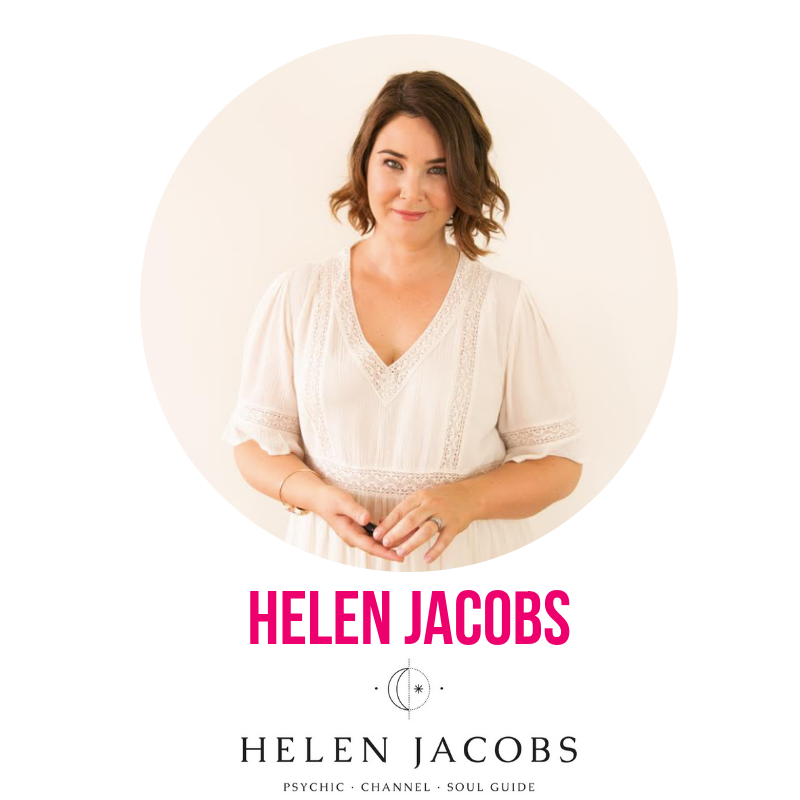 For more than a decade, Helen Jacobs has worked as a psychic and channel, teaching and mentoring individuals and groups across the globe. Through her psychic insights and down to earth approach, she helps people connect with their intuition and remember their life path and purpose.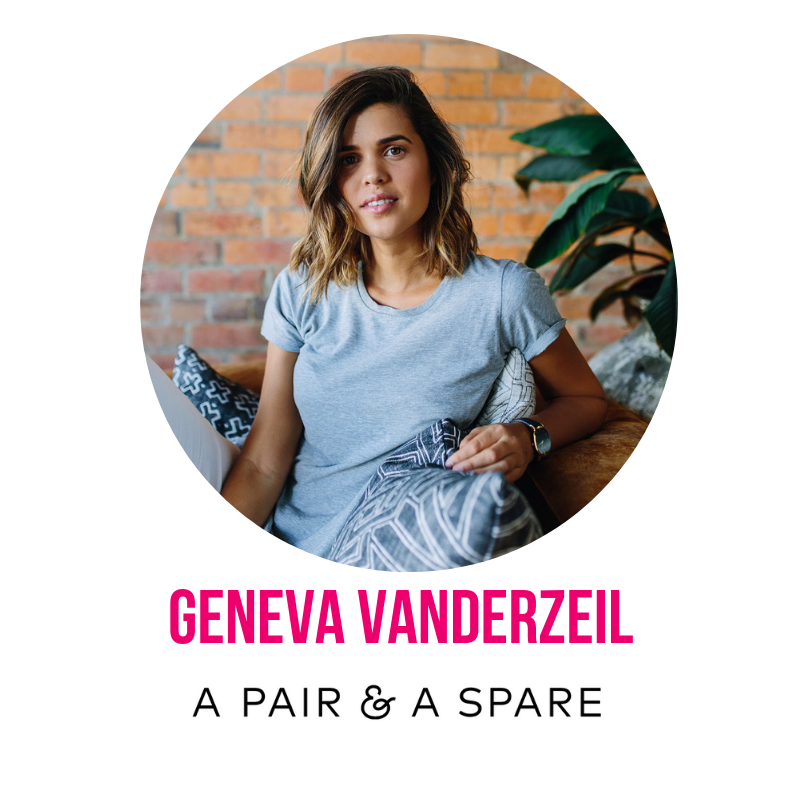 Geneva Vanderzeil is the founder of A Pair & A Spare, a website and creative studio. Started in 2010 as a place for stylish DIYs and How-to tutorials, within a year A Pair & A Spare had been named one of the top Lifestyle Websites in the world by The Times UK, had attracted a huge community of creative followers, and Geneva had published a book based on her website.
Since then she has worked with some of the biggest brands in the world to create unique content and written for major publications like Harper's BAZAAR and Vogue, and through her business and blogging advice, inspired others to create creative.
After immersing herself in the world of digital content for over 5 years, in 2014 Geneva launched her creative studio, creating content, imagery and social strategy for brands, and where she works with her team to deliver on her love of creativity. Geneva splits her time between Hong Kong and Brisbane, but travels so much she feels like a nomad!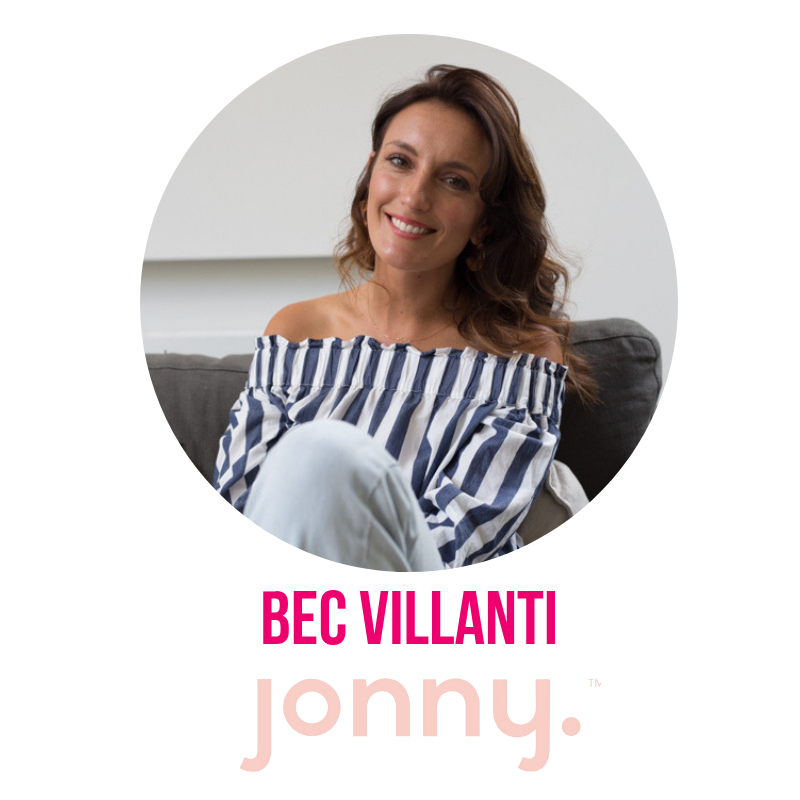 Bec Villanti hails from a background in event production, brand storytelling and hospitality, having based herself in Melbourne, Byron Bay and New York over the years. Currently residing in Melbourne, Bec has always had a passion for health, sustainability and finding balance amongst this crazy world. Jonny was born out of a mutual desire, between herself and two other Melbourne ladies, to shift the stigma, open up the conversation and disrupt the market surround safe sex and condoms. Bec runs the social media platforms, blog, partnerships and community engagements of Jonny.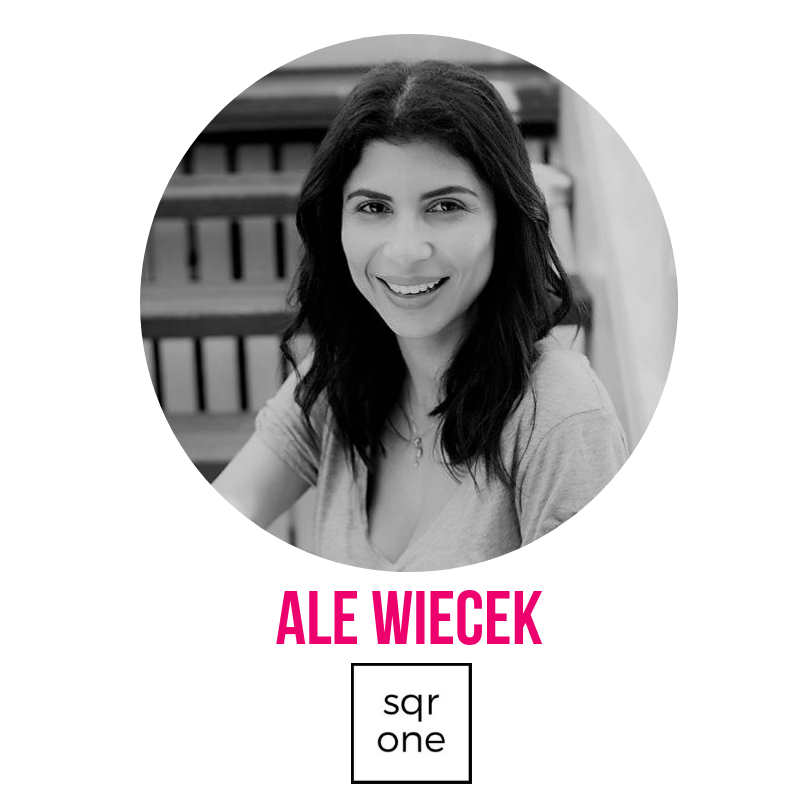 Ale Wiecek, Founder and Chief Empathy Officer at Sqr One, is passionate about Human Centred Design, Design Thinking and Customer Experience Design. Digital Transformation and User Experience has been a vital part of Ale's 17 years' experience working for multinational organisations across 3 continents. Now as the Founder and Chief Empathy Officer at Sqr One, Ale is on a mission to bring to Brisbane and Queensland, her expertise on topics such as Empathy, Customer and User Experience Mapping, Digital Transformation, and Design Thinking to small and large businesses and organisations. Ale loves blue, working out (she is one of those lady warriors at the gym, naps, a good book, music (Despacito of course), French movies, hot dogs, mental care advocate, travel and making her bed. She is a mum of two, a wife to one lovely husband and spending time with her little family (manic, stressful and adorable all at the same time) is all she wants.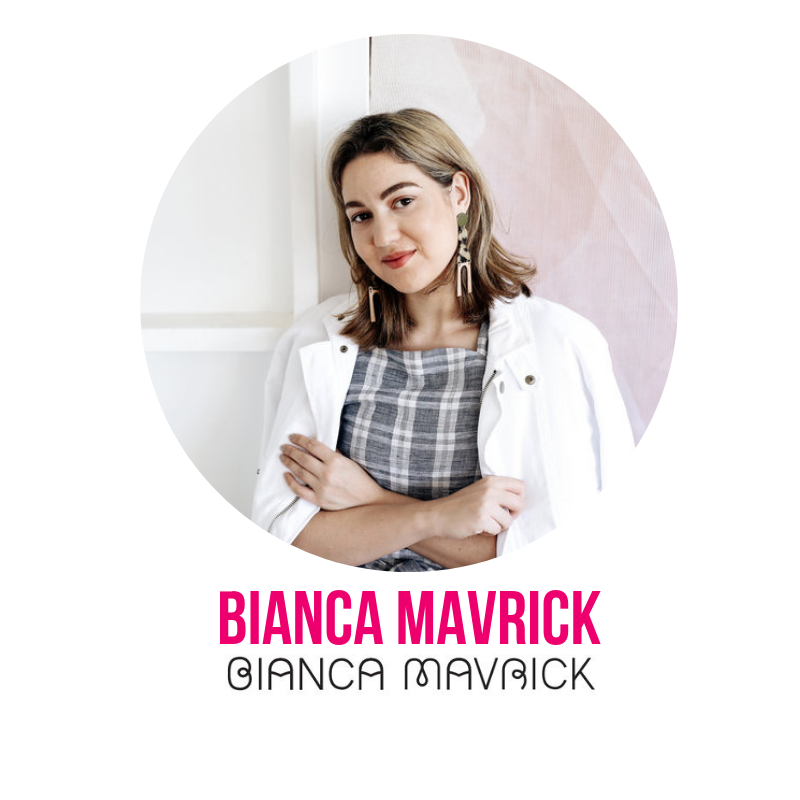 Bianca Mavrick Jewellery is utterly original; combining an arts-and-craft aesthetic with signature industrial finishes. Imbued with symbolism and playful luxury, her distinct collections push the boundaries of production, with each piece consciously crafted within Bianca's own studio in Australia.
A trained contemporary jeweller, Bianca holds a Bachelors Degree in Fine Art (Jewellery and Small Objects). With a background in Industrial Design, she is known for pushing the boundaries of production beyond the of traditional jewellery making. Bianca works with a fresh palette of materials to create a collection that doesn't fit traditional jewellery design archetypes. Minimalist forms with maximalist details to create jewellery that is original and unseen. Bianca Mavrick Jewellery is produced consciously, from her studio through small batch production runs and sold in select boutique retailers around the world such as Lane Crawford and Shopbop.
SCHEDULE //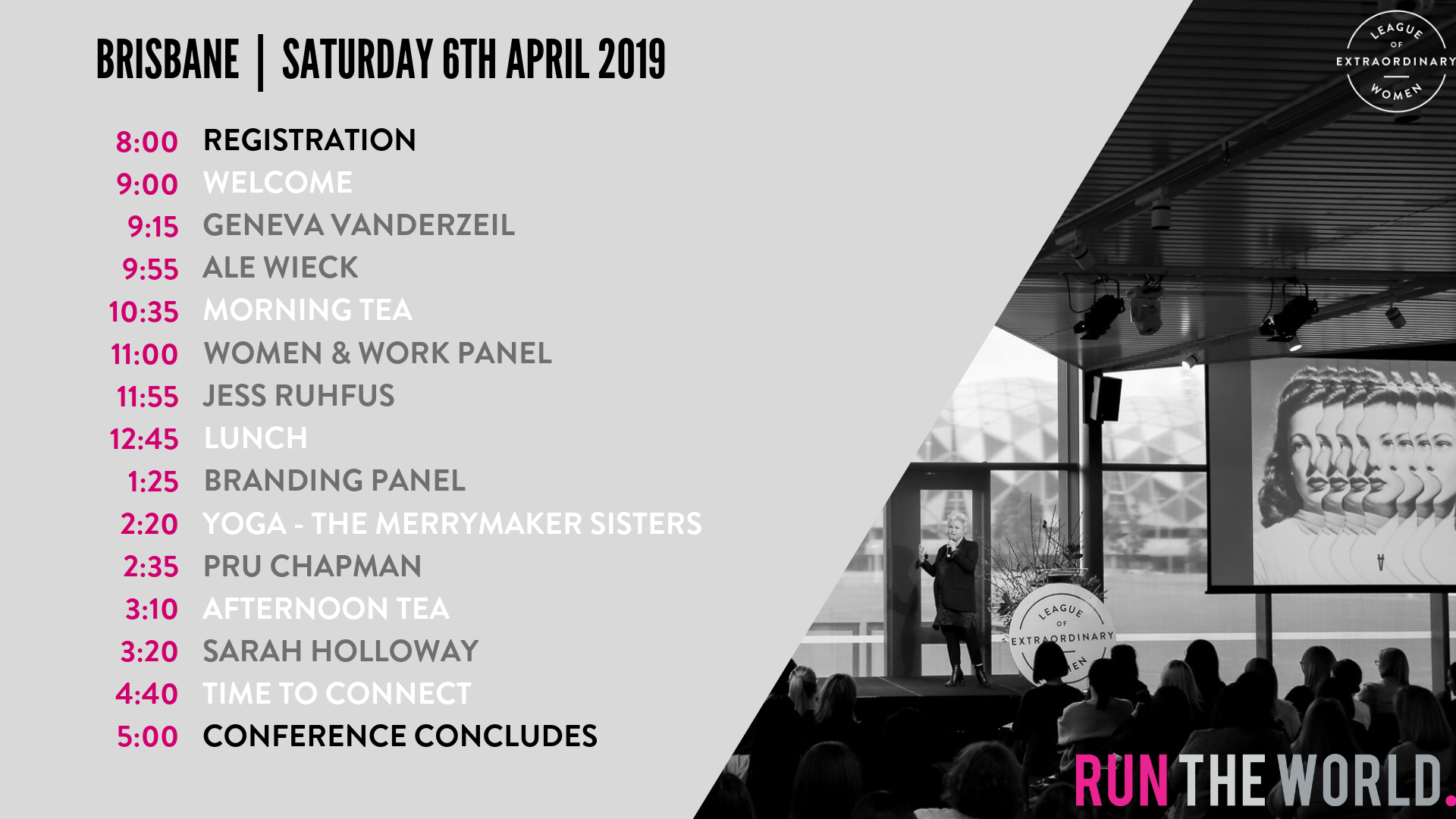 LOCATION //
Lightspace
30 Light Street, Fortitude Valley QLD 4006
Outside of normal business hours there is usually plenty of free street parking available in Scanlan and Prospect Streets. During normal business hours there are metered and free street parks however it can be quite congested. The nearest parking stations are at the Homemaker Centre (4 mins walk) and the RNA Showgrounds (10 mins walk). As an inner city venue we highly recommend public transport, taxis or Uber.
Bus
From the city, take Toombul 300 or Nudgee 306 and hop off at Stop 8 on Wickham Street. From the bus stop Lightspace is a two or three minute walk up Light Street.
Train
The closest railway station is Brunswick Street which is 10 or 15 minutes walk or 5 minutes via taxi or Uber.
FAQs //
What time is registration?
Registrations open at 8.00am, and the conference will kick off at 9:00am.
Are men welcome to attend?
Of course! Whilst this conference will be showcasing Female Entrepreneurs, just like other years, we welcome all to attend and be inspired. We encourage men to be part of the conference and conversation with us.
What ID requirements do I need to bring to enter the event?
League Members: If you are a League of Extraordinary Women member you will need to show any form of photo ID with your full name at the registration desk, so that we can double-check that you're on our League member list.
Please ensure that you bring photo ID on the day, failure to do so may result in an additional charge for the difference to a general admission ticket.
What should I bring to the event?
Just your extraordinary self. But also don't forget to bring your business cards, your smartphone (so you can take part in competitions and get social), a jacket (because you know..Melbourne...winter) and last but not least, an open mind and positive attitude.
Can I sponsor the event with my product?
If you would like to sponsor the conference, please contact us hello@leagueofextraordinarywomen.com.au.
Do I have to bring my printed ticket to the event?
In the interest of helping to save the trees, there's no need to print your ticket and bring to the event. Simply have your ticket ready to be scanned on your smartphone.
What is the refund/cancellation policy?
Tickets are non-refundable, however, name changes are permitted. Please email hello@leagueofextraordinarywomen.com.au if you need to change the name on your ticket.
Where can I contact the organiser with any questions?
Please email us at hello@leagueofextraordinarywomen.com.au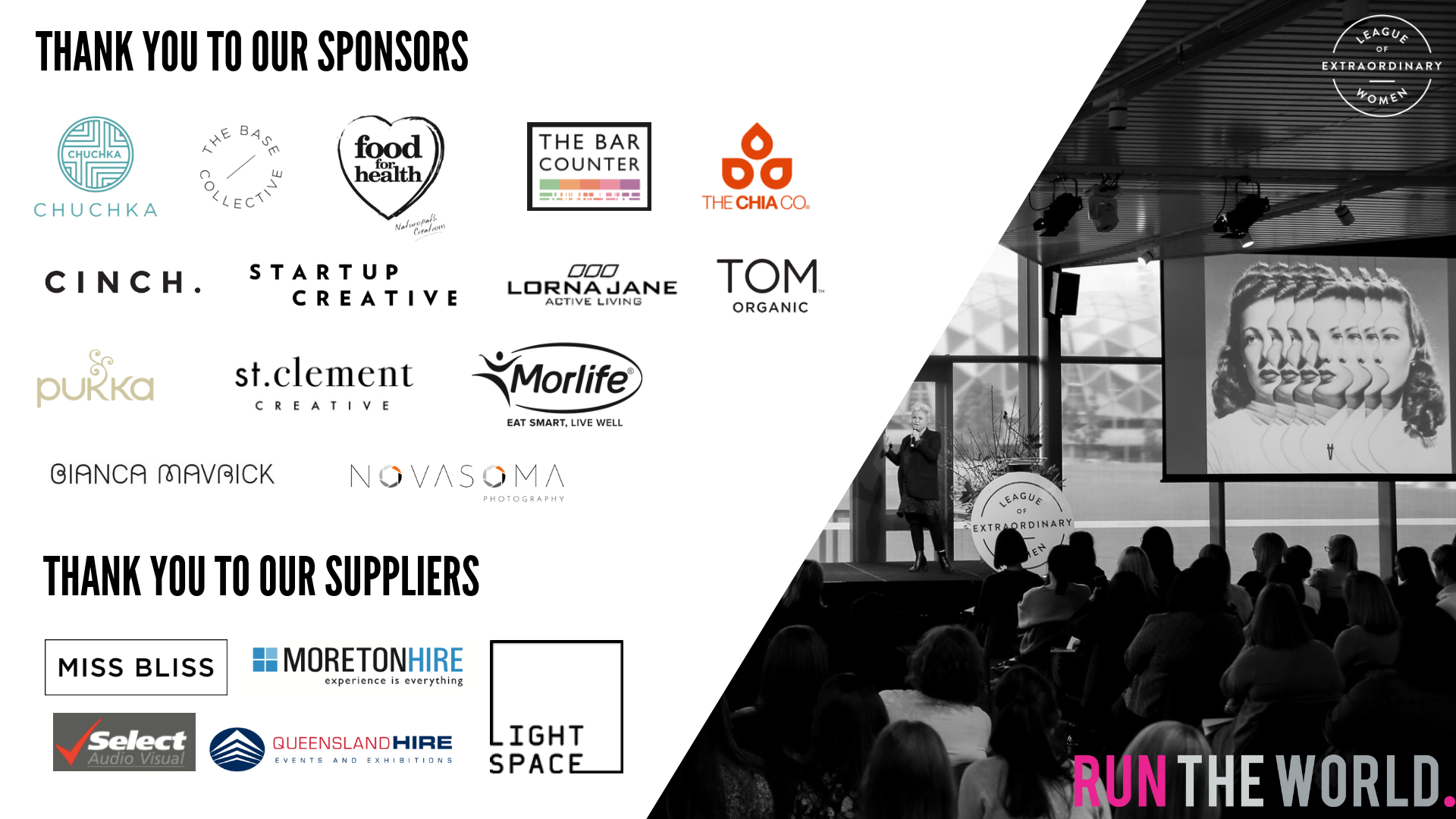 Hear what others have said about the event...
"Loved it, motivated me to get my bum off the seat and get going! Key takeaways is to pursue your passion and not to be afraid to grow big!"

"Such a wonderfully inspiring day. I went home with a spring in my step and a head full of ideas. When can I sign up for the next one?"
There are only a limited number of seats available so don't wait! Bring your friends along and be inspired, be empowered, and be Extraordinary!