Set in the heart of the Victorian Goldfields we present the 13th edition of Run The Maine.
About this event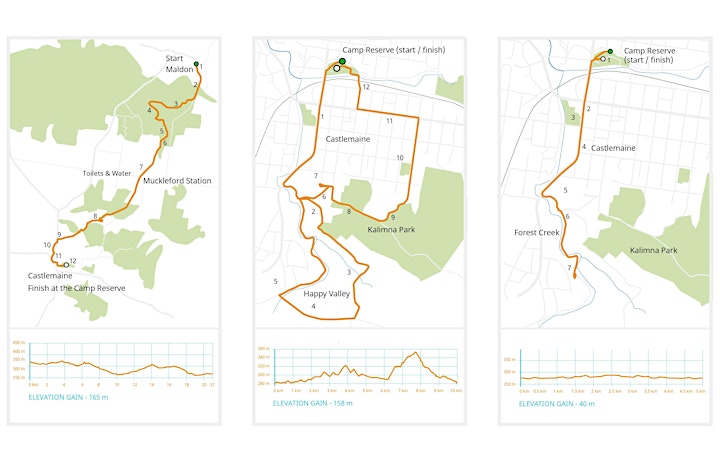 Finishing under the lights at Castlemaine's historic Camp Reserve we invite you to run one of our 3 exciting courses.
An exclusive half marathon (21 km) from Maldon to Castlemaine via the Maldon to Castlemaine rail trail (participants take the steam train out to the start line, included in your ticket price).
A challenging 10 km run out to Happy Valley & returning through the heart of Castlemaine
The Forest Creek return — a rewarding all abilities 5 km run or walk
RACE TIMES:
21 km — sets off from Camp Reserves at 1.55 pm — escort to the train station (3 min walk). Train departs Castlemaine at 2.05 pm. Race start at 3.05 pm from Maldon Station.
10 km — Start time 4.35 pm | 5 km — Start time 4.50 pm
Run Bird Run starts at 6.05 pm approx
Race Presentation at 6.15 pm approx
VALUE HEALTH — LIVE LIFE
See our website for full details on each course
The popular Run Bird Run will take place at the Camp Reserve. This is a FREE event however ticket purchase is required.
---
FAQs
The start & finish line is located at the Camp Reserve, 11 Forest Street, Castlemaine.
When do I get my bib?
Bibs are collected on the day at the pre registration marquee — you wont miss it.
Can I register on the day?
Yes! There are a limited number of registrations we can process on the day between 1:00 and 4:25 pm. No registrations will be accepted after 1:45 pm for the half marathon if there are any places available. We strongly recommend that you register online beforehand in all cases.
When does the early bird registration period end?
Early bird tickets for all events are available until 6th September 2019
Who can use the concession code during online registration?
The concession price is for full time students, healthcare card and pension card holders only.
Is there a family discount?
No. We offer an under 15s tickets for the 5 km race only. However any child under 10 years of age or younger on race day may run for free, but will not be timed. If you wish for your child to be timed then they must pay the standard entry fee.
If I have registered for the 5 or 10 or 21 km event and want to participate in Run Bird Run, do I have to register for that event as well?
No. This year entry into the 5 or 10 or 21 km distance automatically entitles you entry into Run Bird Run. We ask you keep your bib on so we can identify you easily.
Do you have storage facilities?
YES. We have free secure storage. Use your baggage tag tear off from your race bib. However, it's still advised not bring valuables to the event. For those running the 21 km event there will be a free bag transfer from Maldon to Castlemaine where belongings will be held in a secure location at the Camp Reserve.
How do I register a team for the Relay Event?
Please contact the race director email: director@runthemaine.org for more information on this.
Can I push a pram in the event?
Yes, but we ask you to be mindful and start towards the back of the group.
Where will the first aid stations be?
Mobile on the course. Ask nearest Race Marshal for assistance.
Where are the drink stations located?
There are drink stations on all courses. Details to be announced in due course.
What do I do if I have an emergency during the event?
We ask that all participants record their name, address, any existing medical conditions or allergies, and emergency contact details on the back of their bib so that one of our many race marshalls positioned over the course can alert the health officials and or the CFA crews we have standing by.
Toilets?
There are a number of toilets at the Camp Reserve, these will be clearly signposted. There are toilets at Maldon and at Muckleford Station — the halfway point on the 21 km run.
Where can I park my car?
There is limited parking in the Camp Reserve. Parking along Forest Street & Street will be limited too however there is ample parking & at Castlemaine station with carparks on Kennedy Street & Gingel Street (opposite the Railway Hotel).
Will there be water available?
The Coliban water station is set up near the clubrooms. There will also be water stations that we set up around the course. We also encourage you to bring your own water bottle!
Thank you for supporting this community event that raises much-needed funds for our local hospital, Castlemaine Health.
Covid Contingency Plan
More information coming soon.