Description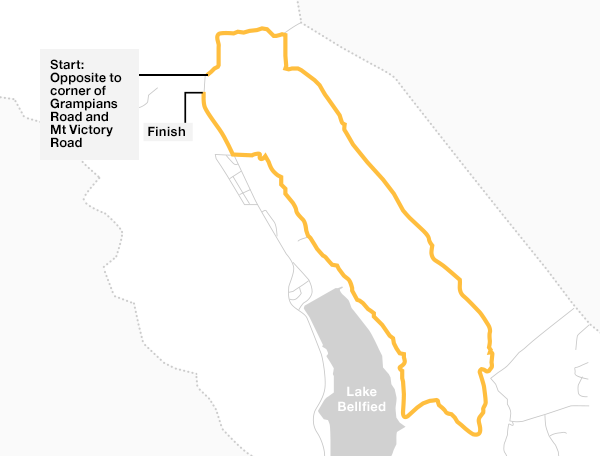 Run the Gap - RTG19 - 21km trail run
8th Annual Fun Run in the heart of the Grampians National Park supporting tourism, community, good health and fitness. All proceeds go to community project to enhance walk bike / walk paths. Plus $1 from each registration is donated to the "Grampians Walking Track Support Group" assisting to maintain the Grampians National Park walking tracks.

Please note..
The 21km course is a great introduction to competitive trail running, with a combination of meandering fire trail, steep and technical single track climbs/descents and stunning scenery. Road runners, trail runners both experienced and new will find the variety and diversity of the course rewarding and a worthy challenge.
Online Registrations : Early Registrations close May 11th, Late Regsitration 5pm May 24th
On-day registrations close 5pm May 25th at Centenary Hall. No registrations Sunday due to 7:30am start.
Note: Assembly area near the corner of Mt. Victory Road and Grampians Road opposite the Oval, CFA & Police station, the start line will be clearly marked..... arrive no later than 7:15am.
FAQs
21km Trail Runners will be provided with a map of the course and the race official mobile no. on the back of the bib.
Race Number Pick Up (if pre-registered): Will be available at the Halls Gap Centenary Hall from 4:00pm to 5:30pm on the Saturday or at start line on Sunday (for 21km only) Note: race numbers will not be mailed out.
Finish Line: Is located at the Assembly Area in the Halls Gap Parklands.
To Change Distances: Please email your request to support@runthegap.com.au. Allow 24hrs for a reply. You can also change your distance on collection of your race pack on Saturday from 3:00pm to 6:00pm and on the day from 7:00am.
Results: Will be posted online by 6:00pm on Sunday 26th May.
Participant Clothing: If you wish to drop off a bag or clothing whilst participating in the event, you may do so at the marquee marked Clothing Drop Off in the Parkland. Simply attach your clothing tear off from your event race bib. Please do not leave any valuables (RTG will not be liable for the replacement of any personal possessions lost or damaged).
Lost Property: Will be located at the Clothing Drop Off Marquee.
Public Toilets: Are located directly opposite the Halls Gap Centenary Hall in the parklands and at the oval near the start line.
Running Etiquette: Keep to the left if walking or slower than other runners.
Note: please be aware you are sharing the path and trails with others.
Traffic Management: Will be in place along the course.
Drink & Refuelling Station: Will be located at 10km on course, water at the Assembly Area near Finish Line.
Presentations: The first three males and first three females in the 21km, 12km and 6km runs will be presented with their medals on the morning at the Assembly Area. Placegetters will be awarded based on gun time and it is the responsibility of the participant to position themselves closest to the start line, should they believe they have a chance of placing in the event.
Mini Run The Gap "For the Little Ones": is for the younger members of the family who are too little to register for the big run or walk. Youngsters can participate in the Mini Run The Gap Circuit in the parkland just for fun after the main event, but prior to presentations to event placegetters. Entry is on the day via a gold coin donation and a participation medal will be awarded to all competitors.
Medical Assistance: A First Aid officer will be in attendance in the assembly area. If you have any medical issues, please advise one of the course marshals or drink station attendants.
Recommendations: a) Seek medical advice to ensure that you are fit to compete and this advice is obtained regularly and with the specific demands of this event in mind, and: b) Take appropriate steps to ensure that you are hydrated prior to, and during the event.
Contingency: In the interest of participant safety, RTG reserves the right to alter the course without notice.
Rules:
Obey all Parks Victoria rules when in the Parks.

The event will not proceed if there is a storm expected or a code red fire warning for the day.

Leaving the Course. Entrants who leave the course during the event eg. for toilet stop, getting lost or meeting up with support people; must re-enter the course at the point they left the course. Lost entrants may use any legal method to get back to the course, but must re-enter where they left and resume running from that point.

Withdrawing from the race. Any entrant withdrawing from the race must notify race officials that they have done so. Mobile phone numbers will be provided on the map given to all participants.

Support Crew. Runners can have supporters meet them at some points on course with food, drink, vaseline etc., so long as those supporters give way to runners, and obey all park rules.

Do not use a mountain bike to support you as a runner as this risks you and other people. Don't even think about it.

Obey the direction of Race Officials and Volunteers. Entrants ignoring marshals at road crossings will be immediately disqualified.

Be courteous to all you encounter on the course. This includes all staff, volunteers, traffic controllers and other users of the trail.

Entrants must help fellow runners in distress.

Carrying 500ml fluid recommended (Camelbak, fuelbelt, handheld bottle etc.)

Entrants must not leave rubbish on the course. Carry it with you to the next aid station and deposit it there if there is a bin. Otherwise; carry it in - carry it out.

No I-pods, MP3 players etc. to be used. There are too many single track sections, some road crossings and other runners to be aware of.

If you are even mildly asthmatic then a puffer is mandatory equipment.
Rubbish: We are fortunate to be allowed access to the trail to run our event, so please make sure you leave no trace of having been there. Take all rubbish with you or risk disqualification.