About this Event
Join Andrew Rumsey and Swiss-Croatian piano superstar, Ivan Horvatic, for a delightful afternoon of piano music from around the globe. Hear some classical gems by composers such as Ravel, Grieg, Liszt, Bach-Busoni and Saint-Saens. The program also includes works by esteemed Australian composers Grant Foster, Michael Dooley and Jim Coyle.
Both holding Masters of Music Performance degrees from the Zurich University of the Arts and the Australian National University respectively, these two world-travellers will present an afternoon not to be missed! Between them they have performed in Slovenia, Austria, Germany, Italy, Ukraine, Israel, China, Canada, Switzerland, Croatia, Spain, Australia and the USA!
Acclaimed guitarist, Matt Withers will be making a special guest appearance!
Also making a guest appearance will be Andrew's brother, Down syndrome World Swimming Champion Extraordinairre, Danny Rumsey.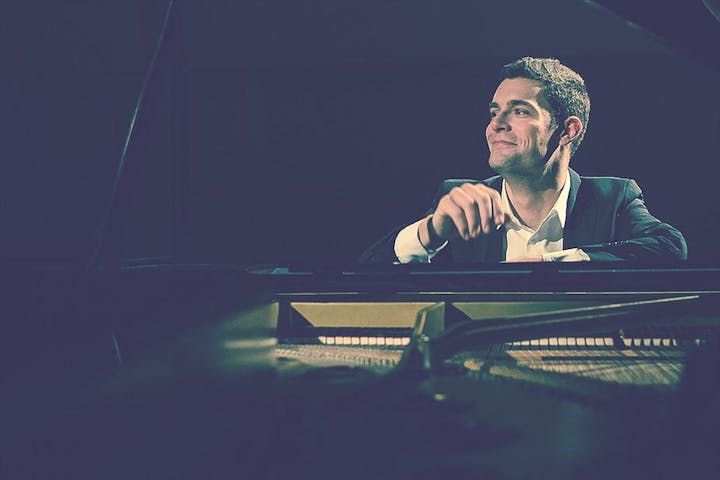 Described as 'a fantastic pianist of incredible stamina', Ivan Horvatic has received top prizes at several national and international piano competitions such as: First Prize in the National Piano Competition (Croatia, 2007), Third Prize in the EPTA Osijek International Piano Competition (Croatia, 2007), First Prize in the Opatija National Chamber Music Competition (Croatia, 2006), First Prize in the Moncalieri Piano Competition (Italy, 2001), First Prize in the Minerbio Piano Competition (Italy, 2002), Second Prize in the Udine Piano Competition (Italy, 2002).
He received a "Darko Lukic" diploma and was invited to meet the president of the Republic of Croatia, Mr Ivo Josipovic, following a solo piano recital in Zagreb in 2010. He regularly appears as a concerto soloist and has performed with Croatian Radio-television Symphony Orchestra, Zagreb Academy of Music Symphony Orchestra, Chernigiv Philharmonic Orchestra, the Atlantic Music Festival Orchestra, Zurich Music Academy Orchestra and the Kyiv Symphony Orchestra. He has collaborated with conductors such as Marc Kissoczy, Jonathan Schiffman, Mikola Sukach, Aleksandar Kalajdžić and Tonči Bilić, and has recorded for the Croatian television (HRT) and German television (ARD) several times.