Rules as Code is a movement transforming law and policy making globally. Join the movement and upskill with AUSCL's RaC Masterclass Series
About this Event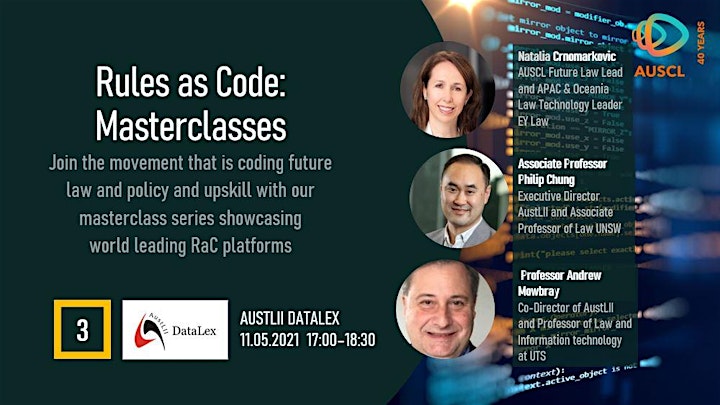 Rules as Code Masterclass 3
AustLII DataLex
This is Masterclass showcases the AustLII DataLex Rules as Code Platform. By registering you will have a front row seat to the AustLII's DataLex open system which can rapidly translate regulations into computer code.
Meet your presenters
Professor Andrew Mowbray Founder and Co-Director of AustLII and Professor of Law and Information technology at UTS, the University of Technology Sydney
Associate Professor Philip Chung Executive Director AustLII and Senior Lecturer of Law UNSW
Facilitated by: Natalia Crnomarkovic AUSCL Future Law Lead and APAC & Oceania Law Technology Leader EY Law
Who is AustLII?
AustLII, the Australasian Legal Information Institute, is Australia's independent national provider of free access to law.
AustLII's DataLex software is developed in Australia by AustLII as a new frontier of 'free access to law', for public benefit. Use of the software is available to those who wish to advance the public interest in access to law such as free legal advice providers. Other uses can be developed, on application, for business and industry, and for government, academic and research purposes.
For more information on AustLII's DataLex R&D: http://austlii.community/foswiki/DataLex/
Who should attend?
All with an interest in the Future Law are welcome to attend.
The AUSCL Masterclass series is designed for law, technology, policy and legislation drafting professionals, academics and students, but no coding or legislative drafting experience is necessary.
About AUSCL
AUSCL, the Australian Society for Computers and Law, is a registered Australian charity established for the purpose of advancing education and promoting advocacy on issues at the intersection of technology, law and society.
Our global network of members include IT, Legal and Policy professionals, academics, students and leaders of civil society. We are passionate about multi-disciplinary approaches to solving some of the most pressing challenges ushered in by technology and digitisation.
Join our mailing list today by subscribing: https://ausclsubscribe.eventbrite.com.au
For sponsorship opportunities available