Rules as Code is a movement transforming law and policy making globally. Join the movement and upskill with AUSCL's RaC Masterclass Series
About this Event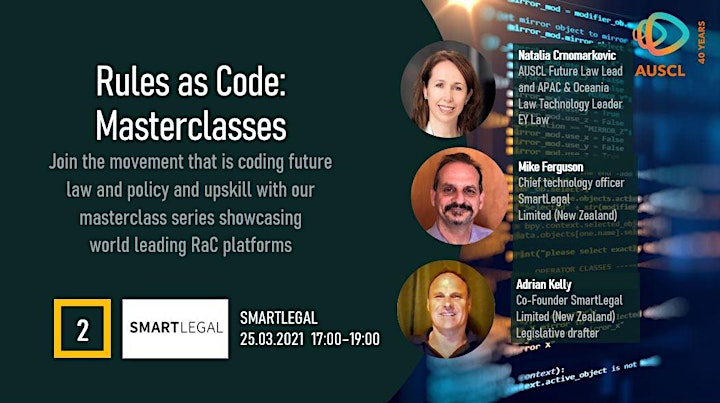 Rules as Code Masterclass 2
SmartLegal
This is Masterclass showcases the technology stack used by SmartLegal, including their proprietary software. By registering you will be trained by the founders of SmartLegal and witness first hand, through case studies, how Government and financial services are being transformed through their Rules as Code automation tools.
Meet your presenters
Mike Ferguson Chief Technology Officer, SmartLegal Limited (NZ)
Adrian Kelly Co-Founder SmartLegal Limited (NZ) and legislative drafter
Facilitated by: Natalia Crnomarkovic AUSCL Future Law Lead and APAC & Oceania Law Technology Leader EY Law
Who is SmartLegal?
SmartLegal offers a simple, intuitive access to rules and legislation by delivering:
Better Rules - Develop rules and law with purpose-built tools that allow you to see the pathways within the legislation through real-time visualisation
Accessible Legislation - Digital rules and law enables easy access for stakeholders, citizens and systems, without reverting to lengthy legal documents
Automated Compliance - When compliance systems have access to legislation in digital form, automation becomes straightforward, with end to end assurance
For more information on the SmartLegal approach: https://smartlegal.co/dev/
Who should attend?
All with an interest in the Future Law are welcome to attend.
The AUSCL Masterclass series is designed for law, technology, policy and legislation drafting professionals, academics and students, but no coding or legislative drafting experience is necessary.
About AUSCL
AUSCL, the Australian Society for Computers and Law, is a registered Australian charity established for the purpose of advancing education and promoting advocacy on issues at the intersection of technology, law and society.
Our global network of members include IT, Legal and Policy professionals, academics, students and leaders of civil society. We are passionate about multi-disciplinary approaches to solving some of the most pressing challenges ushered in by technology and digitisation.
Join our mailing list today by subscribing: https://ausclsubscribe.eventbrite.com.au
For sponsorship opportunities available