Rules as Code 2.0 - Global plenary for networking and co-designing solutions to RaC's and society's grand challenges
About this event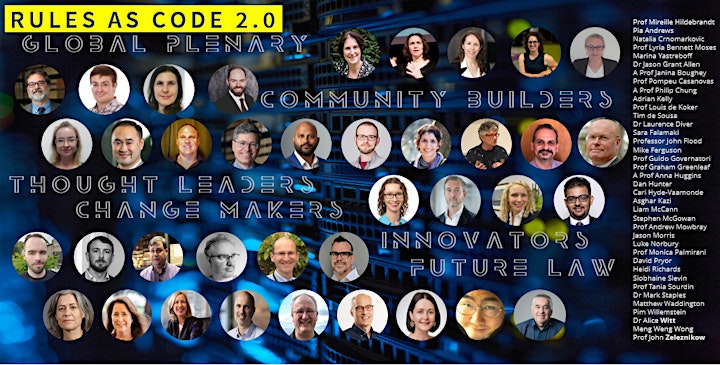 Join AUSCL, the UNSW Allens Hub and over 24 global thought leaders to start co-designing Rules as Code 2.0
"Rules as Code is set to transform the entire law ecosystem, from how laws are drafted, debated and introduced through to compliance systems and their impact. This game changer raises many challenges from transparency, democracy, public law, the skills needed for future lawyers through to system design and computer security. Congratulations to the Future Law Network for bringing together experts to workshop these and other pressing challenges" Marina Yastreboff, AUSCL President
Plenary objective
To engage with the Global RaC Community to share insights and develop actionable recommendations to assist the community to "take RaC to the next level" (RaC 2.0)
How will we achieve this?
Learning and engaging with leading RaC thought leaders, building a global community through networking and co-designing the RaC 2.0 through 5 simultaneously run interactive Roundtables on grand challenges faced by RaC practitioners.
Date and Time
21:00 Monday 14 March Brussels (CEST) | 08:00 Tuesday 15 March 2022 Sydney (AEDT) Use The World Clock to convert to your time-zone
Who is coming?
Leading academics, government officials, and entrepreneurs from across law, IT and policy from across the globe, including across Australia, Wellington, Singapore, Hong Kong, Rome, Berlin, London, Brussels, San Jose, and beyond.
Experience level
A working knowledge of RaC is assumed. If you would like to boost your understanding of RaC prior to the plenary we encourage you to review the AUSCL RaC Masterclasses available for free on AUSCL's YouTube channel, and join the ANZ RaC Community of Practice (via Code for Australia's website).
Why you should attend
24+ Global RaC Thought leaders including from Australia, New Zealand, UK, Italy, France, Canada and Singapore
5 interactive roundtables - help solve common challenges
Townhall bringing together diverse perspectives for a common purpose
Network with an engaged and multidisciplinary community of regulators, legislative drafters, leading academics, technologists, ethicists, students and civil society leaders
Open access with no registration fee
Program Outline (Sydney time)
A full program and speaker bios will be made available to registrants.
08:00 Welcome and Official opening
08:10 Keynote presentation - Professor Mireille Hildebrandt
Research Professor of 'Interfacing Law and Technology' at the Law Faculty of Vrije Universiteit Brussels and holds a part-time Chair at the Computing Science Department of Radboud University in The Netherlands, where she is Professor of 'Smart Environments, Data Protection and the Rule of Law'. She has published 5 monographs and 23 edited volumes and special issues and over 120 scientific articles and chapters. She has been awarded an ERC Advanced Grant for fundamental research into 'Counting as a Human Being in the Era of Computational Law' (COHUBICOL) and she is founding editor-in-chief of the Journal of Cross-Disciplinary Research in Computational Law (CRCL). In 2015 she published Smart Environments and the End(s) of Law and in 2020 she published Law for Computer Scientists and Other Folk. See her publications at google scholar here
08:30 Opening address - Pia Andrews
Pia Andrews is a digital, open and data driven government geek with a passion for gov as a platform and rules as code. Pia has been recognised as one of the Global Top 20 Most Influential in Digital Government and was awarded as one of the Top 100 Most Influential Women in Australia. Her senior appointment have included: Executive Director of Digital Government in the New South Wales Department of Finance, Services and Innovation and Special Advisory, Digital & Client Data workstream Lead for Employment and Social Development Canada. Follow Pia via social media and here.
08:50 Break
08:55 Introduction to roundtable sessions
09:05 Concurrent expert roundtables:
Roundtable 1: Making it happen: RaC as a Project in the public & private sector Chairs: Síobháine Slevin | Tim de Sousa
Roundtable 2: Tech Deep Dive: Platforms, standards & interoperability Chair: Prof Guido Governatori
Roundtable 3: Protecting what matters: Democracy, navigating politics, ethics, societal impact & change Chair: Prof Louis De Koker
Roundtable 4: Legal Deep Dive: Public Law considerations - Rule of Law, separation of powers, statutory interpretation, and administrative law Chairs: Prof Anna Huggins | Dr Alice Witt
Roundtable 5: Future RaC Workforce: Education, multidisciplinary teams & culture Chairs: Prof Tania Sourdin | Prof Andrew Mowbray
09:50 Break
10:00 Townhall - Roundtable wrap up
10:45 Closing remarks
About the organisers
AUSCL (Australasian Society for Computers & Law) is a multidisciplinary intergenerational think tank, with a vision to co-design the future of technology, law, and society to align with the UN Sustainable Development Goals. AUSCL collaborates with leaders from industry, government, academia, and civil society to provide impactful thought leadership
The UNSW Allens Hub for Technology, Law & Innovation is an independent community of scholars based at UNSW Sydney and is a partnership between Allens Linklaters and UNSW Law. The Hub adds breath, and depth to research on diverse interactions among technological change, law, and legal practice