About this Event

Rockspeare Richard III: Where You Are Festival 2020
Lakespeare & Co, in collaboration with Event Audio Visual Services (EAVS) Pty Ltd and presented by the Where You Are Festival with the support of the ACT Government, are bringing their unique 90-minute version of William Shakespeare's Richard III to live and streamed audiences this August. See end of listing for privacy statement.
More information about the event can be found on the Lakespeare events page.
LIVE STUDIO AUDIENCE TICKETS close at 7:30pm 6 August
STREAMING TICKETS can be purchased up until 7:30pm 7 August
About the show
Rockspeare Richard III is a tight 90-minute version of William Shakespeare's Richard III to live and streamed audiences in Canberra and beyond from the Live In Ya Lounge studio at EPIC. With a cast of experienced and skilled Shakespearean actors, this electric and rhythmic version of Richard III incorporates an original music score and is bound to delight audience members of all ages. Parents are advised to make their own decisions about the appropriate viewing age. The history plays involve depictions of war and murder.
6:30pm Doors open**COVID Safe sign-in protocol**
7:30pm Act I
8:20pm Interval
8:45pm Act II
9:30pm Post-show Q&A with cast
10:00pm End
After the 30-year-long Wars of the Roses, rival Houses York and Lancaster seem to be at peace. However factional players are never at peace and the King's youngest brother Richard, Duke of Gloucester, covets the throne. Rockspeare Richard III brings the power hungry worlds of history, politics and fame together in a universe where factious rivalry is the currency of the day.
For those live streaming at home, the show will provide a complete experience of a virtual concert, using full production multi-camera live streaming, professional audio and lighting, delivering the next best thing to attending in person. A live studio audience of 50 people can experience each show first hand, in a COVID safe, fully compliant and socially-distanced environment.
Each evening will feature an introduction to the performance with a Lakespeare host, interviews during intermission and a Q&A with the cast after the show.
As part of the Where You Are Festival, the cast will stream two free events ahead of the full performances: a live reading of the play by the cast on Sunday 12 July; and a character deep dive by Lakespeare Creative Co-director and cast member, Dr Duncan Driver on Wednesday 22 July.
Rockspeare is directed by Lexi Sekuless, original compositions by Jay Cameron, costume design by Fiona Victoria Hopkins and choreography by Tim Sekuless and Annette Sharpe.
COVID Safe Protocol
Live audience ticket holders must follow a strict COVID safe protocol which is outlined below and further details sent to ticket holders. These include limitations on groupings, strict seating allocations at tables and temperature checks and information gathering on arrival. Every ticket holder must follow every protocol at all times.
Partners
Rockspeare Richard III is only possible thanks to Ramada Canberra, Francos of Canberra and William Cole Funerals. Photos by PassOut Media
About Lakespeare
Lakespeare & Co is an independent theatre company created by Taimus Werner-Gibbings, Dr Duncan Driver, Lexi Sekuless and Paul Leverenz. The company present a free summer Shakespeare season called Shakespeare by the Lakes (SBTL), boutique events such as Shakespeare Down the Pub as well as performing at corporate dinners and presenting keynotes and workshops in Canberra and Sydney. In 2020, Dr Lainie Hart joined as Co-Producer.
The Lakespeare team has now completed three seasons of high-quality free Shakespeare and provided events which appeal to all ages, in 2020 playing to almost 6,000 Canberrans.
Under the tutelage of their creative directors, Lakespeare have adapted the production model of New York's Shakespeare in the Park and train their actors to the performance model and standard of London's Globe. This high-level training enables the poetry and prose of Shakespeare to be understood by audience members of all ages.
About EAVS and Live In Ya Lounge
Event Audio Visual Services is one of Australia's leading audiovisual service companies. Originally established in 1991 as Audio Solutions, an award winning provider of professional personnel, expertise and equipment in all areas of technical production. Event Audio Visual Services assist with technical direction, stage management and complete event management. The Event AV Services (EAVS) brand was established in 2015 with transfer of ownership, and an injection of new management, later incorporating the production and staging services of Nova Multimedia and a move toward providing total presentation solutions rather than just equipment hire.
Live In Ya Lounge was created by EAVS during COVID-19 restrictions as a means for artists to deliver the live concert experience direct into people's homes, giving the community a small piece of the normal we are used to. We may not be able to go to the pub and listen to local bands or go to see big acts that have come to town but Live in Ya Lounge brings it into Canberran homes and beyond as a virtual concert with a full production, professional audio and lighting, delivering the next best thing to attending in person. And as COVID-19 restrictions ease, we are excited to welcome a small socially distanced live audience to the experience.
EAVS and Lakespeare & Co are long time collaborators, with EAVS providing production and audiovisual services to the last three seasons of Shakespeare by the Lakes.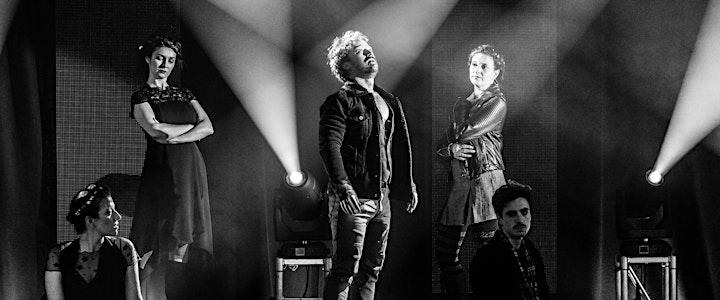 This is a Live Audience and Streamed Performance
Tickets are to view the live studio performance as an audience member OR to watch the stream from home.
Live Studio Audience Ticket Information
Please know the live studio audience is only possible while ACT Health policy and COVID-19 restrictions are at current levels. Refunds will be offered should COVID-19 restrictions make gatherings of 50 people impossible. Eventbrite do not refund their ticket fee but Lakespeare and Live In Ya Lounge will refund tickets fully.
Tickets can be booked in numbers between 2 and 10. No single tickets may be purchased.
All guest names, mobiles and emails must be provided at the time of booking due to Government regulations.
All tickets purchased together will sit together as one booking at a table. Tickets not purchased together will NOT be able to sit together. It will not be possible at the door to try to re-arrange where you are seated.
No tickets can be transferred and all patrons will have to present photo ID which must match the name in the booking.
Patrons at the event must undertake a temperature check, sanitise their hands and provide/confirm their contact details before gaining entry. All persons booking multiple tickets should ensure that their group members understand this requirement.
No bags may be brought into the space by patrons.
Please be aware there will be technical operators capturing the performance which may be in your line of sight from time to time. There will be screens in the room to view the broadcast so you will always be able to see.
Food and Bar Service on site and the menu and purchases are only available once you are at the venue.
Parking is available onsite and is free.
Enter EPIC via Gate 4, Located near McDonalds and Petrol Station on Northbourne Ave. Once through the gate, turn left and your destination will be Sign Posted on the Right as Mallee Pavilion.
Live Stream Ticket Information
The easiest viewing option is to watch the stream on any computer or device with a modern web browser. Further information about streaming is now available at: www.lakespeare.com/stream.
All the information you need for watching the live stream is now included in the email post-registration.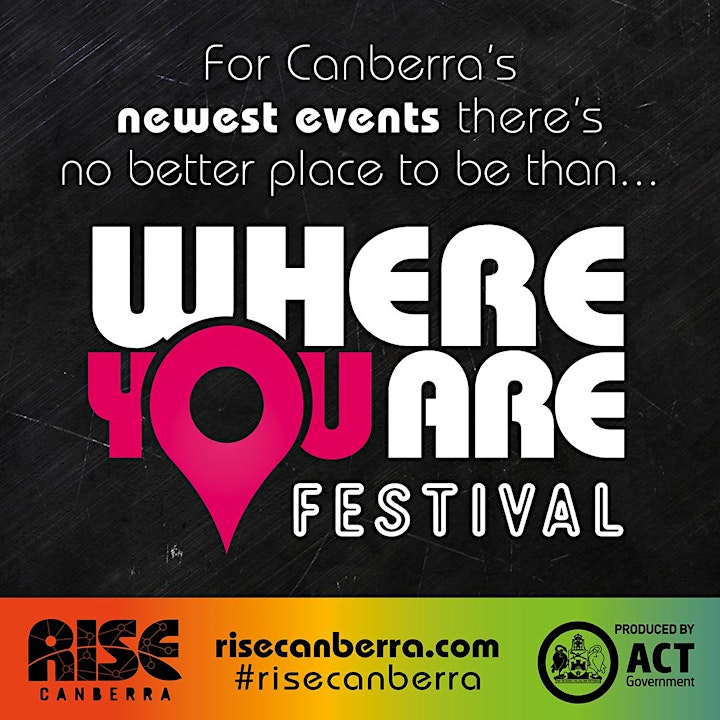 Privacy
Eventbrite booking information is being accessed and collected by both Lakespeare & Co. and EAVS. Personal information will not be sold or provided to third parties. However, note that Live audience members' information may be provided to ACT Health, other Government bodies if there is a need for them to know who attended the event for the purposes of maintaining public health.
Contact
If you have any questions please contact: events at lakespeare.com