About this Event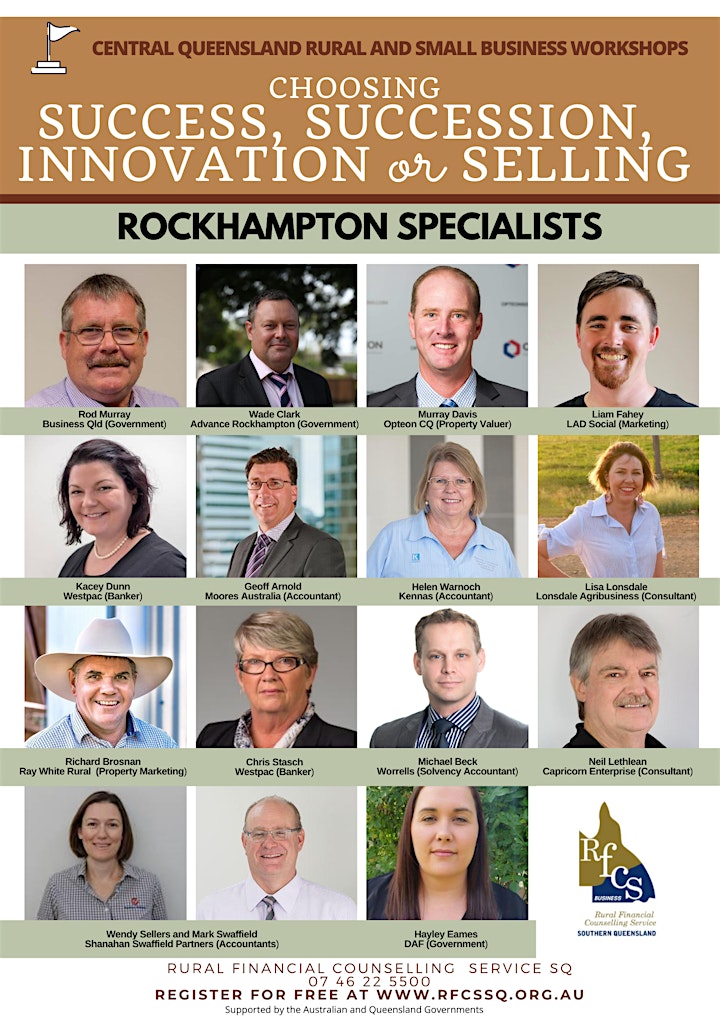 Join us in Rockhampton to look at the options in relation to successful decisions, succession planning and/or selling assets.
Come to the Rockhampton Leagues Club anytime between 11am and 2pm on Thursday the 13th of August, 2020, pick up your list of available specialists and introduce yourself.
It's as simple as that.
Spend up to 10 minutes with careful selected guest specialists and set yourself up for a successful future, regardless of your final decision.
GUEST SPECIALISTS
SUCCESSION PLANNING
Helen Warnock, Kennas Chartered Accountants
Martin Pentecost, Grow Agribusiness and Financial
Lisa Lonsdale, Lonsdale Agribusiness
AGRIBUSINESS CONSULTING SERVICES
Lisa Lonsdale, Lonsdale Agribusiness
Geoff Arnold, Moore Australia
Martin Pentecost, Grow Agribusiness and Finance
Rod Murray, Business Queensland
SALES AND MARKETING SPECIALISTS
Murray Davis, Opteon Central Queensland
AGRICULTURAL ACCOUNTING SPECIALISTS
Helen Warnock, Kennas Chartered Accountants
Geoff Arnold, Moore Australia
Mark Swaffield, Shanahan Swaffield Partners
Michael Beck, Worrells Solvency and Forensic Accountants
AGRICULTURAL SERVICES
Kacey Dunn, Westpac (Banking)
Chris Stasch, Westpac (Banking)
Neil Lethlean, Capricorn Enterprise