About this Event
We welcome you to register for the 3 Day Rock and Water Workshop, Adelaide on the 30th, 31st March & 1st April 2020.
For a list of all workshops please click here
The Rock and Water Program is an evidence-based program with recent scientific and academic research that demonstrates its effectiveness in growing social capacity and increasing one's self-awareness, no matter your age.   The program is taught in over 40 countries with 60,000 people trained to deliver the program to children and young people.
The Rock and Water Program is an active, practical and physical program. It develops emotional well-being and is a psycho-physical series of games, exercises and activities.It builds confidence, body awareness and emotional control including understanding personal contact and
The program enhances the skills and strategies for those working with young people and adults and is useful in particular when dealing with stressful situations.
The workshops offer:
Anti Bullying Tools
Self Regulation (calmness)
Self confidence (strength)
Empathy (connecting with yourself and other people)
Boundary Awareness (Saying "stop" or "no").
Communication skills (including interpreting other people's communication methods)
Self Reflection
Body awareness and breathing strength
Intuition and listening
Positive self image (body language)
Working together
Being a member of a group or dealing with a threatening group
Emotional control
Body language and non-verbal cues
Coping in the playground or community setting
Personal contact and boundaries

Pricing:
3 Day Workshop $840.00 (inc GST)
Booking Fee $10.95 (inc GST)
We accept payment online or via offline, by requesting an invoice and paying via EFT - Bank Transfer. Our preferred payment option is credit card online.
Online Payments via credit card are charged at 2% Credit Card Surcharge fee.
EFT - Bank Transfer Details are:Tim Brenton Consultancy | Bank ANZ - BSB 015214 | Account Number: 307621231 | ABN 78 623 482 226
Please use the surname or organisation name for the reference. Remittance notices can be sent to Michelle@eduevents.com.au

Additional Item - Implementation Pack
Includes A2 Poster Packs, 6 mini posters in a pack, two certificate packs, Flash Drive, Theory Booklet, DVD, Storage Envelope $300.00 (inc GST) - plus postage if required.


Terms and Conditions
Registration Transfers
If you are unable to attend the training, you can nominate someone else to attend in your placement. Within 21 days of the event, you may transfer to another workshop. Please email Michelle
Registration Cancellations
If you can no longer attend, you may request a transfer to attend another workshop, or you can get a refund up to 21 days prior to the commencement of the workshop.
Cancellation must be emailed to– Michelle. A cancellation fee will apply of $88.00. Should you cancel less than the 21 days, no refund will be provided, however, you can send someone in your place. Refunds will not be provided for 'No Shows. This includes change of mind, approval not received to attend, personal reasons, health, illness or change of mind. This is classed as a 'no show" and will not be provided with a refund.If you request an Invoice, this is in good faith and we expect payment.
Changes to Events
In the event of unforeseen circumstances or if minimum registrations are not met Rock & Water Central reserves the right to change or cancel the Event. If the Event is cancelled, you will be notified by the email address you provided and receive a full refund.
Refund Policy
Rock & Water Central will refund any fees paid, after taking into consideration the relevant cancellation policy. Credit card surcharges are non-refundable. Refunds will only be processed to the credit card or bank account of the individual or organisation from which the payment was received.

Testimonials
Rock and Water is a truly excellent program which supplies both boys and girls with a whole host of excellent strategies and skills to navigate their often emotionally testing early years. Powerful anti bullying strategies, the development of self control and self confidence and the proven reduction in sexually transgressive behaviours in young men are just a few of the outcomes. I wholly support and endorse the Rock and Water program as a powerful tool for developing self awareness, resilience and emotional well being in our children and adolescents today. Dr Arne Rubinstein, Best selling Author, 'The Making of Men'
Wherever Rock and Water is taught, boys and girls become more confident, protective and able to express themselves in a crisis. Bullying and assaults are significantly reduced. The program teaches them to actively prevent violence, deal with conflict and how to intervene appropriately to protect others from bullying.   Steve Biddulph, Best Selling Author 'New Manhood and Raising Boys'
You have 'saved' my sanity and my professionalism - how I react to adversity will now be forever different.  I am Changed!! I would promote this to everyone - it is the missing link between talking and action to reinforce the discussion. Peter Freeman, Primary School Teacher
Best PD I have attended, the activities were simple yet so effective. Nick Casey, Upper Coomera State College
Through the art of authentic storytelling, our facilitator seamlessly linked ancient philosophies and contemporary research to the core theoretical concepts of 'Rock and Water'. This, coupled with a comprehensive introduction to over 80 practical activities that further reinforced program concepts, empowered my team and I with the skills, knowledge and confidence to immediately introduce the program at our site.  Orio Denti - Director of Alternative Learning, Playford International College
I had the privilege of participating in the 3-day Rock and Water training program  It was one of the most inspiring, enriching professional developments I have been involved in. Rock & Water's style of educating makes for an interesting, dynamic and fascinating approach to working on ourselves and delivering a program with endless outcomes. The teachings are applicable not just to young people, but can be applied to our own lives as adults. I completed the training feeling invigorated and inspired to integrate Rock and Water into my teachings immediately.  Karen Reading - Teacher
The Rock and Water professional development was a game changer for me. I found myself continually making connections with elements of the program and the subjects and themes I teach at my school, not only for the Rock and Water sessions.  Even though the concept is for this to be taught as a program, I firmly believe from this training that Rock and Water is a pedagogy that enables teachers to assist students become aware of themselves mentally, social and physically, their peers and their environment and give strategies to elicit change.  Nick Gloede, Teacher, Immanuel College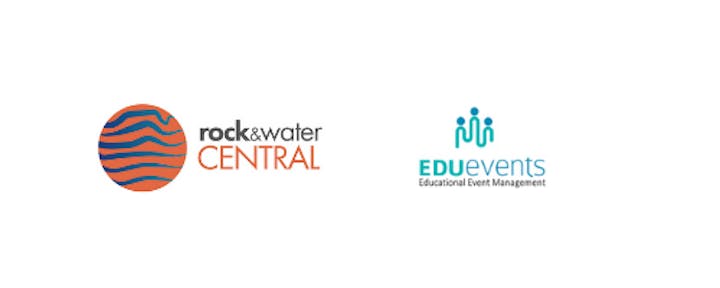 If you require any assistance with your registration or payments please use the contact details below.
Edu Events Management
Michelle Scheutjens - 0408 927 610
Email Michelle@eduevents.com.au
Rock & Water Central
Tim Brenton - 0423 159 440