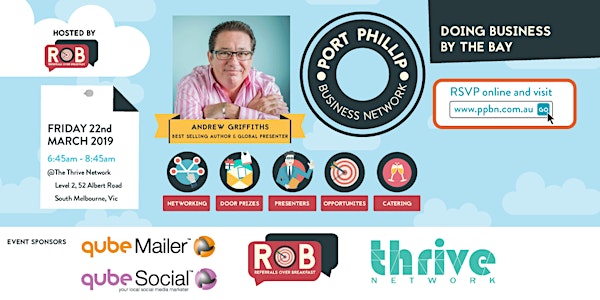 RoB Keynote Speaker: Andrew Griffiths - What does it takes to be successful...
Location
The Thrive Network
Level 2
52 Albert Park Rd
South Melbourne, VIC 3205
Australia
Description
What does it take to be successful (right here, right now)?
Andrew Griffiths is Australia's #1 Small Business author. He has written 13 bestselling books that are sold in over 65 countries.
He is a global speaker on all things entrepreneurial presenting for audiences everywhere from the USA to Iran to England and pretty much everywhere in between.
Andrew has been a business owner himself for 35 years, he is renowned for his street smart approach to doing business, Andrew is going to share his ideas on what it takes to be successful right here right now - and it's more complicated than we think.
Full of energy, worldly, fun and most importantly, hugely passionate about inspiring others to be successful, spending an hour with Andrew is always a unique experience.
---
About The Event
Port Phillip Business Network and Referrals Over Breakfasts (RoB) partner to bring you an informative and value packed keynote speaker breakfast event.
What to expect??
A relaxed, social event aimed at bringing together the local business community. Our number one priority for the event is to be social yet informative and allow people to enjoy, connect, learn, network, enjoy a sit down breakfast and even win some prizes.
The format of the event will be designed to showcase specific skills, create brand awareness and deliver new business opportunities. To keep the relaxed feel of the event our key speaker will talk over breakfast then facilitate a question and answer session with the audience.
If you have any questions please call:? Anna Petrarca on 0414 316 472 or email info@ppbn.com.au
---
About The Speaker
Who

exactly

is Andrew Griffiths?
Today he is known for being a bestselling author and a global presenter. Of course he is an overnight success right? Well like most overnight successes, where he is today is the end result of a lot of hard work, taking more than his fair share of risks, falling over often but always getting back up, dusting himself off, learning his lesson and keeping on going.
Over many years, he has learned that there are three important keys to success - resilience, belief and determination. Master these and everything changes. See how it changed me...