Road to Recovery Webinar: As part of Small Business Month.
This webinar will host representatives from local businesses who will provide insights into their navigation of the COVID-19 crisis.
About this Event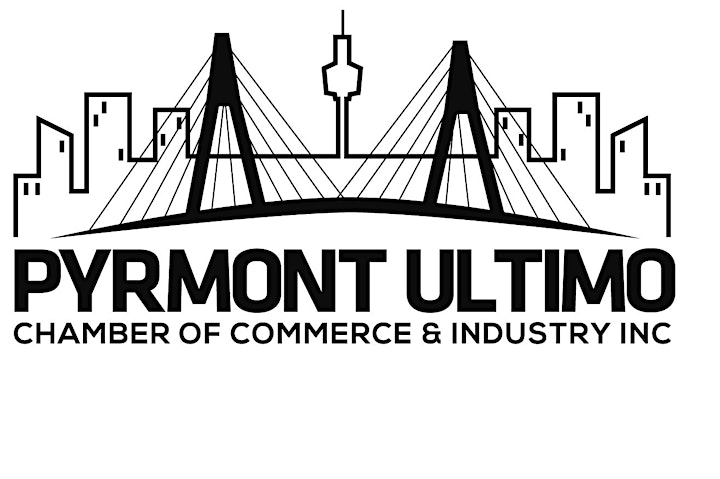 Businesses in the Pyrmont-Ultimo precinct are facing challenges that have affected all parts of our business and resident community. The Pyrmont-Ultimo precinct is a hub of talented and creative people who are geared to be resilient when a challenge presents itself.
In this webinar, we have brought together representatives from small businesses who will share how they have innovated and changed their business operations as a result of COVID19, and their plans for the future.
Lara Wolski from the City of Sydney will also present the City's plan to support local businesses on the road to recovery.
Following the speaker presentations, we will have an open discussion where webinar participants can ask questions to the panel.
The Webinar will be run via Zoom and all participants will receive Zoom links the day before.
Panelists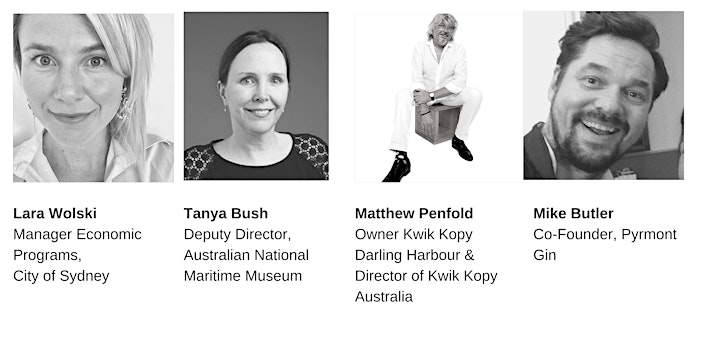 Lara Wolski, Manager Economic Programs, City of Sydney
Currently the Manager of the Economic Programs Unit at City of Sydney, Lara leads a large team of 25 staff across four specialised business areas - City Business, Night Time Economy, International Engagement and Safe City. Their goal is to champion inclusive and sustainable economic development to enhance the economic, environmental and social prosperity of our city and its communities.
An economic development and tourism specialist, Lara has led major economic development projects across a range of products and services, from rebranding a country, to multi-million dollar venue redevelopment launches, through to initiatives to encourage high street retailers to embrace innovation, and strategies to inspire tech startups to scale their businesses globally.
Her expertise lies in fostering close public private sector collaboration to create innovative programming through partnerships with local businesses, industry associations, peak bodies, media platforms, technology companies, tourism operators, cultural organisations, major event producers and with all levels of government.
Tanya Bush, Deputy Director, Australian National Maritime Museum
As a member of the museum's executive team reporting to the CEO , Tanya leads the museum's Corporate & Commercial division. This encompasses the museum's Finance (CFO), Technology & Innovation, Operations, Projects and Customer & Visitor Services units. As CRO (Chief Recovery Officer), she is responsible for the development and implementation of the museum's COVID-19 recovery strategy.
Prior to this Tanya was Head of Finance & Operations and Company Secretary at Sydney Festival where she was responsible for providing financial, legal, commercial and administrative leadership and support to the festival including provision of advice on complex contract negotiations and taxation arrangements, and operational support to the festival's multi-site hospitality function.
Tanya has also worked in Australia and overseas at Grey Group, Clemenger BBDO, Mobil, Christie's and KPMG.
Matthew Penfold, Owner Kwik Kopy Darling Harbour & Director of Kwik Kopy Australia.
Matthew Penfold, is a 5th generation member of the venerable Penfold printing family and, along with his partner, Genevieve Rechner, owner & manager of Kwik Kopy Darling Harbour. Matt is also a non-executive director of the parent company, Kwik Kopy Australia.
"The Penfold family has been involved in printing for five generations dating back to 1830 and has always had ink under their fingernails and I too am a passionate believer in the power of print."
Kwik Kopy Darling Harbour has been in business for over 30 years and has always been successful in this most vibrant part of the city, home to the Events, Hospitality & Tourism sector as well as major media companies, including TV, radio and digital, IT companies including Google, national and international advertising and design studios and a range of small and emerging media businesses.
Matthew and Genevieve are real locals, with a home and two businesses in the area. Their work and lifestyle means they spend most of their time within a relatively small geographical radius – but they're certainly not complaining.
"We love it. Everything is here," explains Genevieve. "This is one of the most dynamic and diverse areas of Sydney," adds Matt. "It's one of the few areas of the city that is really changing and growing."
Excited by the development opportunities and what they will bring to the area, both Matt and Genevieve see incredible advantages in bringing local businesses together to network, exchange ideas and share knowledge, skills and resources.
The challenges of 2020 & the post COVID-19 world will have profound impacts on business in our local area for years to come. Matt, Genevieve & the Team at KKDH are helping clients break through with their corporate messaging in the "new normal".
Mike Butler, Co-Founder, Pyrmont Gin
Mike Butler's Pyrmont life started as a Year 9 high schooler who, in 1983, did a stint at CSR's laboratories before going on to study Chemical Engineering at university and then promptly turning his back on his profession to ride motorbikes around India.
Doing that somehow drove him to become a newspaper journalist in England before returning back to Australia to morph into a magazine "lifestyle writer" that saw him, amongst other things, become a cheese and dairy judge and getting paid to guzzle drink and food including gin. That together with a nascent knowledge of distillation and a tight friendship with Ultimo identity and can-doer Tim Nolan and a mutual love of the place created the idea to start making Pyrmont's first gins.
Mike identifies as a Murri Aboriginal, is well connected in the local Aboriginal community and has recently completed a Juris Doctor of Law.
Moderator: Alex Gibbs, President of Pyrmont-Ultimo Chamber of Commerce & CEO of Smile Marketing.
Alex is a dynamic and committed marketing leader with over 20 years of experience developing and leading high performing sales and marketing teams across a range of industries – tourism, liquor, wine, beer, government, banking, membership associations, professional services, education, IT, hospitality.
Alex is the CEO and Founder of Smile Marketing, a growth marketing services business that provides end-to-end project management, marketing strategy development, digital marketing, social media, design, event management and customer experience programs.
Alex's work is focused on consumer and service-based brands in wine, beer, agribusiness, technology and financial services. He also works in the trade and investment space in major export markets including China, US, UK and other emerging markets. His experience includes being a member of senior executive teams, boards, industry groups and advisory boards.
Alex has been on the WCA National Board of Directors for five years, including a senior executive role as their Treasurer. He has obtained several business and marketing qualifications at the Australian Graduate School of Management, UNSW, ACU National, Australian Direct Marketing Association and APM. 
Alex has worked with the Pyrmont Ultimo Chamber of Commerce for over 4 years and is currently the President. Alex has been heavily involved in local business initiatives that help promote the Pyrmont Ultimo Precinct such as the annual Pyrmont Food and Wine Festival, Pyrmont Pop-Ups, and the recent Support Local Business Program.
Webinar - Zoom - Download Zoom on Your PC, Mac or Phone
We will be using Zoom for this Virtual Meeting. Please make sure you download Zoom at:
Step 1: https://zoom.us/support/download
Step 2: Follow the steps of the setup.
If you need more information about downloading Zoom go to:
https://support.zoom.us/hc/en-us/articles/201362233-Where-Do-I-Download-The-Latest-Version-
How to Join and Participate in a Virtual Meeting - Zoom
For more information go to: https://support.zoom.us/hc/en-us/articles/115004954946-Joining-and-participating-in-a-webinar-attendee-
You will be sent a link to the webinar the day before the event.