Road Safety Barriers Fundamentals & Applications workshop - Darwin - Octobe...
Description
Watch this short video where Jamie Robertson (workshop presenter) talks about what the workshop is all about.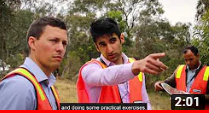 ROAD SAFETY BARRIERS I – FUNDAMENTALS (ONE DAY)
This course provides attendees with an understanding of the fundamentals of road safety barriers, including the types of road safety barriers, identification of hazards, the appropriate use of barriers and the testing standards.
This course is a pre-requisite for those wishing to attend the Road Safety Barriers II – Applications course.
ROAD SAFETY BARRIERS II – APPLICATIONS (TWO DAYS)
Attendees to this course are required to have completed the Road Safety Barriers I – Fundamentals course.

This advanced Road Safety Barrier course further develops the attendee's knowledge of the life of road safety barriers, from design through to installation, inspection and maintenance. The focus of the training is on barrier design and will cover both temporary and permanent design principles and exercises.

Following the successful completion of this course attendees will be recognised on the published list of Road Safety Barrier Professionals on the VicRoads website

.
Download workshop brochure here