50 restorative justice speakers from around the world! Instant access to video presentations May–December 2022.
About this event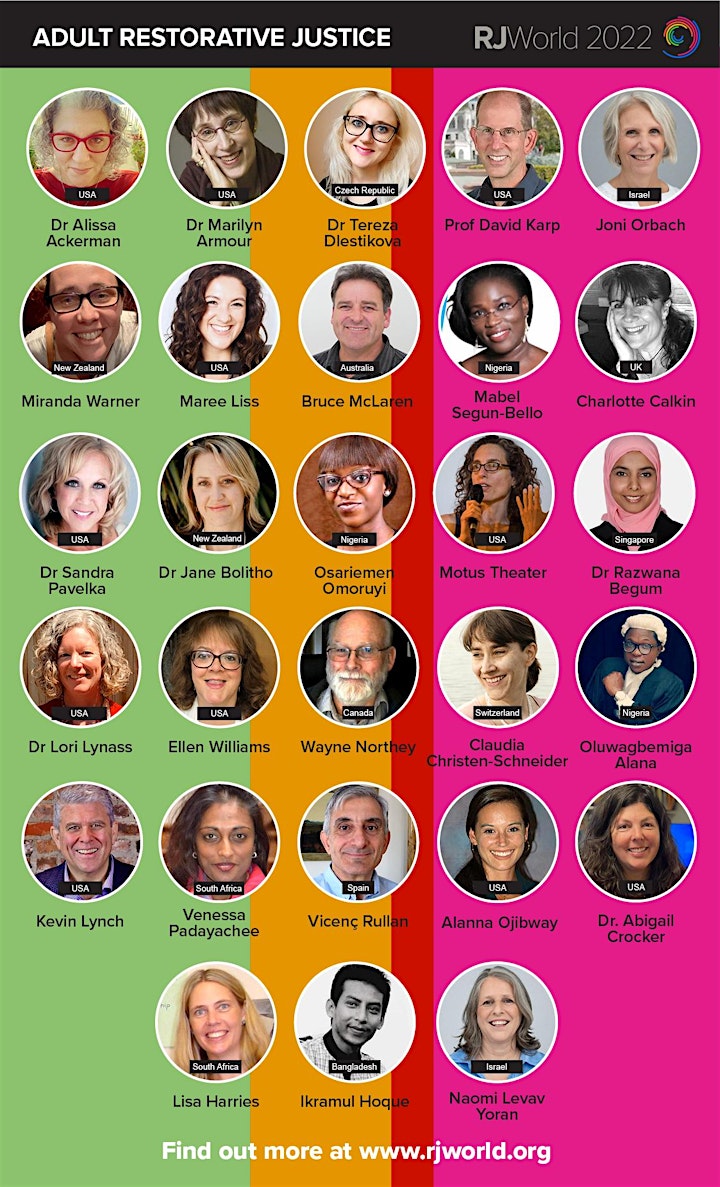 Share and learn about applying restorative justice to: Criminal Justice / Youth Justice / Prisons Legal and Judicial / Environmental Justice / Victim support / Schools / Faith / Academic / Hate Crime / Extremism / Literature / Sexual Violence / Creative Arts / Training /
Full access to our 2022 event:
See restorative justice leaders from 5 continents
All presentations available to watch throughout the 8-day event
Access to all presentations throughout 2022
Opportunities to interact online with presenters
Event login details will be sent to you in early April
All tickets give full access via online login
Discount tickets for students, elderly, unemployed, covid affected or unable to pay for other reasons.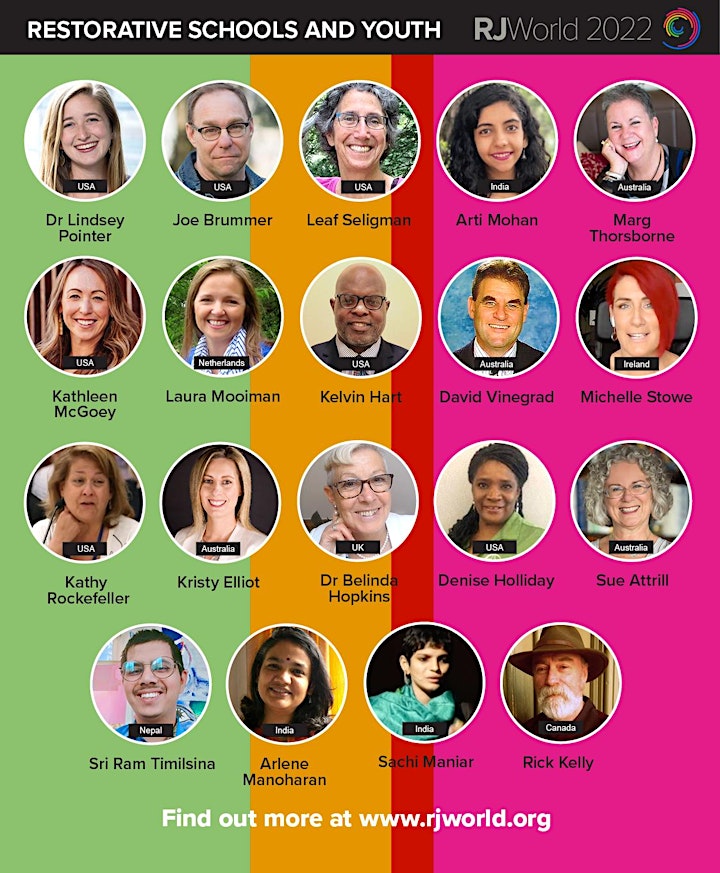 Delegates at our previous conferences have spoken of being re-inspired, challenged, amazed and energised. Here are some of the reflections that have come in…
Thank you so much for an amazing event!
Joakim Hope Soltveit, Norway
This was a space for people in different parts of the world to connect with restorative practitioners and academics of all levels of experience, including many people whose work I have deeply admired but never got a chance to engage with before.
Arti Mohan, India
The format was fantastic. I really appreciated the opportunity to engage with so much of the content without having to get up in the middle of the night.
Lucy Evans, Australia
I really loved seeing some huge names in such an intimate setting… So many can't afford to travel or pay exorbitant registration fees… if we think of information as power it's a real game changer
Jane Bolitho, Australia
Thank you so much for this incredible offering. I feel affirmed, energized, encouraged and inspired. RJ around the world is happening, yahoo!
Laura Dafoe
The quality and variety of speakers was sensational . I also appreciated that I could leave feedback on a presenter's wall and read the feedback of others. The Chat Wall was almost like the chat over a cuppa at the break at a conference where important reflection time, sharing – and connecting with others occurs. It has been an amazing 10 days and my head is swirling with ideas but almost as important my soul has been fed.
Jane Langley
An amazing eConference, with a great variety of speakers. It was a most enriching experience
Upneet Lalli, India