About this Event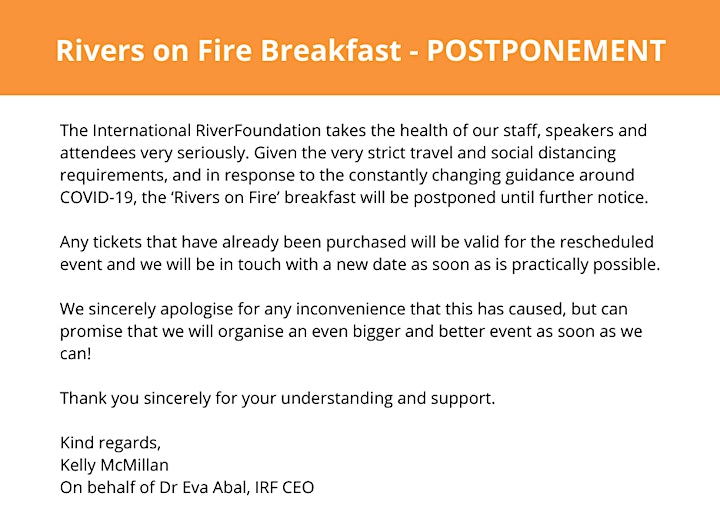 All profits from this event will be donated to Aussie Ark, an organisation committed to changing the trajectory of declining animal species in Australia.
As Australia begins to recover from the devastating nationwide bushfires, the Rivers on Fire breakfast is the first in a series of events being run by the International RiverFoundation with the aim of understanding the impacts, raising awareness, and creating a call for action to address the effects of fire on waterways.
Come and listen to our two keynote expert speakers and take part in an open forum.
Our keynote speakers at the breakfast are: 
Dr Fran Sheldon - How will our rivers cope, and
Bradley Moggridge - Learning from our Indigenous communities
Doors open at 7am for a 7:30am start with prizes available throughout the morning.
Please book by 12 noon on Friday, 13 March for catering purposes. A 15% surcharge will be added to tickets purchased after this time.
Sponsored by:

KEYNOTE SPEAKERS
Dr Fran Sheldon is Professor and Dean (Learning and Teaching) in the Griffith Sciences group at Griffith University and a Research Member in the Australian Rivers Institute. Her research explores the relationships between hydrology, physical geomorphology and ecology in river systems, particularly large dryland rivers such as those of the Murray-Darling Basin and the Lake Eyre Basin.
She has been the project lead or project member on several significant projects including the "Ecology of Low Flows" project for the National Water Commission. Dr Fran was also a member of the Scientific Expert Panel investigating the 2019 fish deaths in the lower Darling River.
Bradley Moggridge is a proud Murri from the Kamilaroi Nation who holds a Master of Science (Hydrogeology & Groundwater Management) from UTS and Bachelor of Science (Environmental Science) from ACU and is a Fellow of the Peter Cullen Trust Science to Policy Leadership Program. Bradley's current PhD research study at University of Canberra will show credible evidence of the value of water to Australia's First Peoples and how modern-day planning can accommodate these values. He is also the Indigenous Liaison Officer for the Threatened Species Recovery Hub under NESP.
Bradley has over 20 years' experience in Aboriginal engagement, water and environmental science, having worked in applied research, policy development, legislative reviews and project management. He was named 2019 CSIRO Indigenous STEM Career Professional, 2019 ACT Tall Poppy Award for Science, ACT NAIDOC Scholar of the year and received the inaugural Academy of Science 2019 Aboriginal and Torres Strait Islander Travel Award. Bradley hopes to encourage future generations to pursue interests in STEM, promote his ancestors' knowledge of water and mentor emerging Indigenous scientists.