Rise Mama Circle is a space to find meaningful connection and truthful sharing in the early months and years of motherhood.
About this event
Rise Mama Circle is a monthly women's circle for mothers on the northern end of the NSW Central Coast.
It is 2 hours to slow down, connect with other mothers on a deeper level in a supportive circle. We will close with a restorative meditation.
Each month we will gather in circle to:
- Practice radical self care – through simple restorative mindfulness practices that you can then take home and incorporate into motherhood.
- Share and practice holding space for each other – sharing our highs and lows, releasing emotions and being truly listened to starts a healing journey and helps mothers to feel less alone in their motherhood
This circle is for you if:
- You desire a deeper connection with women and with yourself
- You need a brave space to be heard
- You are ready for a monthly space to practice grounding, mindfulness, letting go and calling in new growth
- You are ready to learn more about the power within yourself as a woman and mother
Venue
The Landing Space
4/33 Forresters Beach Road
Forresters Beach NSW 2260.
www.thelandingspace.com.au
Price
$30 per circle or 5 circles for $110
Reserve your space - DM or contact Alita 0410324042 alitablanchard@gmail.com
(No mother left alone – if you are struggling or disadvantaged in any way, circle is free or by donation. Please contact Alita).
What is Mama Circle?
---------------------------------------------
It is a supportive space to nurture you, connect with other mamas, offer a space for sharing the highs and lows of motherhood without judgement and comparison and celebrate your matrescence – your transformation into a mother.
Theme:
---------------------------------------------
June - Self compassion and self forgiveness (with Bik Campbell, Safe Holistic Counselling)
July - Finding joy
August - Mother rage and anger
September - Finding purpose
October - Aware parenting
November - Radical self care
December - Slowing down
January - Simplicity parenting
February - Self compassion and forgiveness
March - Conscious parenting
Who is this circle for?
---------------------------------------------
- Any mother craving connection
- New mamas
- Expecting mamas
- Maternal figures
Babies in arms are welcome to join. If you have a moving baby or young toddler or child, please reach out and we can discuss options.
Can I invite friends?
---------------------------------------------
Please invite mamas along that you know and might meet in your community. This is how we create community and village. There is an option to invite a friend for a special intro price – see below.
About the Facilitator: Alita Blanchard
---------------------------------------------
Based on the Central Coast, Alita is a mama to four young boys (including a stillborn son Remy). She is a trained Rites of Passage facilitator, Women's Circle facilitator and trauma-informed Conscious Parent Coach. She advocates for the importance of listening to our children's tears, emotions and anger with empathy and compassion, and also learning how to feel and express our own emotions and practice self-compassion.
Alita supports and guides mothers in their transformation through motherhood (matrescence) and helps to bring awareness to their own needs and emotions so they can feel more aligned, aware and connected to themselves and their children.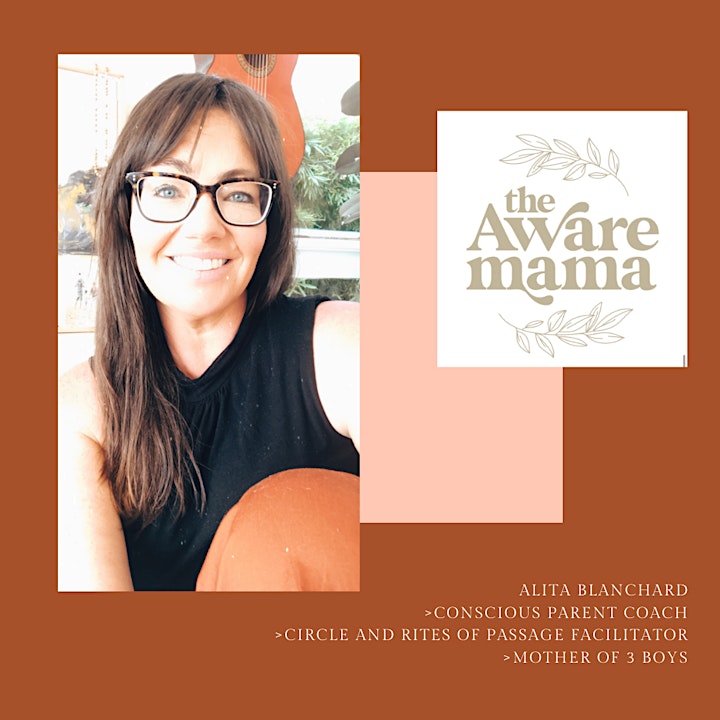 Organizer of Rise Mama Circle: Rest, Connection and Sharing | Northern Central Coast NSW
Alita has a background in communications, research and risk management. Through the transformation of motherhood over the last 10 years, including a season of deep grief after the death of her 4th son Remy in pregnancy, she is passionate about the holding space for mothers, families and others in grief, loss, transformation and healing.
Alita is a certified Rites of Passage facilitator, trauma informed Conscious Parent Coach and Mama Circle facilitator.