Description
Rights Talk:

Australian Child Rights Progress Report



Guest Speakers: Megan Mitchell, The Honourable Alistair Nicholson & Prof. Deborah Brennan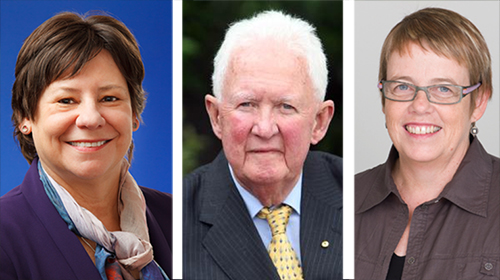 Overview
Hosted by the National Children's Commissioner, Ms Megan Mitchell

Key note address provided by The Honourable Alistair Nicholson




Thematic address – Professor Deborah Brennan, Social Policy Research Centre




The Australian Human Rights Commission and the Australian Child Rights Taskforce invite you to a special discussion on the rights of children in Australia, as well as to launch CRC25 - the Australian Child Rights Progress Report.

The Australian Child Rights Taskforce is the peak body for child rights in Australia, co-convened by UNICEF Australia and National Children's and Youth Law Centre. Made up of more than 100 organisations advocating for the promotion and fulfilment of the rights of Australia's children, our goal is to ensure child rights remains squarely on the agenda of the Australian government and people.
How has the situation improved for children since Australia ratified the Convention on Rights of Child was ratified in Australia in 1990? Where has there been a lack of progress?

The report has over 30 contributors from human rights agencies, community organisations, academics, experts and young people from across Australia. The report identifies areas of significant progress, or lack thereof, since that time.

Family and care




Learning and development




Protection and safety




Health




Justice




Identity



The report includes a section putting Children in Focus looking at the particular experience of Aboriginal and Torres Strait Islander Children, children from culturally and linguistically diverse backgrounds, asylum seeker and refugee children and LGBTI children and young people.

Speaker biographies
Ms Megan Mitchell as Australia's first National Children's Commissioner was made in Canberra on 25 February 2013. This marks a significant step in the protection of children in Australia.
Having commenced her term on 25 March 2013, Megan will focus solely on the rights and interests of children, and the laws, policies and programs that impact on them. Megan has had extensive experience in issues facing children and young people, having worked with children from all types of backgrounds, including undertaking significant work with vulnerable children. She has practical expertise in child protection, foster and kinship care, juvenile justice, children's services, child care, disabilities, and early intervention and prevention services. Megan's previous roles include NSW Commissioner for Children and Young People, Executive Director of the ACT Office for Children, Youth and Family Support, Executive Director for Out-of-Home Care in the NSW Department of Community Services and CEO of the Australian Council of Social Service.

The Honourable Alastair Nicholson graduated Melbourne University Law School in 1960 and was admitted as a Barrister and Solicitor of the Supreme Court of Victoria in 1961 and signed the Roll of Counsel of the Victorian Bar in 1963. He was appointed Queens Counsel in 1979, a Justice of the Supreme Court of Victoria from 1982-88, and Chief Justice of the Family Court of Australia and a Justice of the Federal Court of Australia from 1988 until his retirement in 2004. He was Judge Advocate General of the Defence Force from 1987-91 and held the rank of Air Vice Marshal in the RAAF and is an Officer of the Order of Australia.

Alastair has long been a children's rights campaigner. He has chaired several international conferences on child protection and child justice systems, and served as a consultant to the Royal Children's Hospital International Vietnam, and to UNICEF Vietnam. He has also been a consultant to the Queensland Government on legal recognition of Torres Strait Islander traditional child rearing practices. He was the recipient of the Human Rights Award at the Fifth World Congress on Family Law and Children's Rights held in Canada in 2009. He has been an Honorary Professorial Fellow of the University of Melbourne since 2003. He currently Chair of Children's Rights International and in this capacity trained Cambodian judges and others in the justice system in better ways of dealing with children in the court system, since 2007. This included conducting seminars in Cambodia with UNICEF in November 2015, and bringing a group of Cambodians to Melbourne, headed by the Cambodian Minister of Justice, to look at the Victorian Juvenile Justice system, which in turn led to the Cambodian Government announcing its agreement to introduce a new Juvenile Justice Law this year. He continues to work in partnership UNICEF Australia and others to secure improvements for children seeking asylum in Australia.


Professor Deborah Brennan, Social Policy Research Centre

Deborah Brennan PhD, FASSA is Professor in the Social Policy Research Centre (SPRC), University of New South Wales and adjunct Professor in the Centre for Children and Young People (CCYP), Southern Cross University. Her research focuses on the history and politics of early childhood education and care, family policy and gender and politics. Deb worked closely with SNAICC and many individuals around Australia to produce Joining the Dots: Program and Funding Options for Integrated Aboriginal and Torres Strait Islander Children's Services in 2013. She has provided advice to governments in Australia, Canada and the UK. Her work on the financing of early childhood education and care was widely cited by the Productivity Commission in its inquiry into Child Care and Early Childhood Learning. She is the author of The Politics of Australian Child Care (Cambridge University Press, 1998) and co-editor with Louise Chappell of 'No Fit Place for Women'. Women in New South Wales Politics, 1856-2006 (UNSW Press, 2006) as well as numerous scholarly articles on gender, politics and family policy.

Accessibility
The venue is wheelchair accessible. If you have any requirements that will assist in your full participation please contact events@humanrights.gov.au