Ride for Country Kids Community Crit Race - Narromine Town Centre
About this event
From 2 to 4 May former Tour de France champion, Mark Renshaw, Prime 7's Daniel Gibson and 75 other dedicated riders will cycle over 400km from Dubbo to Cobar. They are riding to raise funds so country kids and families can access the vital developmental and mental health services they need.
On 2 May the Ride will stop in Narromine for a community crit race around town – a crit is a short race around a nominated area (Narromine Town Centre). There will be a fast race, a fun race and a family friendly children's crit circuit too!
We are inviting local cyclists and their families to come on down to meet Mark and Daniel, ride in the crit or cheer on the riders and enjoy a family-friendly BBQ, live music and cycling experience.
Adults Crit races will start from Narromine Sports and Fitness Centre (12A Meringo St). You can welcome and cheer the riders into town from this area too.
Know when to go:
12:40pm – Group 1 – gun it crit race around town
1:00pm – BBQ starts for those ready for a sausage sandwich
1:10pm – Group 2 – fun it crit
1:30pm – Family friendly and childrens crit (head to the Oval via Temoin St)
We hope to see you there!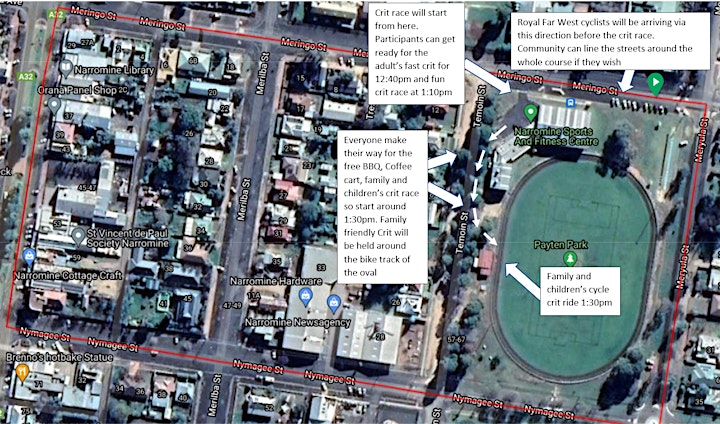 Organiser of Ride for Country Kids Narromine Community Crit Race
For over 90 years, Royal Far West has been supporting children and families from rural and remote Australia . 
Our vision is healthy country children.
Our charity strives to make an outstanding contribution to children with complex health and behavioural disorders, developmental delays and mental health problems who live in rural and remote areas and cannot access the specialised services they need.
Whilst we build resilience, capability and confidence for every child, at the same time RFW provides training, education and advice for their family, their schools and the communities that support them.
Our programs and services make a significant positive difference to the lives of many vulnerable country children, whilst positively impacting on their schools, families and communites.
The children RFW helps are often facing a combination of issues including attention and behaviour challenges, sensory processing difficulties and emotional dysregulation, coordination and communication problems.
Royal Far West assists in identifying and resolving issues for developmentally vulnerable children, to support their health, wellbeing and learning, to give them the best possible chance in life.
We believe kids are our future. Every one of them deserves access to specialist healthcare regardless of where they live