ReWilding for Women - 3 Day Retreat

Thursday, 28 April 2016 at 7:00 pm

-

Sunday, 1 May 2016 at 4:00 pm (AEST)
Event Details
ReWilding for Women - 3 Day Retreat 
3 Days of RECLAIMING, REWILDING and RECONNECTING to the Wildest, Freest & Most Empowering Aspects of our Sacred Feminine!!
LADIES: This is the BIG one and it only comes around once a year!

This journey is big, bold and beautiful . . . But it's not for everyone. This is an extremely transformative experience - You will NOT go home the same woman!!!

This retreat is a bit shamanic, tantric and astrological.  We'll step into a variety of practices used in ancient women's work.  One of which is a medicine wheel technique once used within the ancient mystery schools of the Goddess tradition to invoke and commune with your personal archetypes (or parts of self).  Another is of the shamanic tradition and yet another has ties to the very heart opening and sensual tradition of Mary Magdeline.
If these experiences sounds fluffy – they're not! After 10 years of teaching, facilitating, consulting and coaching I have found this ReWilding work to be the most profound and life transforming I've come across!  
If you're ready to release fear, fatigue and frustration & stake claim to your next level of vibrancy, purpose and joy then keep reading! 
For those of you who know the ReWilding for Women work we'll be diving into all four categories of feminine archetypes PLUS an extra one!! We'll be going into the Warrior, the Mother, the Lover (aka our tantric goddess), the Dark Goddess AND the Medicine Woman / Shaman / Witchy deep earth goddess!!

Ladies, we're nearly booked out, there are ONLY 2 Spots Left!
Open to a deeper & more profound way of being within yourself and your world 
The great evolutionary mystic Aurobindo has said, "If there is to be a future, it will wear a crown of feminine design." He and many other scholars and mystics around the world (including the Dalai Lama) are telling us that the survival of our species depends on our ability to open to and embody the feminine.
Whether or not that's true is yet to be seen but I can say this with certainty:
There is no doubt that at this point in time most western women (as well as men) are profoundly cut off from the feminine. We, as women, enjoy freedoms and opportunities that weren't possible at any other time in history. But very few of us live from our intrinsic feminine strength and intelligence. 
I know what it's like to be cut off from the full power and potential of my feminine 
I also know that opening to wilder sides of the sacred feminine within me has transformed every aspect of my life. From my physical health to my relationships to my work in the world. The sacred feminine has opened me to living a life I never dreamed possible - one that's filled with a sort of bliss I couldn't previously fathom.
My hope is that every woman is able to find sacred space where she can touch the divine feminine, open to her and dance with her. 
This ReWilding Women's Retreat is such a space. Your space. Your time. To connect to your feminine strength and intelligence. To open to her power, her sexuality, and the gifts she holds for you.
I'd love for you join me on this journey toward unlocking the mysteries of the sacred feminine. In the retreat we'll be dancing with all 5 faces of the feminine through a variety of ancient rituals and medicine wheel work.
The women I'd like to take on this 3-day journey with me have a desire to open to a deeper, more profound way of being within themselves and their world.  Often times, these women have a longing for truer, more fulfilling relationships with themselves, their natural world and with others.
In this retreat we'll be working on an energetic, mental, emotional AND soul level. A variety of modalities will be used (things I've gathered over my 10 years of studies in NLP, meditation, leadership, energetic healing, shamanism, tantra, archetypal psychology, physics, biology, physiology, health, nutrition, mind-body connection, and more) but the primary modality will be working with personal archetypes (or specific parts of self) on deep and profound levels.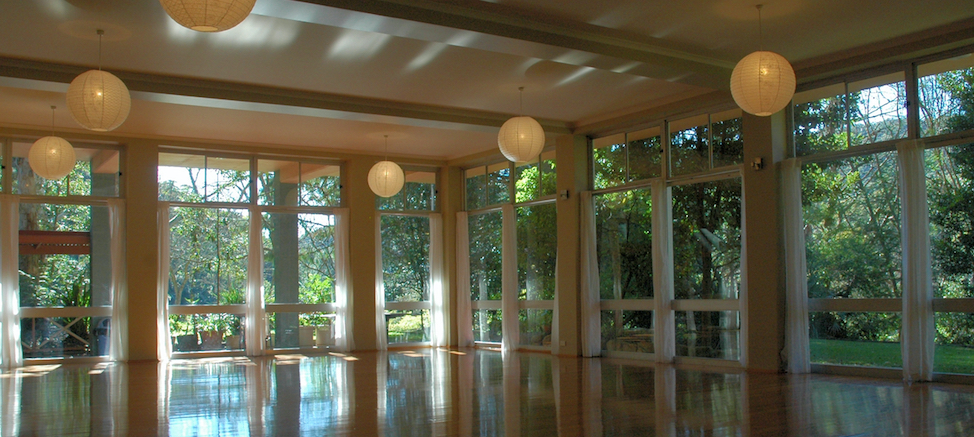 Meditation Hall at Govinda Valley where we'll hold Sacred Women's Space for the Weekend
What's possible at this retreat
Reclaim your fullness and aliveness as a woman

Deepening your connection with your true self

Awakenings you've maybe read about but haven't experienced

Happiness, fulfillment, love

Openings to the kundalini process

Stronger alignment with your destiny / dharma

Clearing old, unwanted thought patterns and letting go of old habits

Live more fully from your heart and soul

Healing of traumas from this life, past lives, ancestral lines 

Deeper connection to your orgasmic energy

Stonger, more powerful, tantric like expressions of your sexual energy
I know this sounds almost too good to be true but I wouldn't say these things if I haven't either experienced them for myself or watched them happen in other women.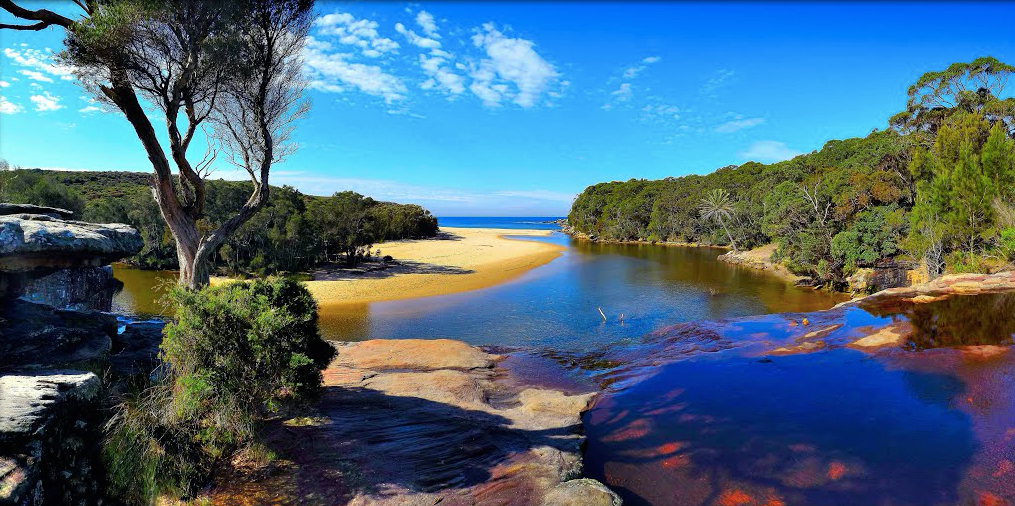 Location of our Day Trip - Royal National Park - Coastal Walk
Program Outline
Thursday 28 April
From 3pm  Take your time to settle in, have a rest, go for a bush walk or lounge on the beautiful balcony.
7pm  Greeting circle and our first beautiful dinner together
Opening Ceremony 
Friday 29 April
7 - 8 Breakfast
Opening of the medicine wheel and invocations  
Day trip to The Royal National Park 
Shamanic journey/hike to our very private beach within the park
Group Medicine Wheel Work with shamanic/medicine woman archetypes
Free time to swim, hike, explore, commune with nature, connect with the other women, etc.
Hike back to trailhead and journey back to Govinda
Dinner  
Quiet Evening 
Saturday 30 April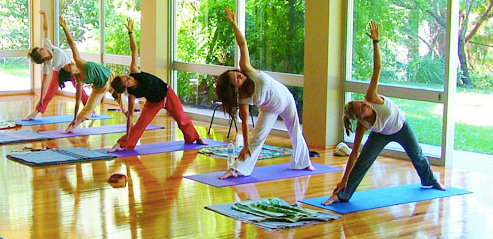 Optional movement workshop
8 - 9 Breakfast

Workshop - Medicine Wheel with the sensual goddesses
Lunch and Free Time
Workshop - Shamanic Tradition
Dinner
Outdoor fire ceremony 
Sunday 1 May 
Optional movement workshop
8 - 9 Breakfast
Workshop - Mary Magdalene tradition
Lunch
Closing Celebration Circle
4pm Begin our journey home
Accomodation, meals and other inclusions 
All bookings include three nights shared accommodation in cozy rooms (all linens supplied), 3 delicious vegetarian meals per day, teas and snacks, transportation to the trailhead and picnic lunch for our day trip. 
A Bit More About Food (text from Govinda Valley)
According to Vedic knowledge, the quality and content of a person's diet are very significant factors which affect their state of mind; indeed, one's consciousness is directly influenced by what he or she chooses to eat.

At Govinda Valley, we take very seriously the significance of diet in a person's general well-being. Therefore, our menu is geared towards nutritious and wholesome foods which are beneficial for spiritual activities.

Our experienced cooks work with concern for the highest spiritual standards and the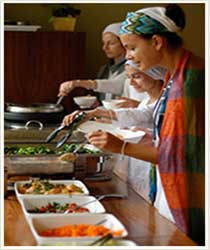 knowledge of ayurvedic nutrition. All meals are prepared with an emphasis on optimising health, maximising nutrient retention and harnessing the subtle energies of the food. Govinda Valley's cooks are themselves spiritual practitioners, who meditate and bathe before entering the kitchen and imbue the food they prepare with love and devotion. Hence, Govinda Valley's cuisine is not only physically healthy, but mentally and spiritually as well. You'll taste that for yourself!

Naturally, we cater for special dietary needs such as wheat-free, dairy-free sugar-free, tofu-free menus etc. All of the food prepared in the Govinda Valley kitchen is totally free of meat, fish, eggs, garlic, onion and mushrooms, with no exceptions.
You've got nothing to lose 
This all-inclusive 3-day retreat is $1440 per person. 
A deposit of $360 is required to reserve your place.  Please click the link here on Eventbrite to secure your spot.  The remaining balance is due 25 April 2016.  Upon booking you will receive an email with further details.  

Payment plans are available if needed.  Just message us to sort out the details. 
LADIES: We're nearly booked out!  ONLY 2 spots left!
If ready up for an extraordinary experience of grace, magic and transformation please book asap!! I hate to say it but space is very limited and the 3rd person will be turned away.
I'm very much looking forward to taking this very very sacred and very WILD journey with you!
Much Love
Sabrina Lynn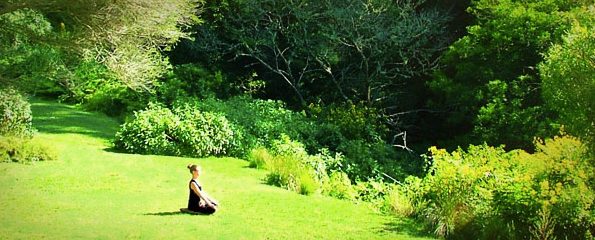 The Beautiful Govinda Valley Grounds
What women are saying about ReWilding
"Since doing the workshop it feels as if my sexuality is now like a blank canvas; all of the old is gone and the new can be painted."
~ Kirana
"I feel alive! Thank you."
~ Raelene
"I'm loving this energy at the moment! Boom! Thanks to my work with you.... opening up my heart to allow this darkness to be expressed through love is amazing!"
~Elise Heyward
"Loved, loved, loved the ReWilding Workshop! The idea of connecting to a part of myself that is unapologetically wild and free felt very appealing. And it happened. The energy of the space that Sabrina created and held enabled me to go deep into a part of myself that has been locked and hidden away. Bringing that to the surface to acknowledge and release was incredibly profound and freeing. There's a healthy fire in my belly now and an incredible sense of passion and drive. What a beautiful, powerful process. I'm excited for the next workshop – to explore more!"
~ Amy
"The energy was powerful. I felt safe to go wild and express myself. If you are willing to dive into the archetypes, feel them in your body and be supported as a conscious spiritual woman walking your path, I recommend this special experience!"
~ Anick Patry Inspirational Speaker, Facilitator, Mentor, Be You Coach
When & Where

Govinda Valley
1 Lady Carrington Rd
Otford, NSW 2065
Australia

Thursday, 28 April 2016 at 7:00 pm

-

Sunday, 1 May 2016 at 4:00 pm (AEST)
Add to my calendar