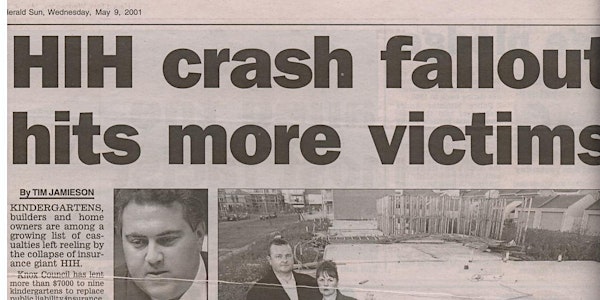 Revisiting the Extraordinary Collapse of HIH: A Keynote address by Andrew M...
Description
Revisiting the extraordinary collapse of HIH: a Keynote Address by Andrew Main
Wednesday, 1st August, 2018, 4.30pm - 6.30pm,
@ Lloyd's Offices, Level 9, 1 O'Connell Street, Sydney NSW 2000
Educational Seminar - Wednesday, 1st August 2018 - [FREE to attend]
From the Report of the Royal Commission into HIH Insurance, 13th May 2003:
The major companies in the HIH Insurance Group (HIH) were placed in provisional liquidation on 15 March 2001. The collapse of HIH is likely to be the largest corporate failure in Australia to date. The losses and hardship inflicted on the Australian community by this corporate failure have been significant and have been a major contributing factor to the current insurance crisis. The liquidation process could take up to ten years and the financial return to creditors is expected to be negligible.

As the Royal Commission into Misconduct in the Banking, Superannuation and Financial Services Industry launched in December 2017 continues, the Lloyd's Development Group invites you to join us in revisiting the extraordinary collapse of HIH and the Royal Commission that followed.

Many of us have heard stories and the headlines of the collapse, but most of us weren't in the market 15 years ago to experience it.

Join us as Andrew Main sheds some light on the who, what, when, where, why and how things went so wrong.

"The last days of HIH Insurance before it collapse on 15 March 2001 looked more like a closing-down sale in a bargain bazaar during a power cut than a dignified exit from the corporate scene."

Chapter 1 - Rape and Pillage, "Other People's Money: The Complete Story of the Extraordinary Collapse of HIH"


Following the conclusion of the keynote address, we are delighted to be serving refreshments and canapés courtesy of our sponsor Wotton + Kearney where we hope you will make the most of the opportunity to connect with fellow attendees.
This event is free to attend given the generous sponsorship of Wotton + Kearney; should your circumstances change and you are no longer able to join us, please kindly cancel your spot so that we can open it up to others on the waiting list. This will help us continue to ensure our events are free to attend.
Organiser of Revisiting the Extraordinary Collapse of HIH: A Keynote address by Andrew Main
We are an informal start-up group looking to provide targeted education and networking opportunities for brokers, underwriters and claims personnel in the Australian insurance market. Modelled off the success of the various Lloyd's and London Market U35s Groups, we will be running original and informative seminars and educational trips to provide professional development opportunities.