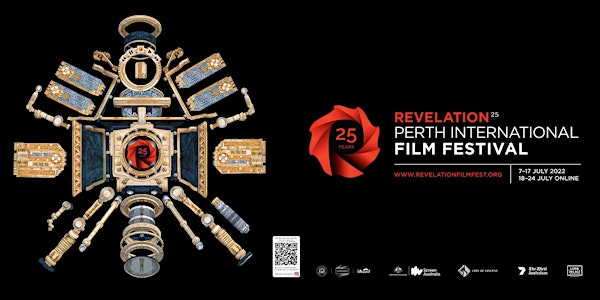 Revelation Perth International Film Festival 2022 Westralia Day Session 1
Location
The Backlot Perth
21 Simpson Street
West Perth, WA 6005
Australia
Westralia Day - session 1: Fierce encounters and fever dreams
About this event
A selection of daring short films that challenge, provoke, and thrill audiences. These filmmakers push conventions to their breaking point, fragment the simple into absurdity, and promise a challenging experience for all.
Crossover
Sam Boe Nielsen
Australia/8min/2021
When Pat joins a group therapy class, he finds that the enigmatic group members have more to offer than healing.
Shattered
Mason Allen
Australia/8min/2021
With her mother about to undergo emergency surgery, Kyra descends into the wild and unfamiliar world of nightclubs to find her brother so as to reunite her family for perhaps the last time. But every action comes with consequences, the night takes an unexpected turn
Stare
Eliza Pritchard
Australia/3min/2021
Two friends find themselves stuck in a terrifying situation, where they are convinced that they need to maintain direct eye contact with a mysterious box in order to survive.
Maenad Fever
Tamara Cook
Australia/18min/2021
A celebration of the power of the Feminine Divine and is inspired by real events.
Christmas Movie
Owen Lawie
Australia/7min/2021
Rooming together in a garage, two friends' Christmas eve night escalates into a realm of psychedelic hedonism.
Dirty Beats - ABSTRKT XNOIS
Sioux Tempestt
Australia/3min/2021
Perth artist transcending creative disciplines, ABSTRKT XNOIS delivers the first track from her forthcoming album Innominate.
Prayer
Justin Reid
Australia/9min/2021
What is a call? In an age of frictionless and ceaseless communication, life takes on the tenor of cacophony over symphony - all noise without signal.
We Stop….To Start Again
Talitha Maslin
Australia/14min/2021
An absorbing study of movement and form, the camera shifting through the studio, the dancer shifting through the spatial environment, responding to the transforming demands of the soundtrack.