Description
REVAMP - UpCycled Clothing Creative Sewing Workshop
ReVamp - Definition: To give new & improved form, structure or appearance to an existing 'something'
5 hours of FUN - LEARNING - CREATIVE SEWING - SAVING THE PLANET with Megan Twidle, Creator/Designer/Maker of Womens & Mens Clothing Label, Stytchy Wytchy.
ReVamp will inspire you to see your wardrobe and future clothing purchases in a whole new way. Learning to sew, honing your skills & using your creavity can give you a new outfit on a teeny budget and slow down the environmental impact of Fast Fashion & Trends.
Let your imagination go wild, meet some like minded people and go home with a garment that you LOVE to WEAR.
Choose 1 or 2 PreLoved garments from the rack and start cutting & mashing. You can take off sleeves, attach different ones, change a hem, add some trim, go up a size with a contrast panel, turn jeans into a skirt, or a skirt onto a top to make a dress. Turn a top into a tunic or an open vest.
The options are endless when your creativity flows!
What is Provided:
* A full rack of clean, natural fibre PreLoved Clothing for you to choose from which is all sourced from local Opp Shops.
* A computerised sewing machine for each participant, no sharing required.
* Dress making supplies such as scissors, rulers, mats, threads, trims etc.
* Small group setting - maximum 6 participants, minimum 4.
* UpCycled Clothing Inspiration examples
* Tea, Coffee & Snacks
Basic Sewing Skills are required ie: confident straight & zigzag stitch.
A 1 hour absolute Beginners Sewing Class prior to ReVamp is available for an additional cost. You will be learning straight & zig zag stitch while making produce bags for you to take home and have the confidence to participate in ReVamp. This class begins promptly at 9am - 10am.
Book the ticket BEGINNER SEWING CLASS + REVAMP WORKSHOP.
ReVamp Example Below: BEFORE - Cotton Lace Tunic. AFTER ReVamp: I detached the top from the skirt, opened up the darts and rehemmed the new top with a rolled hem. I haven't worn a midrift in a couple of decades.....looks beautiful as a layered piece.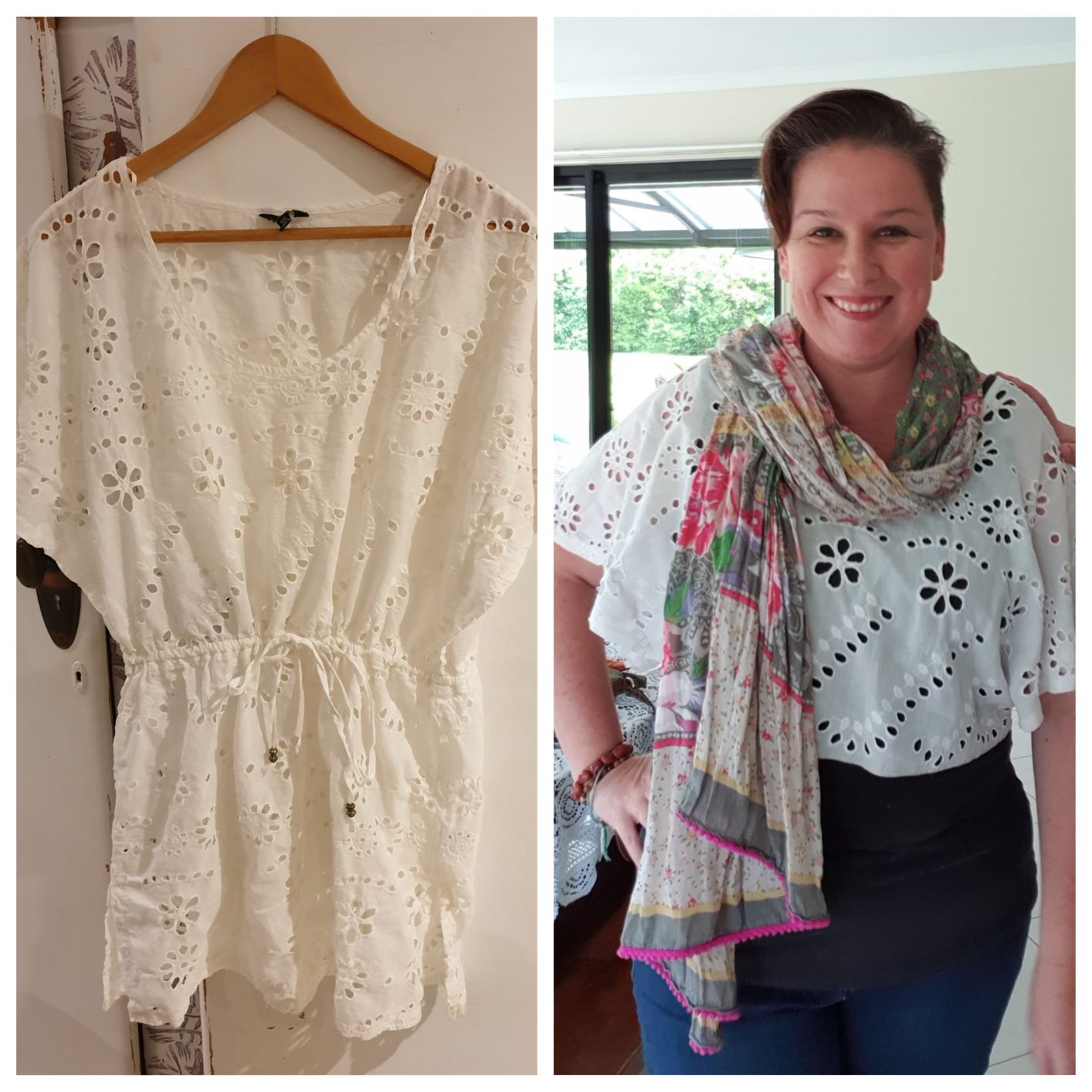 At the end of this 5 hour workshop, you will take home at least one piece of clothing that you made, love and will wear regularly along with inspiration and new skills to UpCycle your current wardrobe or Opp Shop Treasures.
By repurposing existing fabrics from preloved garments and homewares, you are helping to reduce the environmental impact of Fast Fashion and our planet will love you for it xoxo
TO BOOK:
1. Select the date of the workshop that you are attending
2. Select your ticket option.
REVAMP Upcycled Clothing Creative Sewing Workshop - 5 hour workshop $145.00
or
BEGINNER SEWING - (1 hour class $35.00) + REVAMP ($145.00) = $180.00
3. Pay for your workshop
Tickets must be paid in full to book your place at the workshop. Tickets close 7 days prior to workshop date.
50% refund is available for cancellations up to 1 week before workshop date. No refunds will be provided thereafter.
If you have any further questions or enquiries, you can contact me at stytchywytchy@gmail.com or on FaceBook at the Stytchy Wytchy page via private message (commenting on posts may get lost)
** The facilitator has the right to change workshop details at their descretion. Any paid participant up to that time, will be notified. Participants will receive a full refund for any cancellation of workshops by the facilitator **