Sales Have Ended
Ticket sales have ended
Gracias por registrate al Retiro de Parejas 2020 de la Comunidad Católica Latinoamericana de Brisbane. Te esperamos.
Sales Have Ended
Ticket sales have ended
Gracias por registrate al Retiro de Parejas 2020 de la Comunidad Católica Latinoamericana de Brisbane. Te esperamos.
About this Event
El Ministerio de Evangelización te invita a participar en el Retiro de Parejas 2020.
Nota: Debido al COVID-19 este Retiro tiene cupos limitados y es solamente para adultos. No se permitirá el ingreso sin ticket.
Este Retiro es una excelente oportunidad para reconectarse entre la pareja, para reavivar el fuego del amor y llevar tu relación al siguiente nivel. Te invitamos a tomar la decisión de invertir tiempo para enriquecer tu relación de pareja y así convivir en base al amor verdadero. No vivas una relación que se conforme a cohabitar o a la costumbre; vive una relación que te lleve a descubrir el verdadero sentido del plan de Dios para el matrimonio.
En este fin de semana podrás aprender y/o recordar herramientas que te ayuden a tener una relación de pareja más fuerte y sólida. Descubrirás como madurar tu relación con perspectivas desde el punto de vista científico, psicológico, emocional y espiritual.
No importa si estás casado o no, si tienes el deseo de renovar tu relación y lograr una conexión más íntima y gratificante este Retiro es para ti. Te esperamos.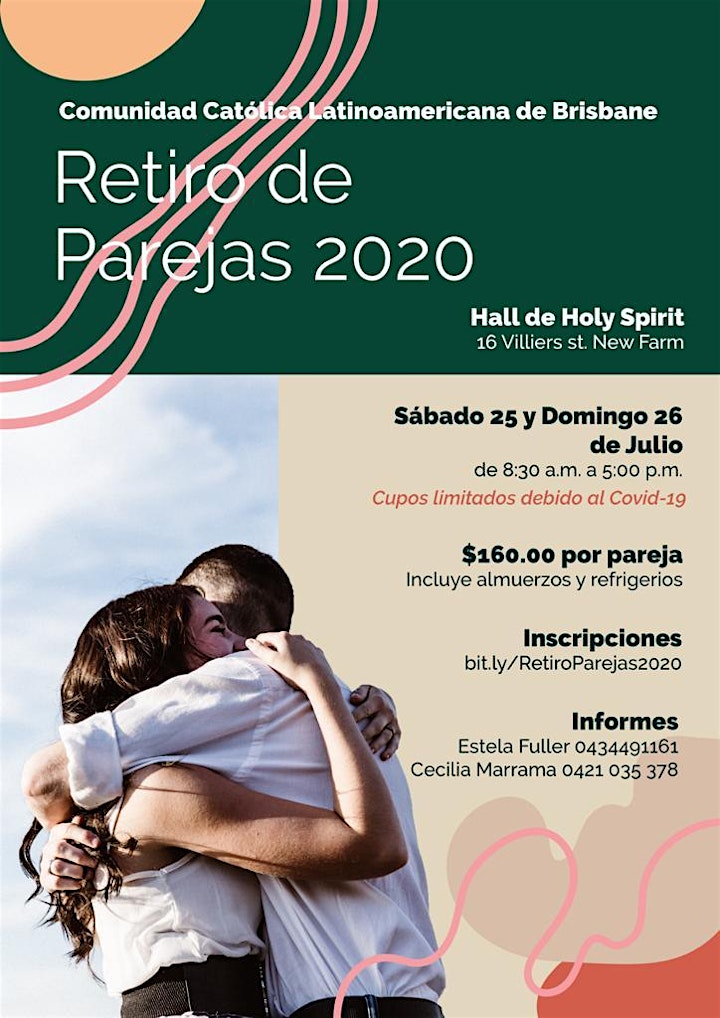 El retiro será desarrollado a través de charlas y actividades de pareja durante un fin de semana, sábado 25 y domingo 26 de Julio del 2020 de 8.30 am a 5.00 pm.
Los temas que abordamos durante este Retiro están organizados en cuatro bloques principales:
Conocimiento individual, de pareja y en relación con Dios.
Comunicación, resolución de conflictos, toma de decisiones.
Diseñando un matrimonio sólido (finanzas, sexualidad, hijos).
Espiritualidad del Matrimonio.
El Retiro finalizará con la Santa Eucaristía el domingo.
Si tienes Biblia te recomendamos traerla contigo. Igualmente, una libreta o cuaderno de tu preferencia para tomar notas de forma individual. También, te invitamos a que tanto tu como tu pareja busquen el Sacramento de la Reconciliación previo al Retiro.
Te pedimos por favor hacer un solo registro como pareja, es decir, que en el mismo registro esté el nombre de los dos. Igualmente, que una vez hecho el registro de pareja en Eventbrite, reciban un correo electrónico automático de confirmación (algunas veces este email puede llegar al correo no deseado o junk email). Este email es muy importante ya que esta es tu prueba de que el registro y pago fue exitoso para garantizar tu cupo en el retiro.
Desde ya te damos la bienvenida, estamos seguros de que esta será una gran experiencia de crecimiento para ti y tu pareja.