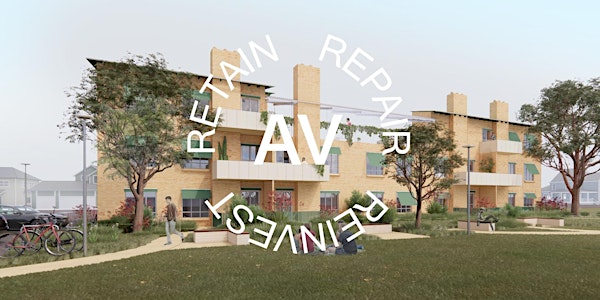 Retain Repair Reinvest - Ascot Vale Estate
Location
Wingate Avenue Community Centre
13A Wingate Avenue
Ascot Vale, VIC 3032
Australia
Retain Repair Reinvest - Exhibition
About this event
Retain, Repair, Reinvest is a strategy for evaluating the refurbishment potential of existing public housing. Ensuring housing as a basic human right.
The Ascot Vale Estate was designed by renowned modernist architect and public housing advocate Best Overend during his time with the Housing Commission. It is made up of 57 three story housing blocks, all of which are variations of the same design.
The entire Ascot Vale Estate will be redeveloped over the next 15-20 years as part of the Homes Victoria Ascot Value Renewal Project.
For the last 7 months, OFFICE have been undertaking in-depth research, consultation and design investigations into the refurbishment of an existing block of flats. The design proposal is to bring the existing housing block up to contemporary standards of living while retaining both the local residents and the heritage significant buildings.
This exhibition will explore alternatives to demolition, relocation and rebuild - capturing the environmental, community and heritage value of refurbishing existing public housing.
Join us at Wingate Avenue Community Centre for refreshments and conversations as we advocate for the retention of existing public housing.