RESTRICTIVE PRACTICES IN FULL TRANSITION TO THE NDIS
About this Event
Webinar Tickets Available Only
The Centre of Excellence for Clinical Innovation and Behaviour Support (The Centre) was established by the then Queensland Government in 2008 following recommendations in the Honourable Justice Carter's 2006 report "Challenging Behaviours and Disability – A Targeted Response".
Since 2008 Queensland has had in place robust safeguarding arrangements for adults with cognitive or intellectual disabilities who are subject to restrictive behaviours. As part of these arrangements mandatory reporting of every instance of use of restrictive practices has been in place since 1 July 2015.
As of the 1st of July 2019 the NDIS Quality and Safeguarding Commission will be operational in Queensland. From this date there will be state-based requirements for the authorisation of the use of restrictive practices under the Disability Services Act alongside the NDIS Commission's legislation and rules. For instance, the reporting of the usage of restrictive practices will become the responsibility of the NDIS Commission. As a result there are changes you need to be aware of.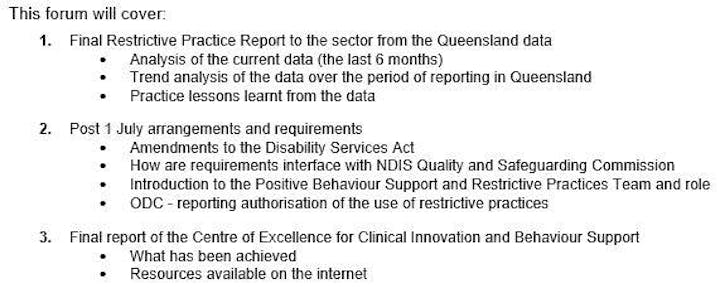 *NOTE: To facilitate participation, this event will be live streamed via webcast simultaneously*