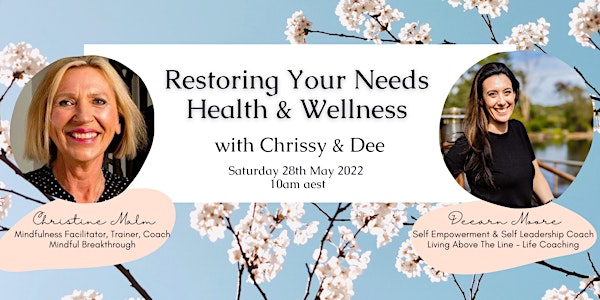 Restoring your Needs Health & Wellness
Refund policy
Contact the organiser to request a refund.
Eventbrite's fee is nonrefundable.
"Wellness encompasses a healthy body, a sound mind and a tranquil spirit"
About this event
The key to a more fulfilling and abundant lifestyle is understanding that you are enough and that your needs, health & wellness matter.
This is all about making what was once invisible to you, visible so that you can start to live your life in a much more grounded, self supported and sustainable manner, so that whatever comes your way, you'll know how to take care of yourself from a healthy space.
Understanding How To Meet Your Own Needs:
This is all about understanding that what happens within us as children continues into what happens within us as adults and how this results in how our daily life plays out - this unintended deficit of a childhood need being unmet stays with us into our adulthood, and as a result we're walking around, not really sure why this is occurring.
During our time together, you will start to unlock the doors to your inner world and find the new pathways to restoring those unmet childhood needs that have been holding you back for so long.
Taking Care Of Your Health & Wellness:
When you've got more of an understanding of your inner world needs, we have the ability to work from the inside out so that we can start to take care of our overall health & wellness.
This really matters because it affects every part of how we show up for ourselves and others on a daily basis.
This workshop will help you start to explore:
1. What behavioural patterns do I have in any given situation, and are they actually helping me to live a fulfilling life?
2. Do I feel like something's missing in my interactions with others - like I'm not being honest about what I'm actually needing?
3. Is my health & wellness really that important to me - am I actually making healthy choices throughout my day?
4. Do l feel alive and energetic throughout my day?
5. How often do I thank my body for functioning the way it does for me and how do l reward it?
We are so looking forward to facilitating this new event that we have been working on to best serve you, because YOU MATTER!
Here is a Review from one of our previous attendees .