Description
The speed at which we all seem to live our lives these days – rushing to and fro with jobs and family commitments - leaves many of us chronically tired and stressed with very few opportunities to recharge our batteries.
This is where Restorative Yoga comes in. It is a deeply relaxing practice – there is no striving to achieve the perfect pose, no 'working the edge'. It is simply an opportunity for deep relaxation and rejuvenation.
If you've been to even one regular yoga asana class then you will find the poses familiar. You will be guided into each asana where you will be deeply supported using all the regular yoga props such as straps, bolsters, blocks and blankets. The class will finish with beautiful Yoga Nidra and breathing meditation.
The workshop will be run by Anna Spierewka.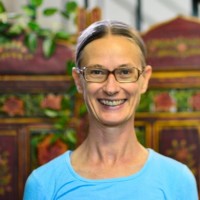 Anna has been practicing yoga for over 25 years. Initially practicing hatha, she later discovered flowing styles of yoga and yin yoga and embraced these as well. She sees yoga as a beautiful way to work with the body and focus the mind to bring increased harmony and well-being.
We hope to see you there.
Saturday 3rd March - 2-4pm
ASMY Sydney
154-160 Broadway, Ultimo
We are directly accross road from Mountain Street, next to the Printshop down stairs.
Limited places available.