Be transported to a place of pure relaxation of body, mind and heart.
About this event
*Please bring 2 x pillow slips to cover the bolsters.
Indulge in an extended 1.5 hours of absolute bliss, a complete self-care package that will relax the body, calm the mind, soothe the soul, and take you to another realm.
Dori will guide you expertly through some oh-so-relaxing restorative yoga to stretch away tightness, ease away tension and deeply open your body in a gentle, nurturing way that feels so amazingly good. While you are in a total state of bliss, Kev will take you to yet another level with the beautiful vibrations of crystal singing bowls and the healing power of Mantra. Finish off with a calming yoga nidra (full body relaxation) and then a hot spicy cup of chai and some delicious plant based sweets.
You will leave feeling relaxed, rejuvenated, restored, nourished within and calm of mind.
Please bring a mat if you have one and a blanket and towel to cover the bolsters and allow enough time for parking. We've included a map for suggested parking below.
Need more info? Please call Gayatri on 0404 499 593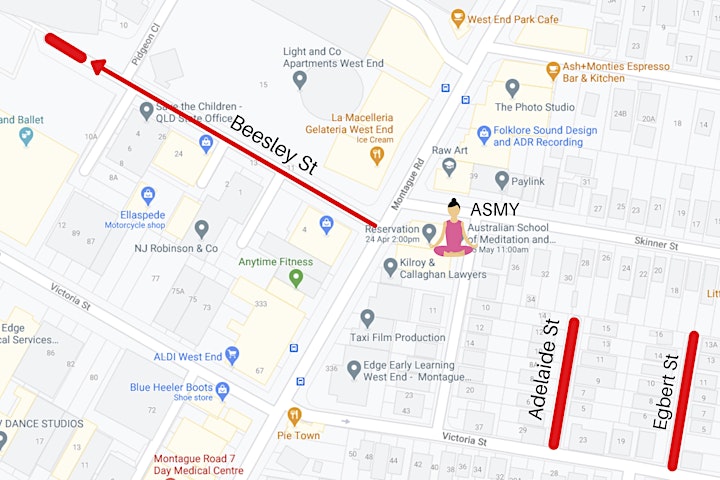 Organiser of Restorative Yoga with Healing Soundbath
The Australian School of Meditation and Yoga is a non-profit organization with centres in Brisbane, Gold Coast, Sydney, Melbourne and Adelaide.
Each lifestyle centre is run by qualified teachers who offer relaxed and personable instruction incorporating asanas, meditation, diet, breathing exercises and relaxation techniques for a holistic yoga experience.
The programmes of the ASMY are simple and enjoyable and can benefit everybody regardless of age or current physical condition. Our goal is to guide you to a more balanced lifestyle with an increased sense of wellbeing and vitality as your body grows stronger and more flexible, your mind calm—and bring a greater sense of 'sacredness' into daily life.