Sales Have Ended
Ticket sales have ended
We had a limited number of places for this event - but we'll run more soon!
Sales Have Ended
Ticket sales have ended
We had a limited number of places for this event - but we'll run more soon!
Science For All is delighted to announce a free event in collaboration with yoga instructor, Ellen Blackman.
About this event
About this event
Come along and join a one hour yoga restorative practice session with Ellen Blackman focusing on connecting a bridge between mind and subtle body receiving nourishment at the deepest level. The yoga session is aimed to promote mental health wellbeing and provide an opportunity to relax and rest mind through an online class led by a yoga instructor.
Scientific research (1) has demonstrated a link between yoga practices and optimising the digestive system, improving sleep and activating the body's natural relaxation response in terms of self-healing and self-regulating.
The important aspect of this session is to achieve balanced respiration, calming the nervous system, feeling safe, supported and connected with our body. The practice offers the chance to work out 'how to let go of unnecessary tension, how to relax the mind, how to do less' and more importantly to be kind to yourself on all levels.
About Ellen Blackman
Ellen Blackman is a certified yoga instructor passionate about spreading the knowledge and power of yoga to heal body and mind. Having 200 hours of teaching training under Anusara with Bridget Woods Kramer, her classes are influenced by a desire to help you connect to your subtle body through a focus on somatic and embodied movement that allows you to move into the calm side of your nervous system. Having a practice that is slow and considered gives you the space you need to develop an internal awareness of what is happening in your body and to respond and move in a way that best serves you. Learn how to unlock the subtle energy flow of the body so that you come back to a sense of yourself as a whole, one of health and strength as well as a vehicle for love and awakening. Classes are suitable for all ages, all levels of fitness and flexibility and those who prefer moving slowly and with curiosity
Notes:
Participants are encouraged to bring along a yoga mat (or something soft to lie on), 2 blankets, a strap (or scarf) a block (or book) and an eye pillow or something similar.
The event is free, however spots are limited so book in fast and join us in rejuvenating your body through some effective and relaxing restorative yoga practises.
Reference List:
1: Pascoe, M.C, Bauer, I.E 2015, 'A systematic review of randomised control trials on the effects of yoga on stress measures and mood', Journal of Psychiatric Research, vol. 68, pp. 270 - 282, retrieved 21st September 2020
https://www.sciencedirect.com/science/article/pii/S002239561500206X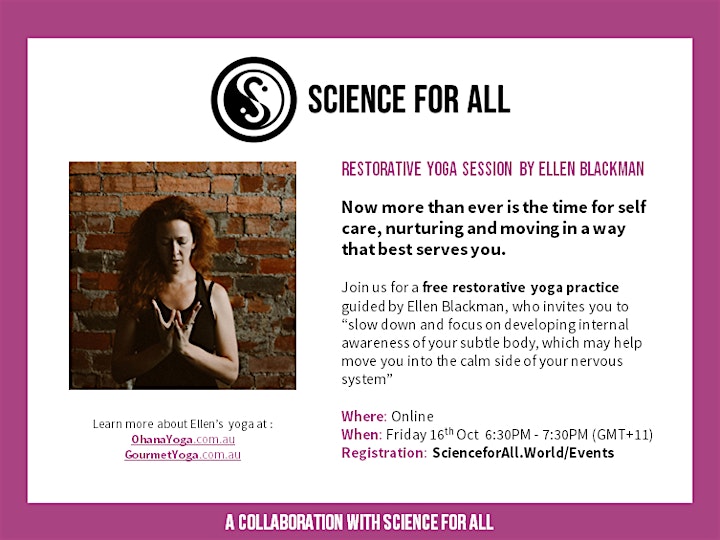 Organiser of Restorative Yoga Session by Ellen Blackman
'Science for All' is a not-for-profit group that enables people to share knowledge and ideas, use the scientific method to create new knowledge and support more people to get involved in shaping the future of human knowledge. 'Science for All' is run by a small team of volunteers, with the support of the Royal Society of Victoria.