Event Information
Location
ACU Melbourne
115 Victoria Parade
Christ Lecture Theatre, Room 404.G.12
Fitzroy, VIC 3065
Australia
Description
What is responsible investing? How is it different to sustainable, impact, or ethical investing? As Responsible Investment becomes more popular every year, Australians have many questions about why they should consider investing their money responsibly.

Network with your peers
Enjoy complimentary wine and cheese
Meet and discuss with leaders in the Responsible Investment Space: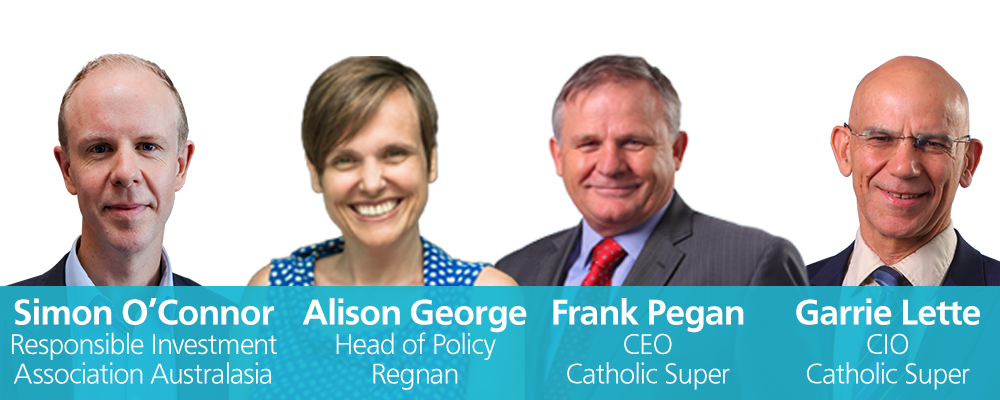 Host Carlyn Christian (Strategy Lead, Catholic Super) will probe panelists about their viewpoints in line with the following topics:
screening practices
how to engage with businesses to initiate positive change
the risks and benefits of adopting a Responsible Investment approach.
She will then open discussion to the audience for a Q&A.
---
More about the panelists:

Simon O'Connor
Simon is the CEO of RIAA, the peak industry body for responsible, ethical and impact investors across Australia and New Zealand. RIAA represents 200 members who manage over $5 trillion of assets globally. RIAA works to see more capital flowing into sustainable assets and enterprises, working with members to both increase the uptake and deepen the impact of responsible investment and working with consumers to unlock their ability to direct their savings consistent with their own values.
Simon operates at the intersection of economics, finance and sustainability and has extensive international experience as an economic adviser, investment analyst and environmental consultant, across finance, corporate and not for profit sectors. He is a firm believer that capital can be one of the strongest levers to shift to a more sustainable, equitable and prosperous world.
Alison George
Alison is Head of Policy for Regnan, which has been advising investors on material environmental, social and governance risks and portfolio implications for more than 10 years.
A Chartered Accountant with a Masters of Environment, and experience spanning professional services, regulation, research, and more than 10 years in responsible investment, Alison has depth of understanding about the intersect between business, investment and sustainability.
Frank Pegan

Since Frank Pegan became CEO in 2001, Catholic Super has become one of Australia's leading super funds. Under Frank's leadership, membership has tripled and funds under management have grown to $9.1 billion (As at January 2018). With a long history of competitive investment performance and awards, the fund has flourished.
As well as achieving the strongest possible returns for members, Frank is passionate about responsible investment and making a contribution towards a more environmentally and socially sustainable world. CSF is leading the industry with its objective to achieve competitive returns from low carbon opportunities, with more than $400 million dollars now invested in impact investments.
Garrie Lette

Garrie has been Chief Investment Officer for Catholic Super since 2010 and oversees all aspects of the investment arrangements for the Fund. However, Garrie's involvement with the Fund started in 1993.
During Garrie's time at Catholic Super, the Fund has had a strong focus on meeting members' long-term investment needs, and maintains an emphasis on responsible investment as an important contributor to achieving that end. With approximately $9.1 billion of funds under management (As at January 2018), responsible investing is integral to the investment process, and each opportunity with selected investment managers is evaluated by Garrie's team based on its own merit.
Program:
6:00pm - Register and network (wine and cheese provided)
6:30pm - Panel session
7:30pm - Network and close
For further questions about this event, email info@csf.com.au


Issued by CSF Pty Limited (ABN 30 006 169 286; AFSL 246664), the Trustee of MyLifeMyMoney Superannuation Fund (ABN 50 237 896 957; SPIN CSF0100AU). Catholic Super and MyLife MySuper are divisions of MyLifeMyMoney Superannuation Fund. The information contained herein is general information only. It has been prepared without taking into account your personal investment objectives, financial situation, or needs. It is not intended to be, and should not be, construed in any way as investment, legal or financial advice. Please consider your personal position, objectives, and requirements before taking any action.
Date and Time
Location
ACU Melbourne
115 Victoria Parade
Christ Lecture Theatre, Room 404.G.12
Fitzroy, VIC 3065
Australia