Description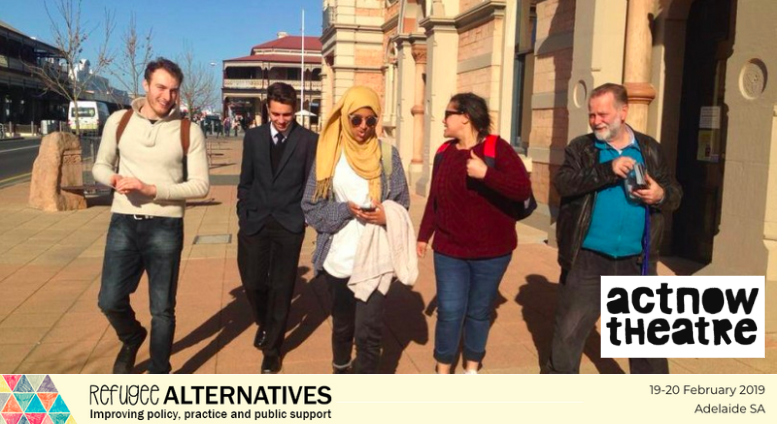 We are thrilled to be joining forces with the incredible team from ActNow Theatre to include a performance of "Responding to Racism" as part of the Refugee Alternatives Conference Week 2019.
Responding to Racism is an award-winning interactive theatre performance developed in partnership with Reconciliation SA to identify, respond to, and prevent racism.
The Performance
The show explores how racism affects people on a daily basis. Specifically, it aims to help participants identify various forms of racism and provides prevention strategies. Featuring a culturally diverse cast, the performance provides the audience with strong role models. The project uses Forum Theatre techniques where the audience is invited to support the characters deal with the problem of racism. As such, the performance is able to use a peer-education approach to find solutions that are relevant to the experiences of the audience
More about the Conference
The Refugee Council of Australia's Refugee Alternatives Conference 2019, co-hosted by MARRNet (Migration and Refugee Research Network), is a two-day event focusing on improving policy, practice and public support for refugee and asylum seeker issues. The event brings together a broad range of expertise covering topics of displacement; protection; cooperation; wellbeing; resilience; education; advocacy; and unity. Speakers will discuss these topics across the local, national and international space. They will also bring their extensive and complementary expertise to the discussions; notably and vitally, that of lived experience.


---
Accessibility requirements:
Please contact RCOA if you have any accessibility requirements or require additional supports.
Ticket FAQs:
Ticket Conditions
No refunds are available on tickets purchased.
Is my registration fee or ticket transferrable?
Yes! Please get in touch and we can help you with this no problem.
Can I update my registration information?
Yes! Just log back into Eventbrite and adjust your details as needed. We will need your name and organisation for the event name tags - so please make sure these are listed correctly.
For more event information please check out the Conference website here refugeealternatives.org.au