Description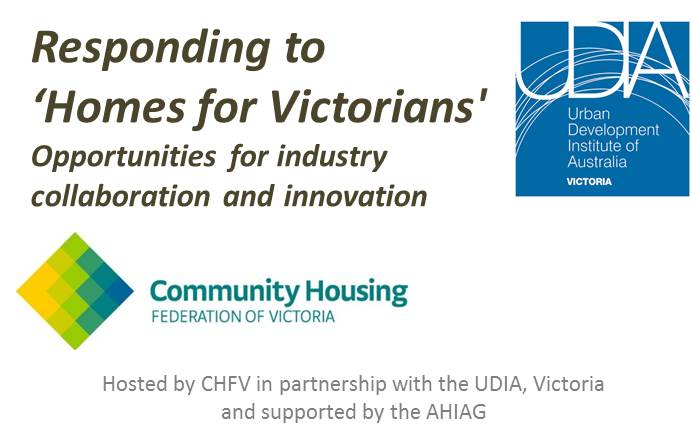 The Victorian Government's Housing Strategy, 'Homes for Victorians', sets out a vision and wide-ranging suite of policies that aim to increase the supply of various forms of social and affordable housing.

The Strategy includes funding, financing, planning and land development opportunities that require collaboration and innovation from both the private and not-for-profit sectors, to partner and co-invest.

The Community Housing Federation of Victoria and the Urban Development Institute of Australia invite you to attend an industry forum where you will:
further understand and explore key investment and development opportunities arising from the Government's strategy;
connect with potential industry partners to support delivery of these initiatives; and
provide advice to Government on the requirements of industry and different stakeholders to co-invest and realise an integrated affordable housing system and supply outcomes.
This forum will cover
A presentation overview of the strategy;
A panel discussion on the opportunities for collaboration with industry leaders; and
Table workshop discussions exploring possibilities and developing feedback and advice to government.
Speakers will be announced shortly.

Event timings:
3.00pm - 5.00pm - event proceedings
5.00pm - 6.30pm - networking drinks and canapes

This event is proudly supported by the Affordable Housing Industry Advisory Group.