Come and learn how to create a beautiful Resin Serving Board
About this event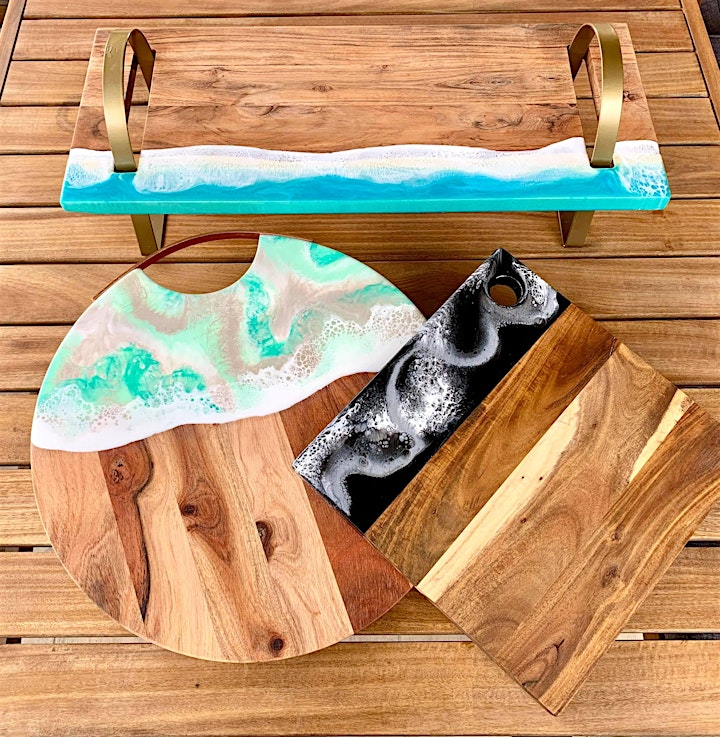 I'm very excited to share my knowledge on how to create these gorgeous serving boards and give you the secrets on getting that professional finish you will be proud of. I will show you how to get those beautiful straight edges, gorgeous smooth sides and a depth of colour that really makes the resin pop. If you are new to resin then this is the perfect way to start as it is an expensive medium to play with. If you have dabbled before and wanted to know how to get a better finish to your work then these classes are a must. You will be provided with a serving board of your choice. It will prepped and primed, ready for you to use all the professional quality resin, pigments, micas and pearlescent powders to create your work of art. You will see a demonstration on how to mix, colour and work with resin to create your very own masterpiece and, most importantly, I will show you how to prepare and finish your boards so you can recreate this professional finish at home.
What you will learn
 How to safely work with resin.
 How to mix different resin colourants correctly.
 How to design your own artwork using your own colour pallet. The secret to creating a beautiful high-end finish (did I mention those beautiful smooth sides 😉)
What you will be supplied with
 Correct PPE – appropriate mask and nitrile gloves.
 A solid, primed, timber serving board (or two).
 Professional quality pigments, mica powders and resin.
What you need
 This is a sticky medium that once it's on your clothes it's impossible to remove so please don't wear good clothing or fancy shoes. Don't wear your fluffy, hairy jumper or anything flowing. It's also best to tie back your long hair.
 Colour pallet inspiration – Really important to have a clear idea of your colours before you start.
 You need to be able to collect your artwork at a later date as the drying period for resin is 24 to 48 hours.
I have 3 different styles of serving boards to choose from...
30cm x 30cm square $79
40cm Round $89
25cm x 60cm Serving stand $99
OR
If you would like to make a matching set on the day I have reduced the price for you to make a 2nd board in the same colours, at the same time.
TWO 30cm x 20cm squares $125
TWO 40cm Round $145
TWO 25cm x 60cm Serving Stands $160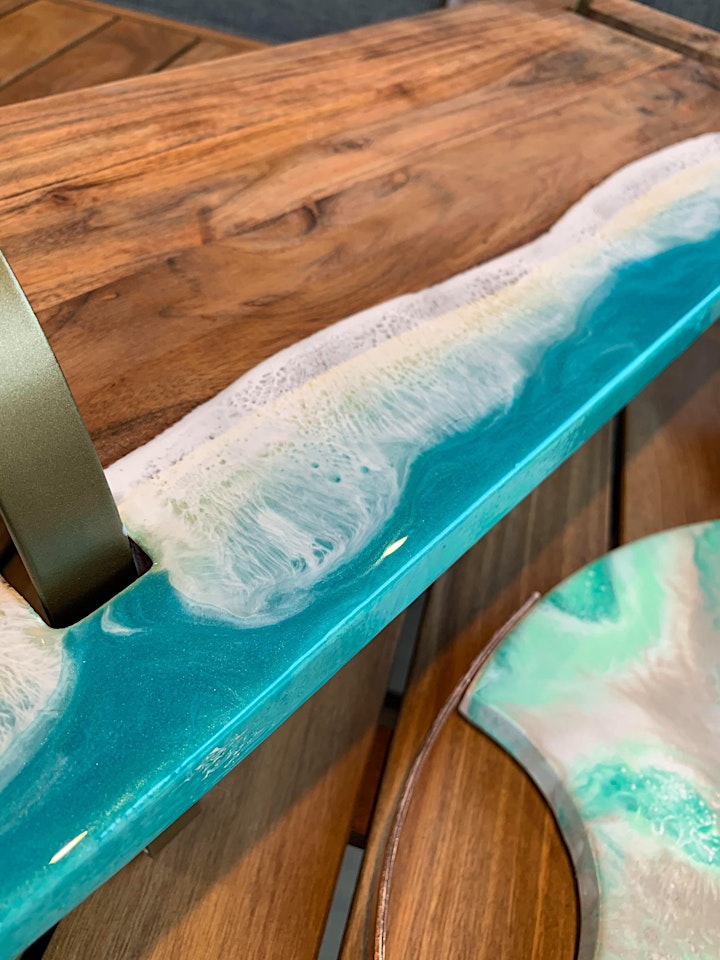 Please note:
 The make two board special is for the one person to make two boards at the same time. This cannot be shared as each person is given one set of PPE, work space and equipment etc.
 Bookings are essential and places are limited.
 Private group workshop parties are also available. 4 person minimum.
 Your space in a class is reserved once full payment has been received.
 You need to be able to collect your artwork at a later date as the drying period for resin is 24 to 48 hours.
 Workshop tickets are non-refundable as your chosen piece is prepared especially for you, but if you are aware you will be unable to attend, you may pass your ticket to someone else to come in your place or you can rebook into another workshop.
The necessary legal stuff
Whilst arriving, attending and leaving the workshops, it is your responsibility to ensure that you maintain and adhere to all safety precautions and requirements during the workshop. By attending a workshop, you agree in holding full responsibility and liability for any damages, injuries to parties involved and physical and/or personal property that may occur during the workshop.
The necessary COVID stuff
It goes without saying that if you have been travelling overseas or in a known hotspot please adhere to the government restrictions. If you have any cold or flu like symptoms, even if it is not COVID please rebook your workshop for another day.