Resilience, Strength And Tackling Racism with Young people of colour
About this event
This event will be held on the unceded lands of the Wurundjeri and Boon Wurrung peoples of the Eastern Kulin nation and we pay our deepest respects to Elders past, present and emerging.
Are you a person of colour aged 16-20, passionate about racial justice, keen to improve your understanding and ability to discuss racial issues and want to build solidarity with other young people of colour?
Hue is hosting a full day event in Naarm (Melbourne) for up to 50 young people, hosted by two young facilitators of colour. Funded by FYA's Youth Action Project Grant Scheme, the day will include two of Hue's renowned training programs: What Do You Know About Race & Racism and POC Power & Resilience. This event will be an amazing opportunity to develop your skills and knowledge of racial justice, and for meeting other incredible and passionate young people of colour.
Workshop 1: What do you know about race & racism?
This session, styled like a trivia quiz, is designed to develop literacy and understanding of race-related issues and systems of power that perpetuate racial injustice. Facilitated conversations create shared language and understanding around racism, its impacts and underpinnings. It is appropriate for a range of knowledge levels and experiences, and creates a safe environment for real conversations about race and racism.
Workshop 2: POC: Power & Resilience
This session designed specifically for people of colour, looks at how our experiences are shaped by racism and whiteness. Throughout the session we explore whiteness as a culture and the impacts of internalised whiteness and racism. We also develop tools and practices for individual and community care, the importance of community solidarity and collective liberation, and an exploration of joy as a form of resistance for communities of colour.
This event is open to any young people between the ages of 16-20 who identify as Bla(c)k, brown, POC, BIPOC, Aboriginal and/or Torres Strait Islander, or First Nations.
There will be a photographer taking photos of the event. If you do not wish to be photographed at the event please let us know on the registration form.
Catering provided!
Access info:
This event will be held at the Wheeler Centre in Melbourne CBD in the "Performance Space". Click here for full access information of the venue.
Please let us know if you have any access needs for this event.
COVID info:
In the event that the COVID restrictions will not allow for this event to run face to face, the event will run over 2 days September 28th & 29th online.
The facilitators: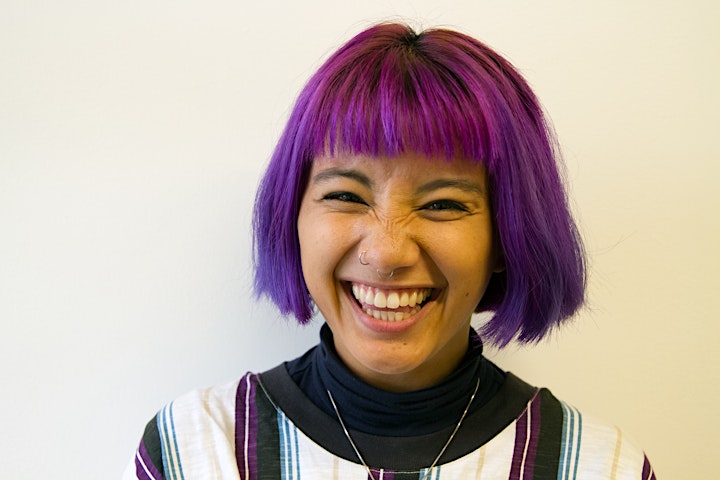 Elsa Tuet-Rosenberg (she/her) is a queer, Jewish and Chinese woman of colour. She is an activist, educator, facilitator and performer, with a background in youth empowerment and social change. She is a co-founder and director of Hue: Colour the conversation, facilitating a range of anti-racism and social justice training programs to groups and organisations.
Prior to her role at Hue she was the Director of Training at Democracy in Colour, a racial and economic justice organisation of people of colour, and a program presenter at PROJECT ROCKIT, a youth driven movement against bullying, hate and prejudice. She has hosted and facilitated a range of events and social change programs for young people with organisations like MYAN, FYA, The Y and many more.
She is also a performer, recently performing in sold out shows at the Melbourne Fringe and Next Wave festivals, as part of queer & Asian theatre projects.
In 2020 she was awarded as one of Out for Australia's 30 under 30, for LGBTQIA+ role models and leaders and was recently appointed to the board of Switchboard, an organisation that provides peer-driven support to the LGBTIQA+ community.
Elsa lives, works and loves on Wurundjeri Country, and loves cats, musical theatre and blaming her worst personality traits on her astrology placements.
Bakri Mahmoud is a journalist, content creator, facilitator as well as a casual youth mentor. In 2018 he started a freelance production company, Back2Back Media, while working as a social media producer with ABC Melbourne. As a journalist, he's had the privilege of working with young people - producing stories with ABC heywire, a collaboration with ABC and Aus Gov't to centre young people telling their own stories.
As a facilitator he worked with Taboo Talk, a start-up aimed at having difficult (taboo) conversations with young and older people. This opened him up to more facilitation opportunities with Digi Engage as well as running workshops for the United Nations Office of Counter Terrorism.
At Taboo Talk, Bakri flourished in the opportunity to hold conversations and interrogate or unpack concepts in ways that allow people to feel heard but also invites curiosity and a willingness to learn.
With this enthusiasm in mind, he works as a mentor in the disability support sector, helping young people with social difficulties meet their goals and have quality social interactions.
Bakri is Sudanese-Australian residing in Wurundjeri Country and some of his hobbies include playing football, dancing, hanging out with friends and chasing waterfalls.
Organiser of Resilience, Strength and tackling racism with young people of colour by Hue