Paula & Liana invite you for RESETTING RITUAL to release and let go the energies of 2020 to welcome 2021 feeling renewed, light and grateful
About this event
Join Paula Sarcinella (Transpersonal Counseling and Life Coaching for Health & Balance) & Liana Linhares (Yoga & Meditation Teacher) in this Ritual where you'll be guided to release and let go of 2020 with a grateful heart to be able to welcome the new year ahead feeling renewed, clean and free!
We are pleased to announce a partnership with a beautiful soul Aline Lage from BCircle.
Expect to experience some:
Energy Healing, Yoga (Pranyama - conscious breathing, Kriyas - cleansing techniques, Asana - postures to open space in the physical body, Meditation and Relaxation), sound Healing, Sharing Circle.
Date: 06/12 SUNDAY
Time: 4:20pm to 7:30pm ** starting with afternoon tea as we welcome everyone. Starting the circle at 5pm sharp :)
Location: BCircle in Freshwater NSW
Please bring Yoga Mat, Bottle of Water, a Blanket.
Much Love and Light,
Paula & Liana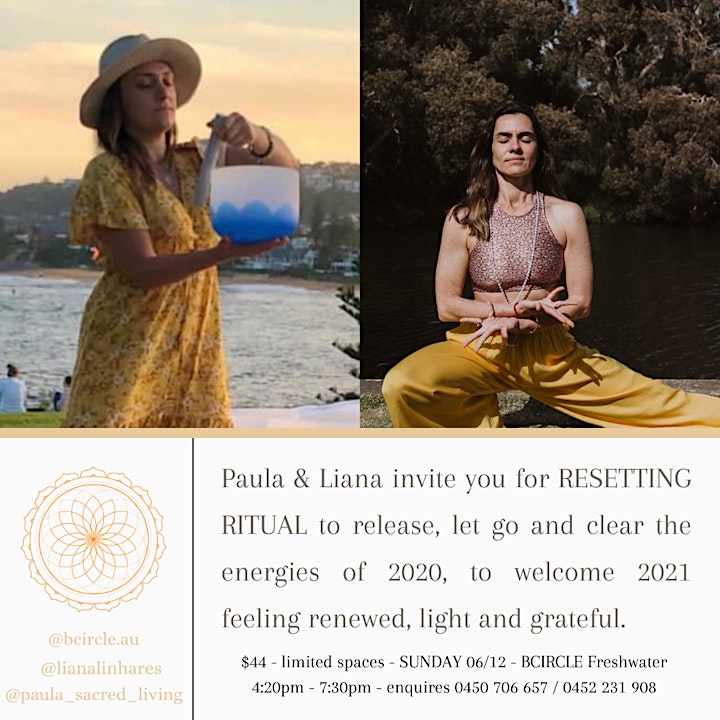 Organiser of Resetting Ritual
Healing Yoga is an unique way of working each of the seven main Chakras (energy centers) in a progressive way from the base to the crown, showing you where you need to look, work and heal. We are committed in human self-development through Yoga, Workshops, Gathering, Events and Retreats.