Representing the Holocaust

Wednesday, 27 September 2017 from 5:30 pm to 7:00 pm (AEST)
Event Details
The Holocaust is widely represented in popular media as well as in traditionally 'historical' contexts, such as museums and archival spaces. In this talk, Dr Noah Shenker engages with critical debates surrounding those representations, and questions why – in a period marked by a decline in the number of living survivors of the Holocaust – there has been a widespread proliferation of historical and artistic representations which document the experiences of survivors.  Central to this talk are issues pertaining to the aesthetic and ethical challenges of representing the Holocaust in film, television, and other popular media.  
Join us on Wednesday 27 September at the Tonic House basement, 386 Flinders Lane. Complimentary nibbles are provided and drinks will be available at bar prices.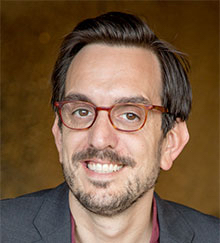 Dr Noah Shenker is the 6a Foundation and N. Milgrom Senior Lecturer in  Holocaust and Genocide Studies within the Australian Centre for Jewish  Civilisation at Monash University. His research and teaching specialisation  traverse the fields of Holocaust and genocide studies; trauma and memory  studies; and film and media studies. Noah's most recent publications include  his monograph Reframing Holocaust Testimony (2015) and 'Through the Lens of the Shoah: The Holocaust as a Paradigm for Documenting Genocide Testimonies' in History & Memory (Spring/Summer 2016).
When & Where

Tonic House
Basement Level
386 Flinders Lane
Melbourne, VIC 3000
Australia

Wednesday, 27 September 2017 from 5:30 pm to 7:00 pm (AEST)
Add to my calendar
Organiser
The humanities don't just keep our world interesting.
Our societies are shaped by their history, and we are shaped by the literature we read and the philosophies we live by. Humanities 21 is a not-for-profit advocacy organisation whose events series and advocacy projects demonstrate how essential the humanities are in a flourishing and innovative society. 
A humanities education enables people to tackle questions to which there are no clear answers, to logically develop hypotheses and to entertain the ideas of others without jumping to conclusions. In an age of fake news and polarised politics, this way of thinking has never been more vital – in business, in politics and in so many other aspects of a rapidly changing world.
The humanities don't just keep our world interesting; they develop the kinds of intelligent and original thinkers our world needs.