Want to try a different form of exercise this new year? Dip your toe in the water with free fitness classes throughout January.
About this Event
Learn to move in new, expressive and creative ways with Praksis. This will be nothing like any other physical training you've done before...in the best possible way! These classes focus specifically on waking up the body and preparing participants for the day ahead. You will leave feeling more energised and calmer than when you arrived.
These classes are open to everyone, with adjustments made as required including for injuries, immobility, lack of strength or low levels of fitness. Registrations are essential, register for free via this page.
*Please note: the location for this class will be in Haig Park, opposite 54 Mort Street Braddon. The purple dot marks the spot below!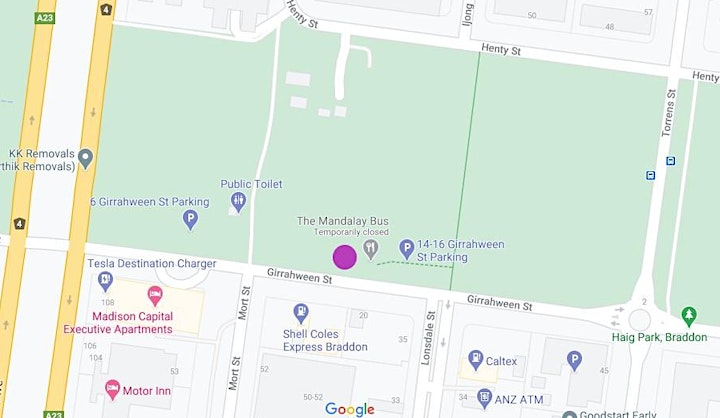 What is Praksis?
Praksis weaves together principles, techniques and exercises from an array of different disciplines with the simple goal of improving your experience of being in a body. Find out more about Praksis here: https://praksis.com.au/
What is ReNewYou?
ReNewYou is a trial program of free, weekly healthy activity classes to encourage people to get out and enjoy their city centre.
The activities in the program change regularly to provide a variety of opportunities for people to get active.
There are lots of great public spaces in our city for people to spend time in and the ReNewYou program gives people an extra incentive to get out, be healthy and socialise.